Adult Education and Family Literacy: Mid South Adult Education Landscape
October 6th, 2016
Last week was Education and Family Literacy Week, which aims to raise awareness of the value of adult education and family literacy resources that equip individuals to succeed economically. According to National Coalition for Literacy, adult education programs – including Adult Basic Education (ABE), Adult Secondary Education (ASE), and English as a Second Language (ESL) – help "break the cycles of intergenerational illiteracy and poverty by giving adults the skills they need to be successful as workers and parents".
Whom do adult education programs serve?
The working poor and those looking for work that can better sustain families. A working poor family of four earns $24,250 or less annually.
Young adults who were unable to complete their high school education, yet still require schooling and training to be competitive in the job market.
Immigrants who are a growing portion of the nation's population. English language instruction is vital to their stability and success in a new country.
Parents striving to provide for their families who may also be working poor, young adults, or immigrants.
Mid South Adult Learners Benefit from Adult Education and Family Literacy
Over 72,000 people enrolled in adult education programs for the 2014-2015 program year. Nearly half of those were ages 25 to 44 and one-quarter were ages 19 to 24. Learners ages 60 and older made up the smallest portion of enrollees (2.1%).
Click to enlarge
Mid South learners are more likely than national average to be white (39.4%) or black (37.2%) and enrolled in ABE or ASE courses rather than ESL. English as a Second Language courses represent only sixteen percent (15.7%) of program enrollment in the Mid South compared to forty-four percent (43.7%) in the nation.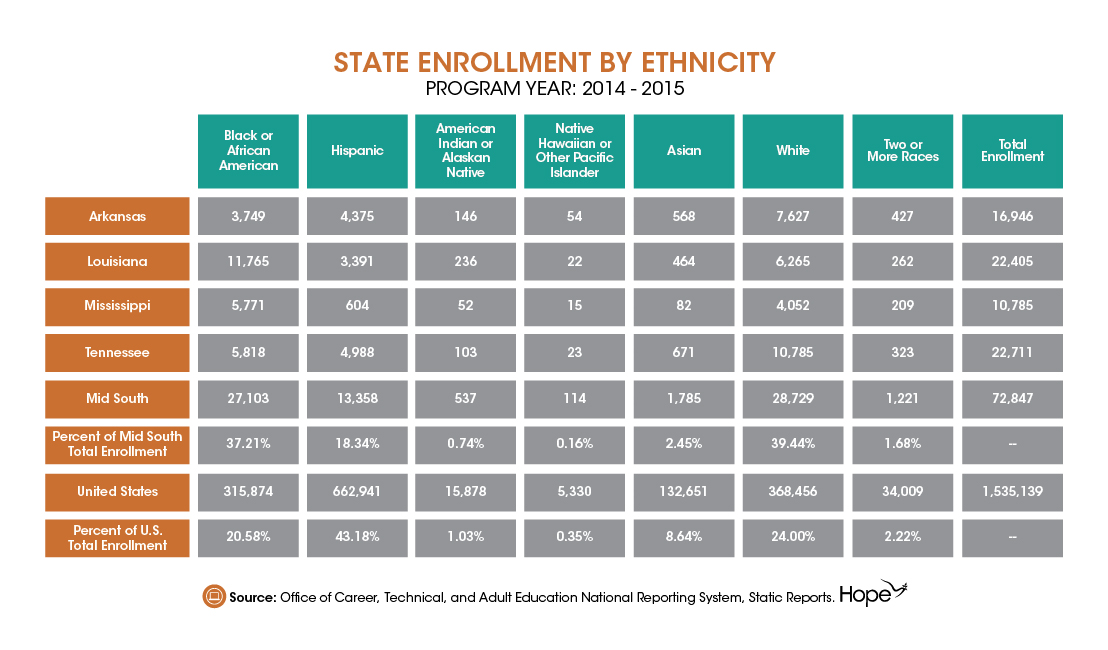 Adult education programs provide crucial services for high-need, low-resource populations like the working poor, young adults, immigrants, and parents who did not complete their K-12 education or completed high school yet still have gaps in basic skills like numeracy or literacy.
Now that a majority of jobs in the U.S. require more than a high school education, connecting adults to educational resources that make them competitive applicants is more important than ever. Making adult education accessible and available to those who could benefit is a vital step to improving the socioeconomic opportunities of the adult, their children and every generation that follows and should continue to be a priority investment in the Mid South.
Sources:
National Coalition for Literacy, 2016 Adult Education & Family Literacy Week Factsheet.
National Skills Coalition, Adult Education: A Crucial Foundation for Middle-Skill Jobs, 2016
Office of Career, Technical, and Adult Education National Reporting System, Static Reports.
U.S. Census Bureau, 2015 American Community Survey 1-Year Estimates.
U.S. Department of Health & Human Services, 2015 Poverty Guidelines.
World Education, Inc., AdultEd Facts, March 2014.