America Saves Week 2017: Set a Goal. Make a Plan. Save Automatically.
March 1st, 2017
This week is America Saves Week, an annual opportunity for individuals to assess their savings and take financial action. Like your health, it is important to assess your savings annually to make sure your savings priorities are right on track. However, this can be challenging for some Mid South residents.
An average of 53.4 percent of households in the Mid South, defined as Arkansas, Louisiana, Mississippi and Tennessee, do not have a basic personal safety net to cover unexpected emergencies (i.e., cash, retirement savings, checking accounts, etc.) compared to 43.5 percent of households in the United States, nearly a ten percentage point difference (See Chart). Households with savings are better prepared to weather financial setbacks and save for future needs, like homeownership and post-secondary education, as well as have long-term financial security.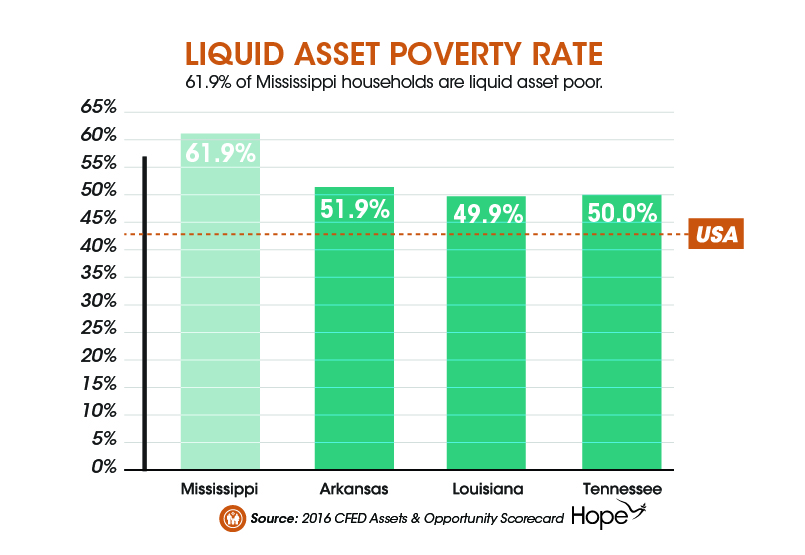 An easy and effective way to save money, reduce debt, and build wealth is to save automatically. This is how millions of individuals save through a 401(k) account and other retirement programs as well as at their bank or credit union. For instance, automatic deposits of $50 a month accumulate to $600 a year and $3,000 after five years, plus compounded interest. This provides an avenue to cover many unexpected expenses without using a credit card or taking out a high-cost loan.
Click here for more information on other ways to save automatically.
Be sure to like us Facebook and follow us on Twitter to stay informed on issues that Mid South residents communities face!
Source:
Corporation for Enterprise Development. (2016). Assets and Opportunity Scorecard, 2016. Retrieved from http://assetsandopportunity.org/scorecard/