CFPB Action on Payday Lending Will Help Families in the Deep South
November 3rd, 2017
Last month, the Consumer Financial Protection Bureau (CFPB) issued a new rule with protections that will reduce the harms of short-term payday and car-title lending to families in the Deep South. Consumers who use these alternative lending products routinely pay more in fees than the dollar amount initially borrowed. For families, particularly in the Deep South, this rule represents a major victory where state protections fall short.
Research from the Center for Responsible Lending shows that payday and car title loans drain more than $400 million (on average) per year from consumers in the Deep South states of Alabama, Louisiana, Mississippi and Tennessee (where there are no debt trap protections). See Table. These fees drive borrowers into financial distress by trapping them in long-term debt at triple-digit interest rates, threatening the economic security of families and communities alike. For example, in the case of Mr. Westbrook of Tennessee, his payday debt cycle began with a loan for an emergency expense that his monthly retirement benefits could not cover. The high interest rate on the first loan forced him to take out another loan to keep up with his bill payments.
Click to enlarge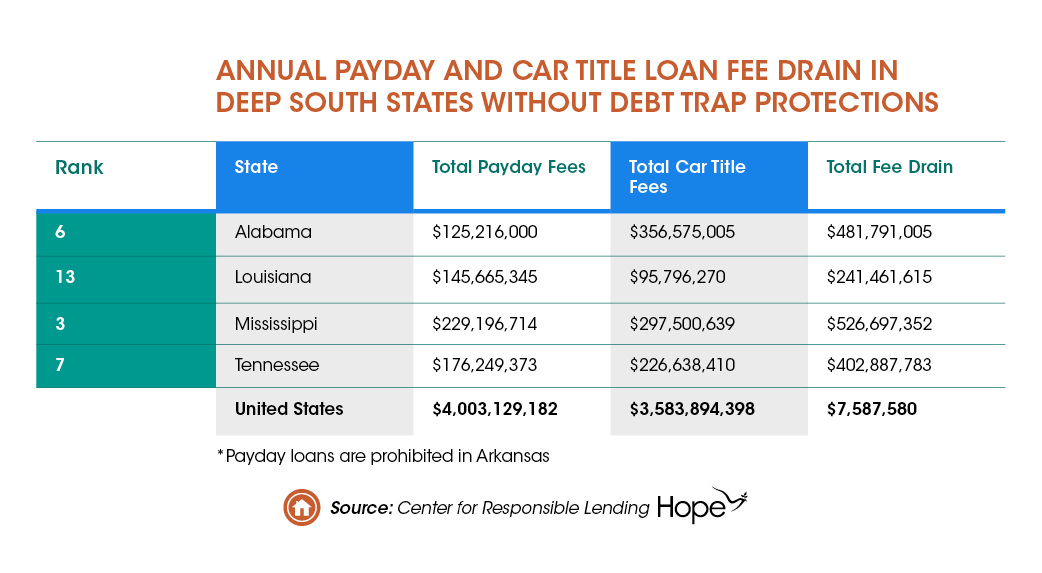 Payday and car title borrowers are more likely to experience delinquencies on other bills, involuntarily closed bank accounts, delayed medical care, and bankruptcy. The new rule protects consumers by requiring lenders to adhere to the common sense principle that they check a borrower's ability to repay before lending money. In other words, the rule requires lenders to make affordable loans that borrowers can pay back without taking out another loan to cover living expenses. The Consumer Bureau's rule on payday and car-title lending is a necessary first step toward saving families from this financial free fall, particularly in states like Mississippi, where payday lenders charge as much as 521% annual interest on their loans.
The CFPB works to make sure that the financial products and services that Americans depend on every day are fair and transparent for the consumers who use them, which includes restricting the use of unfair, deceptive, and abusive practices against consumers. The CFPB's work remains critical to both American families and the economy.