DAY 1 OF BUDGET HEARINGS: Many State Workers Earn Wages Below Self-Sufficiency Levels
September 20th, 2011
Yesterday, the Fiscal Year (FY) 2013 budget hearings commenced with an overview by the Mississippi State Personnel Board (MSPB). Currently, 34 percent of the state's workforce is under the purview of the MSPB, with the remaining workers including K-12 teachers, Institutions of Higher Learning, the community colleges and the Governor's Office and Legislative Branch.
During the hearing, the MSPB highlighted a number of challenges facing the state in the support and recruitment of a competitive workforce:
As of June 30, 2011, state employment experienced the largest decrease in employee numbers in the last decade.
The average salary of state employees is $34,279; however, 62 percent of all state employees earn less than the average salary.
Click to enlarge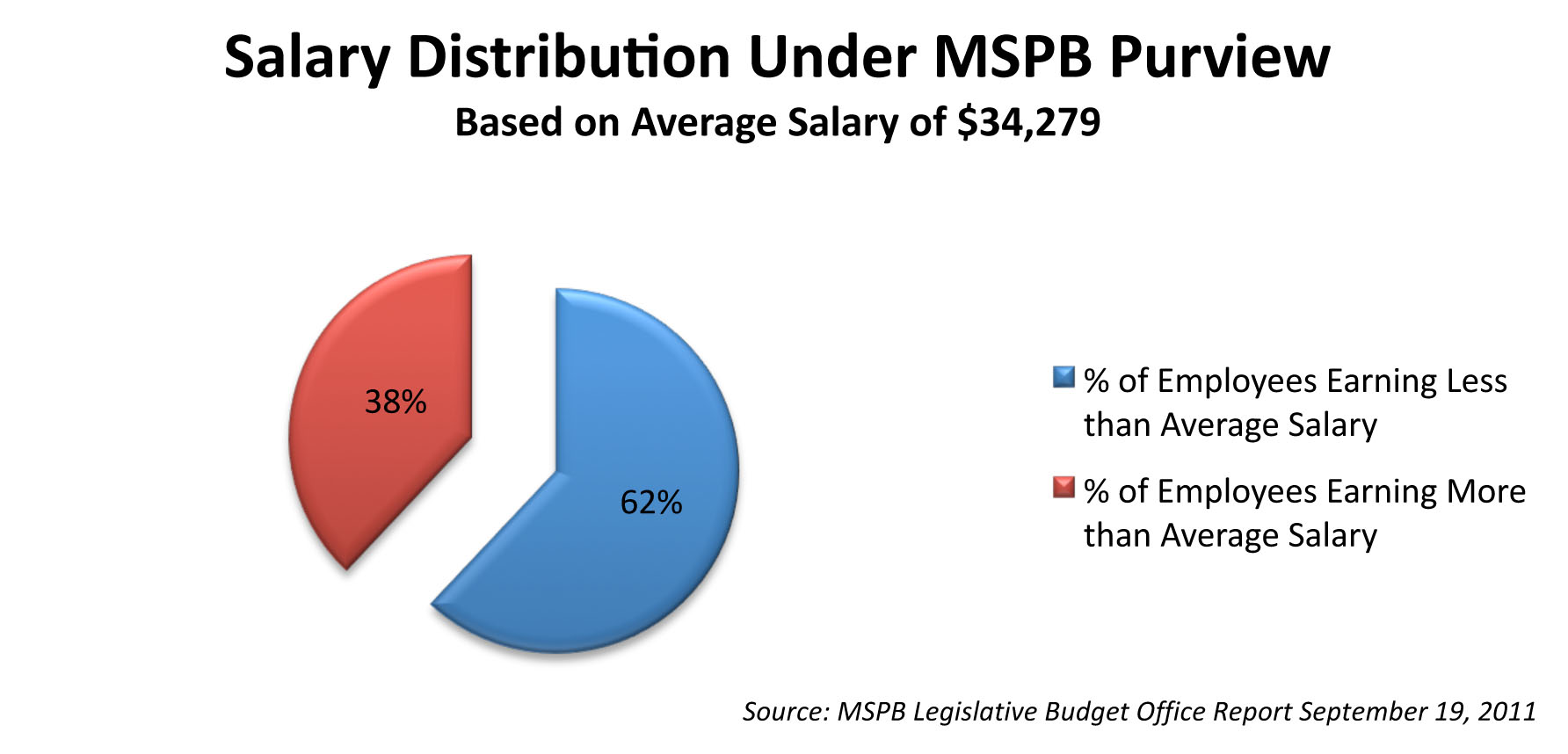 With 62 percent of state employees earning less than $34,279, many state workers are earning wages below self-sufficiency levels.
Mississippi's state employees covered under the MSPB earn significantly less than state employees in each of its border states (14.7 percent less than workers in Arkansas and 31.5 percent less than workers in Louisiana).
Despite population increases, there are fewer state workers covered by the MSPB than there were ten years ago.
The information shared by the MSPB illustrates that many of Mississippi's state workers are not earning high wages. In fact, many are not even earning wages that bring their families to self-sufficiency. The wage information on state workers comes in light of two additional and important facts at both ends of career life cycle for state employees:
Over the past 5 years, 72 percent of employee resignations came from individuals that were employed for 5 years or less.
Over the next 5 years, nearly 33 percent of the workforce will be eligible to retire.
Appropriately, much attention has been paid to the Public Employee Retirement System Study Commission. Any policy changes regarding the Public Employee Retirement System should be reviewed in the context of the total compensation package available to state workers. If Mississippi continues to provide very low wages and cannot offset the low wages with a competitive benefits package, how will it attract the talent needed to provide high-quality services to its citizens?
Authors:
Francinia McKeithan, Policy Analyst, SFAI Policy Fellow
Ed Sivak, MEPC Director