Deep South States' COVID-19 Response to Financial Insecurity
April 6th, 2020
By Calandra Davis, Policy Analyst
As the COVID-19 (coronavirus) global pandemic wreaks unexpected havoc on our communities and economy, the nation's most vulnerable people and places will feel the greatest impact. The Deep South is still recovering from years of exploitation, targeted disenfranchisement, and previous disasters like Hurricane Katrina and the 2008 foreclosure crisis. Any effective response must take into account existing economic inequality, particularly along racial lines.
Households of color, with lower levels of asset ownership than white households, struggle more acutely to cover unexpected emergency expenses such as medical treatments than white households. Preparation for COVID-19 is an added hardship that will disproportionately affect already vulnerable communities. Emergency loans alone, particularly predatory loans, will not mitigate the impact of COVID-19 in a region that already has higher numbers of cash-poor adults. As such, policy responses need to spotlight liquidity relief: lower debt burdens or an infusion of money into households.
States can meet this challenge by enacting policy measures that help keep people financially afloat, and therefore able to stay home and stay safe during this time. This will further position the region to more quickly rebound when this passes. Information in Table 2 provides an assessment of Deep South states' efforts to date in their attempts to address the economic impact of the deadly coronavirus pandemic. As discussed and shown below, Deep South states are far less robust than other states, even though the region's population is already among the least financially secure.
Table 2: Deep South COVID-19 Response to People's Financial Insecurity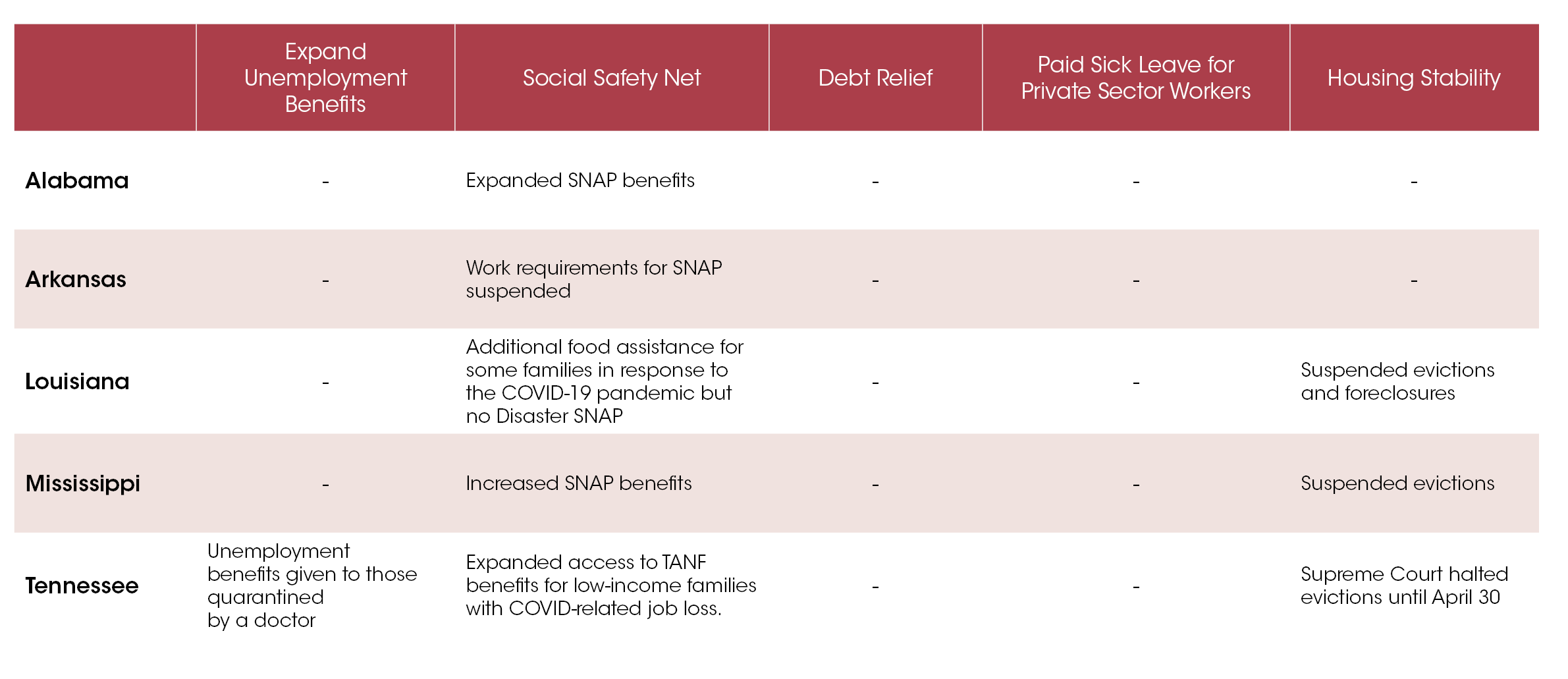 Expanded Unemployment Benefits
As shown in our blog, Deep South unemployment claims have risen dramatically, unemployment claims have risen dramatically in the last week in the Deep South with claims rising by 321,093 in two weeks, more than a 3,551% increase.  .  In the four states besides Tennessee, the only changes to the states' unemployment insurance (UI) programs were procedural, such as waiving work search requirements or waiving the one-week waiting period. Prior to the passage of the federal CARES ACT, only Tennessee had taken steps to expand the number of people eligible to receive UI benefits by now also including those who are quarantined by a doctor and are temporarily out of work.[1] States without comprehensive unemployment processes and policies run the risk of causing greater economic impact.
Social Welfare Programs
Southern states are making progress in the area of expanding SNAP benefits[2] but this effort alone will not lessen the impact the coronavirus has on vulnerable communities. These communities often depend on multiple social welfare programs to meet basic needs such as food or keeping homes safe with energy assistance. With the unexpected expenses COVID-19 will bring, safety net programs must provide a more substantial cushion for financial setbacks.
Debt Relief
A number of states have taken steps to suspend debt collection efforts in various ways, but none in the Deep South. For example, New York suspended debt collection for New Yorkers who owe student debt, medical debt, and other forms of state-referred debt.[3] In Massachussettes, the Attorney General issued emergency debt collection protections that apply to the collection of private debts as well.[4] No Deep South states have implemented any policies to cancel or pause any type of collection efforts. Before the coronavirus crisis, Deep South communities of color had a significantly less than average household income yet and also a higher percentage of medical debt in collections and defaulted student loan debt compared to white communities.[5] Debt accumulation from COVID-19 will increase this already alarming disparity.
Paid Sick Leave
Twelve states have enacted laws expanding paid sick leave for workers who contract coronavirus or who must care for a loved one who becomes infected.[6] Yet, no states in the Deep South have mandated paid sick leave for private-sector workers.  Low-income workers, in particular, are put at increased risk without paid sick leave to continue working while sick or they stay home and cannot afford to pay bills.
Housing Stability
With job loss at an all-time high, people are at risk of losing valuable income needed to meet expenses such as mortgage and rent payments. States across the country are taking steps to pause evictions and foreclosures in various ways, including Alaska, [7] Arizona,[8] and others. None of the five Deep South states have suspended mortgage or rent payments, however Louisiana[9]  has halted foreclosures and evictions, Executive Order 1466 halts evictions in Mississippi,[10] and Tennessee's Supreme Court has halted evictions.[11]
Recommendations
The devastation caused by this pandemic, against the backdrop of people in already precarious financial situations, means  policymakers must act to increase the financial resources available to poor and low-wealth people and communities. Towards this end, policymakers must:
Freeze debt collection efforts
Maximize the income that can be delivered through existing social insurance and safety net programs by expanding programs like SNAP, TANF, and Unemployment Insurance
Ensure paid sick and family leave are available to all workers
Ensure housing stability, such as actions through pausing evictions and foreclosures, and providing assistance for rental, mortgage, and utility payments
Provide direct cash payments to households, regardless of immigration status
Take comprehensive action on student loan debt, including cancellation
State-level efforts to provide financial support to meet basic needs, as well as provide relief from debt or housing payments, is necessary to ensure liquidity relief that will allow people and communities in the Deep South to both survive and recover.
---
[1] Allison, Natalie. "Tennessee Gov. Bill Lee Looks to Boost Economic Aid for Those Who Lose Jobs Due to Coronavirus." The Tennessean, Nashville Tennessean, 18 Mar. 2020, www.tennessean.com/story/news/politics/2020/03/17/tennessee-gov-bill-lee-looks-boost-economic-aid-those-who-lose-jobs-due-coronavirus/5069962002/. [2] "Arkansas Work Requirements for SNAP Suspended through April." KTHV, 18 Mar. 2020, www.thv11.com/article/life/arkansas-work-requirements-for-snap-suspended-through-april/91-53151a7b-9643-4a16-8fab-8c7dd249e744.
Frisaro, Freida, et al. "SNAP Recipients to Get Additional Benefits Today." Https://www.wbrc.com, 1 Apr. 2020, www.wbrc.com/2020/04/01/snap-recipients-get-additional-benefits-today/.
Gallant, Jacob. "Miss. SNAP Benefits Increased for March, April." Https://Www.wlbt.com, 30 Mar. 2020, www.wlbt.com/2020/03/30/miss-snap-benefits-increased-march-april/.
"State to Give Benefits to Those Quarantined, Unemployed during COVID-19 Outbreak." WTVF, 18 Mar. 2020,
"Supplemental SNAP Benefits in Response to COVID-19 Will Be Issued to Many Louisiana Households." Https://www.wafb.com, 30 Mar. 2020, www.wafb.com/2020/03/30/supplemental-snap-benefits-response-covid-will-be-issued-many-louisiana-households/.
[3] "Governor Cuomo and Attorney General James Temporarily Suspend State Debt Collection in Response to Coronavirus." Governor Andrew M. Cuomo, 19 Mar. 2020, www.governor.ny.gov/news/governor-cuomo-and-attorney-general-james-temporarily-suspend-state-debt-collection-response. [4] Szaniszlo, Marie. "AG Issues Emergency Regulation to Protect Consumers during Coronavirus Crisis." Boston Herald, Boston Herald, 27 Mar. 2020, www.bostonherald.com/2020/03/27/ag-issues-emergency-regulation-to-protect-consumers-during-coronavirus-crisis/. [5] Federal Reserve. Report on the Economic Well-Being of U.S. Households in 2018 – May 2019 [6] Arizona, California, Connecticut, D.C., Maryland, Massachusetts, Michigan, Nevada, New Jersey, Oregon, Rhode Island, Vermont, Washington
Brainerd, Jackson. Paid Sick Leave, www.ncsl.org/research/labor-and-employment/paid-sick-leave.aspx.
[7] In Alaska, the Governor issued an executive order protecting the 13,000 Alaskans who receive rental assistance through the Alaska Housing Finance Corporation. No evictions may be carried out against these individuals for at least 60 days under this order.
"Governor Dunleavy Unveils Alaska COVID-19 Economic Stabilization Plan – Mike Dunleavy." – Mike Dunleavy, 20 Mar. 2020, gov.alaska.gov/newsroom/2020/03/20/governor-dunleavy-unveils-alaska-covid-19-economic-stabilization-plan/.
[8] "Ducey Announces Eviction Protection for Those Impacted by COVID-19." KTAR.com, 30 Mar. 2020, ktar.com/story/3052680/ducey-announces-eviction-protection-for-those-impacted-by-covid-19/. [9] Hilburn, Greg. "Governor John Bel Edwards Suspends Foreclosures, Evictions; Three More Die in Louisiana." Thenewsstar.com, Monroe News-Star, 18 Mar. 2020, www.thenewsstar.com/story/news/2020/03/18/louisiana-coronavirus-cases-rise-above-200-one-nations-hotspots/2863208001/. [10] "Executive Order 1466." Governor Tate Reeves, 3 April. 2020. https://www.sos.ms.gov/Education-Publications/ExecutiveOrders/1466.pdf [11] Cook, Kelli. "Evictions Halted through April under Tenn. Supreme Court Order amid Coronavirus Outbreak." Https://Www.wmcactionnews5.Com, 1 Apr. 2020, www.wmcactionnews5.com/2020/04/01/evictions-halted-through-april-under-tenn-supreme-court-order-amid-coronavirus-outbreak/.