Dual Enrollment Update and Promoting College Enrollment
March 13th, 2012
Recently, Senate Bill 2792, a measure aimed at establishing 5 pilot sites for a high school level dual-enrollment program for students at-risk of dropping out, advanced in the Mississippi Legislature.  Dual enrollment programs generally allow high school students to enroll in and receive credit for community college or university courses.
With this legislation, Mississippi's leaders have put a particular emphasis on placing high school students at-risk of dropping out into dual enrollment programs that allow them to earn credit in 1-year workforce certificate programs at community colleges. Students simultaneously take courses to complete high school and advance in the certificate program.
Advancing beyond high school equivalency is often vital to reaching basic economic security. Regardless of the age of the student, there is a substantial wage difference between adults without a high school degree and those with some college coursework. Below, average wages for different careers are compared to the amount two family types need to be economically secure.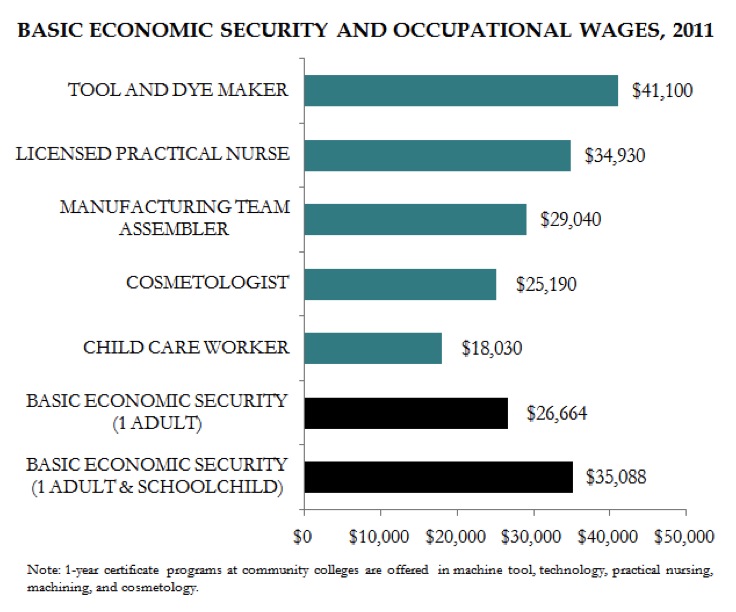 DROPOUT RECOVERY FUNDS CAN INCREASE ADULT COLLEGE READINESS
Opportunities for economic security wages increase when residents advance beyond high school equivalency. Many members of Mississippi's workforce may need to pursue education beyond a 1-year certificate to access jobs with wages high enough to support a family. It remains important that college workforce and associate degree programs make advancements to become better connected to one another and strengthen wrap around services, so Mississippians can build skills and pursue formal education as needed through their careers.
For working adults without a high school degree, increasing the appropriation for Dropout Recovery Funds can build up GED programs and advance GED recipients into college-level courses.
For more, information on dropout recovery funds, see MEPC's latest Dropout Recovery Fund fact sheet. To make investments in initiatives like Dropout Recovery and in education across all areas, it is becoming increasingly important to pursue a balanced approach that ensures adequate resources to increase educational attainment and quality now and in the future.
Author: Sarah Welker, Policy Analyst