Income-Based Plans take the Bite out of Student Loan Repayment
April 13th, 2017
High default and delinquency rates plus low annual incomes make student loans an expensive gamble for Mid South students. Student borrowers struggling to repay can choose to ease their debt burden early with income-based repayment plans, which can cost as little as zero dollars per month.
Mississippi has the highest portion of distressed borrowers with over half (55.1 percent) of borrowers in default or serious delinquency (Figure 1). Mississippi student debtors also have higher loan balances ($30,981) on average than other Mid South borrowers. If the student debt was distributed evenly, each Mississippian would be responsible for $4,880 in debt. Per capita debt in Mississippi is higher than in Arkansas ($3,830), Louisiana ($4,500) and Tennessee ($4,190).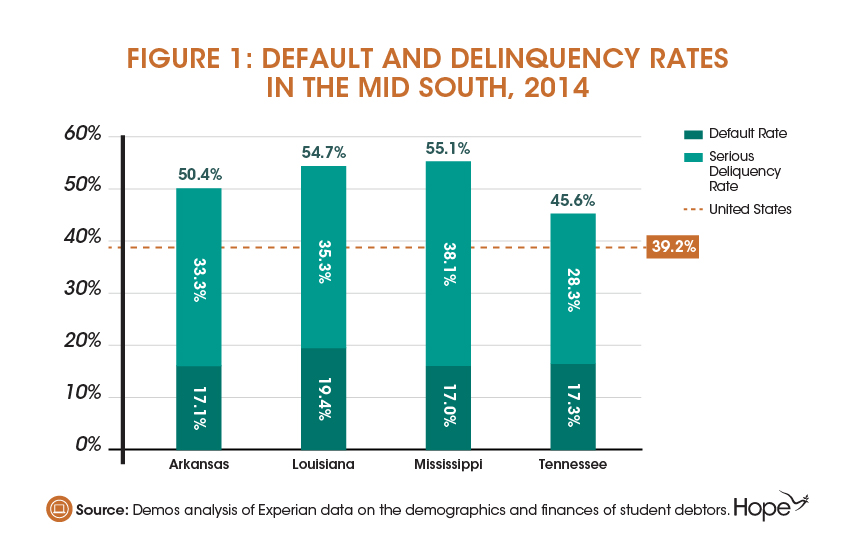 Low salaries and wages can explain in part why Mid South student debtors have difficulty repaying loans. High regional poverty rates affect financial resources and low incomes mean borrowers have to commit as much as 11 percent of monthly earnings to debt repayment (Figure 2). Standard repayment may not provide the flexibility some borrowers need. For borrowers with smaller or inconsistent incomes feeling the strain of student loan repayment, income-based repayment plans may be the answer.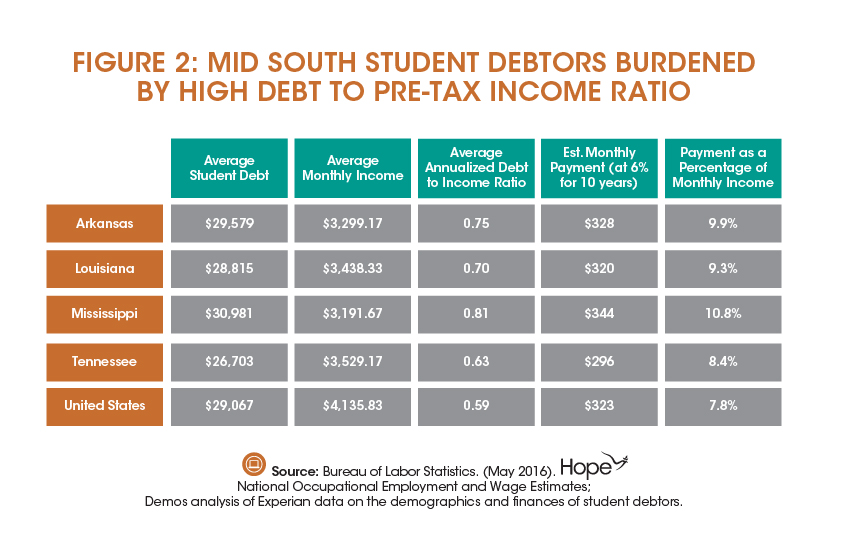 While income-contingent repayment plans can ease student debt burden, they address only one facet of a system that consistently prices out low- and middle-income students. A commitment to make higher education more affordable up-front opens up an opportunity for all students to access the generational, health, wealth-building, and career benefits of continuing education.