Meeting the needs of Mississippi's Middle Skills Job Gap and Adult Education
November 5th, 2015
Improving economic security and creating a pathway to success for Mississippians struggling to find work requires the implementation and investment in programs that support workforce training. Too many Mississippians miss out on job opportunities that could improve their economic situation because earning a GED and getting quality job training are out of reach. Considering that one in five Mississippi adults over 25 lacks a high school degree and one in five Mississippians lives in poverty, it is important that public policy support providing career pathways and technical training to increase the economic security of Mississippi families through increased wages.
Mississippi is experiencing job growth in middle-skill jobs, or those jobs that require some training or education beyond high school but not a four-year degree. These jobs in the manufacturing and energy sector offer benefits, better pay, and economic security to employees. However, the workforce has not kept up with the demand, meaning more jobs are available than there are skilled employees to fill them.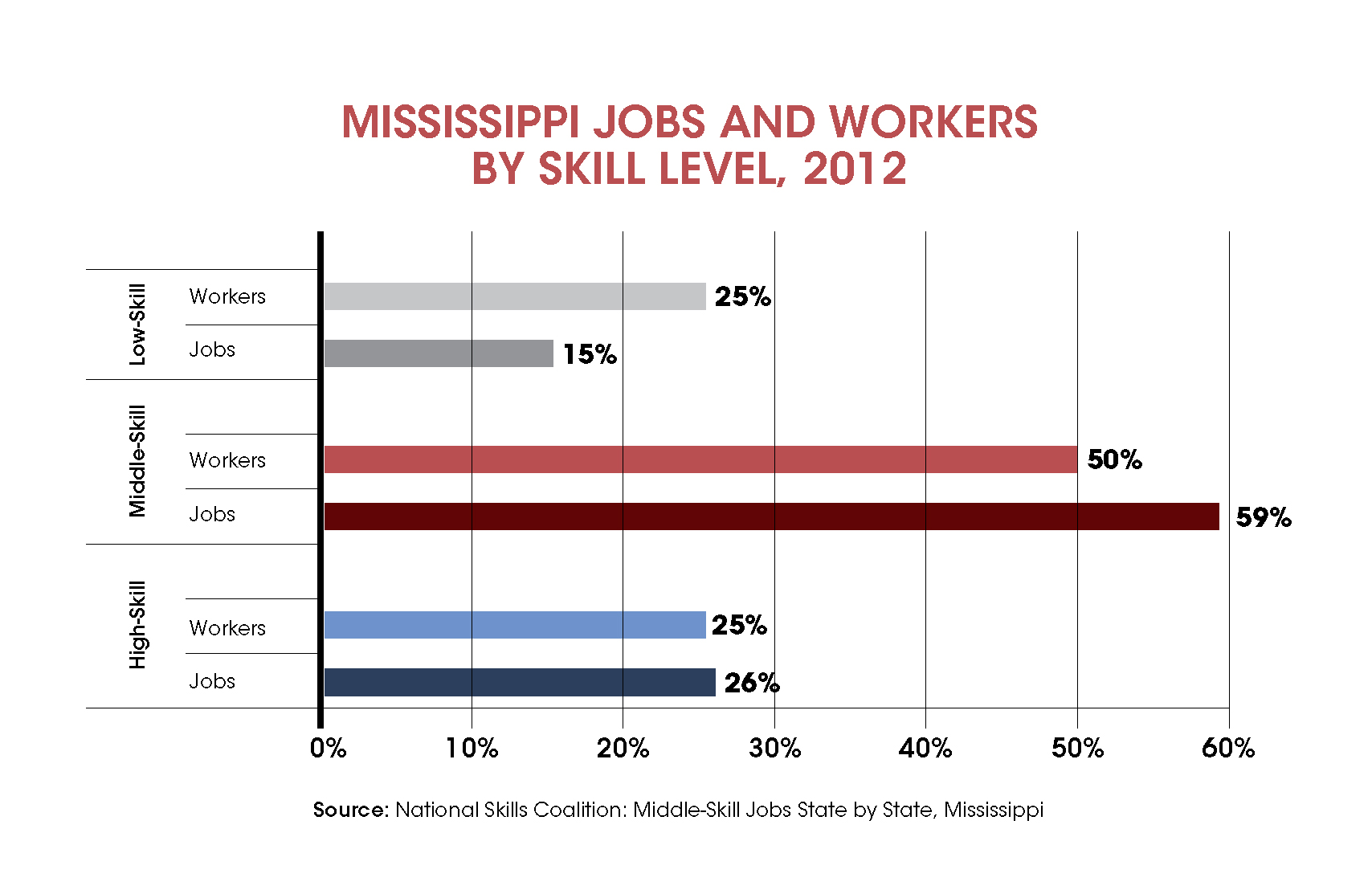 One way that states can support workforce development is by investing in adult education programs that provide a pathway to success for people struggling to find work. An example of an adult education program includes the MI-BEST (Mississippi Integrated Basic Education and Skills Training) program, administered by the Mississippi Community College Board. MI-BEST utilizes a three-tiered approach to developing a competitive Mississippi workforce that includes:
Participants learn basic skills, take part in literacy training and earn a High School Equivalency Diploma (HSED).
Students choose a career pathway like Welding, Commercial Truck Driving, Manufacturing or others at a local community college and through a combination of adult education, training, and postsecondary programs linked to potential employers, earn a Career Readiness Certificate (CRC).
Participants build on these skills with additional training, apprenticeships, and internships.
By meeting the needs of Mississippi's workforce, adult education programs like MI-BEST also help in increasing economic security for Mississippi families. The training provided in MI-BEST provides Mississippians an opportunity to get better paying jobs. According to data from the Bureau of Labor Statistics mean annual salary for occupations targeted by MI-BEST, these middle-skill occupations provide a higher annual wage than the median earnings for an individual without a high school diploma.
Careful implementation of the MI-BEST program stands to improve economic security for crucial groups of Mississippians and their families. Look out for the next blog in this three-part series examining the positive impact of MI-BEST on Mississippi's working poor mothers.