MEPC Receives Award from Mississippi League of Women Voters
May 16th, 2011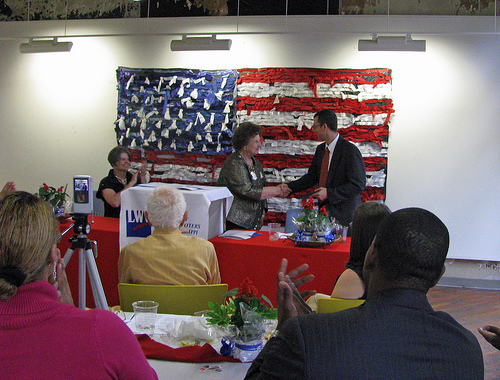 MEPC was honored Saturday with the Fran Leber Citizen Award during the 2011 Convention of the Mississippi League of Women Voters. The Convention was held at the MSU School of Architecture in downtown Jackson.
The award was given in recognition of MEPC's continued commitment to educating the public on policy issues that affect our community.
MEPC Director, Ed Sivak accepted the award and delivered a Luncheon Address titled "Mississippi and Money—Where are We Today?"
"We appreciate the honor bestowed on MEPC by the Mississippi League of Women Voters," said Sivak.  "The award was made possible by the skills of and insight available to us from members of our policy team who work tirelessly to provide people with information that will lead to improved outcomes for low-wealth families and economically distressed communities."
Past award winners include the former Secretary of State Eric Clark, former First Lady Elise Winter, and The Clarion Ledger Editorial Director David Hampton.
To see more photos from the award presentation, go to our Facebook page.