Mid South States Underutilize Registered Apprenticeship
May 31st, 2017
Registered Apprenticeship (RA) programs provide one way to connect people with jobs that pay a living wage, yet low apprenticeship participation and program growth suggests that Mid South states are underutilizing this tool for workforce training and development. The intersection of persistent poverty and high unemployment rates across the Mid South underscores the importance of and need for innovative workforce development programs.
Registered Apprenticeship is a tried-and-true work-based learning approach that produces highly skilled tradespeople in their chosen field. Registered Apprenticeship completers are more committed to their employers than typical employees, resulting in higher productivity and reduced turnover costs for businesses. These benefits plus the customizability of Registered Apprenticeship programs to fit numerous industries, businesses and skill sets makes RA an essential tool the Mid South businesses and employees cannot afford to pass up.
The Mid South states, with the exception of Tennessee, have significantly fewer active Registered Apprenticeship programs than other states: Arkansas, Louisiana, and Mississippi each have fewer than 100 active programs while Tennessee has 344. The U.S. average is 410 active RA programs per state (See Table).
Click to enlarge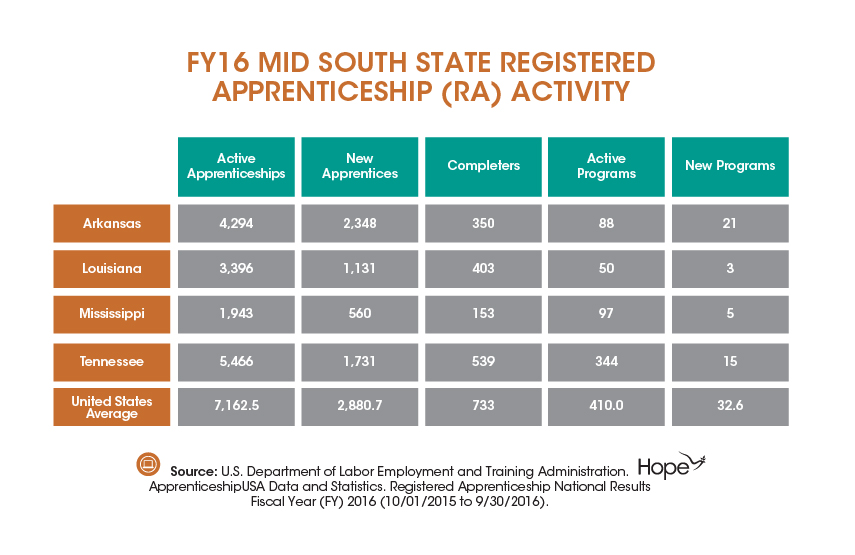 The Mid South states also have many fewer active apprentices and new apprentices than the U.S. average. Just 5,700 new apprentices joined RA programs in the Mid South states, for a total of 15,000 Mid South apprentices in Fiscal Year (FY)16 (the U.S. average is 7,100 active apprentices per state). These 15,000 apprentices are employed with one of the 570 active Registered Apprenticeship programs in specialties ranging from Construction to Sheet Metal Working to Masonry.
Despite the multiple benefits of Registered Apprenticeship for businesses and employees, the Mid South states are underutilizing the program. As Mid South economies continue to struggle in the wake of the recession, passing up the economic potential of Registered Apprenticeship to produce a highly-skilled workforce is not an option. Today's investments in workforce training programs, like Registered Apprenticeship, lay the foundation for economic opportunity and prosperity tomorrow.