Mississippi's Economic Outlook: Overall Job Loss Slowing, but Construction and Manufacturing Continue to Experience Substantial Declines
September 14th, 2010
On September 14th, the Mississippi Institutions of Higher Learning's (IHL) Center for Policy Research and Planning presented the most recent data from their June 2010 Economic Outlook. Overall, Mississippi continues to experience a slow decline in total employment, although the state's economy is not shredding jobs at the same high rates encountered in 2009. The total number of jobs available in July 2010 was 0.6 percent lower than the same time last year, signaling that Mississippi continues to lose jobs even as the nation slowly emerges from the current recession.
Construction and manufacturing sectors lost jobs at higher rates than the remainder of Mississippi's employment sectors. A more positive note was that employment in the business & professional services and mining sectors both increased substantially over the same time last year. The figure below details changes in employment for all sectors from July 2009 to July 2010.
Click to enlarge
Mississippi's Overall Employment Declines 0.6% from July 2009-July 2010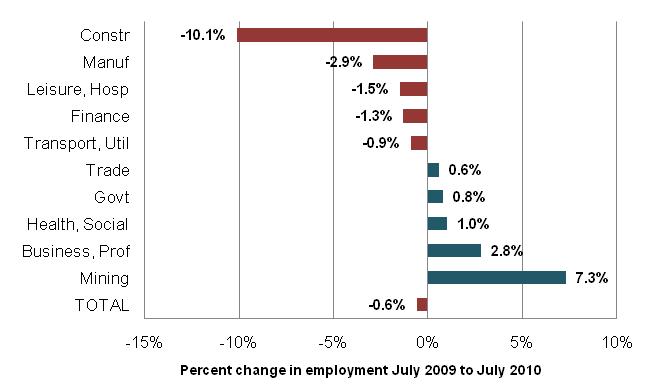 Looking forward, state economists project that overall employment in Mississippi will not reach 2000 levels until 2015. Digging deeper, they project sectors, like construction, manufacturing, and leisure & hospitality, may not reach pre-recession levels until well after 2015. The data indicate that while the rest of the nation is slowly entering recovery, Mississippi's overall employment will continue to slip until 2011.
As jobs do return across Mississippi, there are growing concerns nationally that the skills needed for the jobs of the future will not be the same as the skills required of workers before the recession began. Companies that cut lower-skilled workers during the recession will require workers with advanced skills beyond those required for traditional assembly line workers. For Mississippi to continue to prosper, education systems are going to have to be prepared to equip the state's workforce with new skills and adapt quickly to employer's labor force demands.
Source:
"Mississippi Economic Outlook 2010-2015." Presentation by Marianne Hill. Institutions of Higher Learning, Center for Policy Research and Planning. September 14, 2010.
Author:
Sarah Welker, Policy Analyst