New Report Highlights Perils of Auto Title Loans
May 27th, 2016
The Consumer Financial Protection Bureau (CFPB) recently released a report that highlights the perils of auto title loans for the many cash-strapped borrowers who use them. Auto title loans are high-cost, high-interest (upwards of triple-digit interest rates) secured loans where borrowers use their vehicle title as collateral. Like payday loans, auto title loans are advertised as an alternative credit product for people with short-term financial needs.
Auto title loans are larger than payday loans on average ($1,000 versus $375). According to a report from The Pew Charitable Trusts, the most common annual percentage rate (APR) charged on the typical one-month title loan is 300 percent, and the average borrower spends an estimated $1,200 in fees annually on a $1,000 loan. See Table 1. If the loan becomes past due, the lender has the right to take ownership of the borrower's vehicle.
CFPB's data found that:
Over 80 percent (83%) of auto title loan borrowers take out another auto title loan on the same day a previous loan is repaid, and almost 90 percent reborrow their loans within 30 days.
Two-thirds of all auto title loans originated resulted in seven or more additional loans.
1 in 3 borrowers default on their auto title loans and 1 in 5 borrowers have their vehicles repossessed.
Further, analysis from the Center for Responsible Lending shows that auto title loans drain approximately $3.9 billion in fees annually from borrowers (who have an average income of $25,000) in the United States. In the Mid South states of Louisiana, Mississippi, and Tennessee (where there are no debt trap protections), auto title loans drain almost $620 million in fees annually from consumers. See Table 2. Predatory lenders, like auto title lenders, threaten the economic security of families and communities alike – when a vehicle is repossessed, families already struggling to make ends meet lose a critical asset.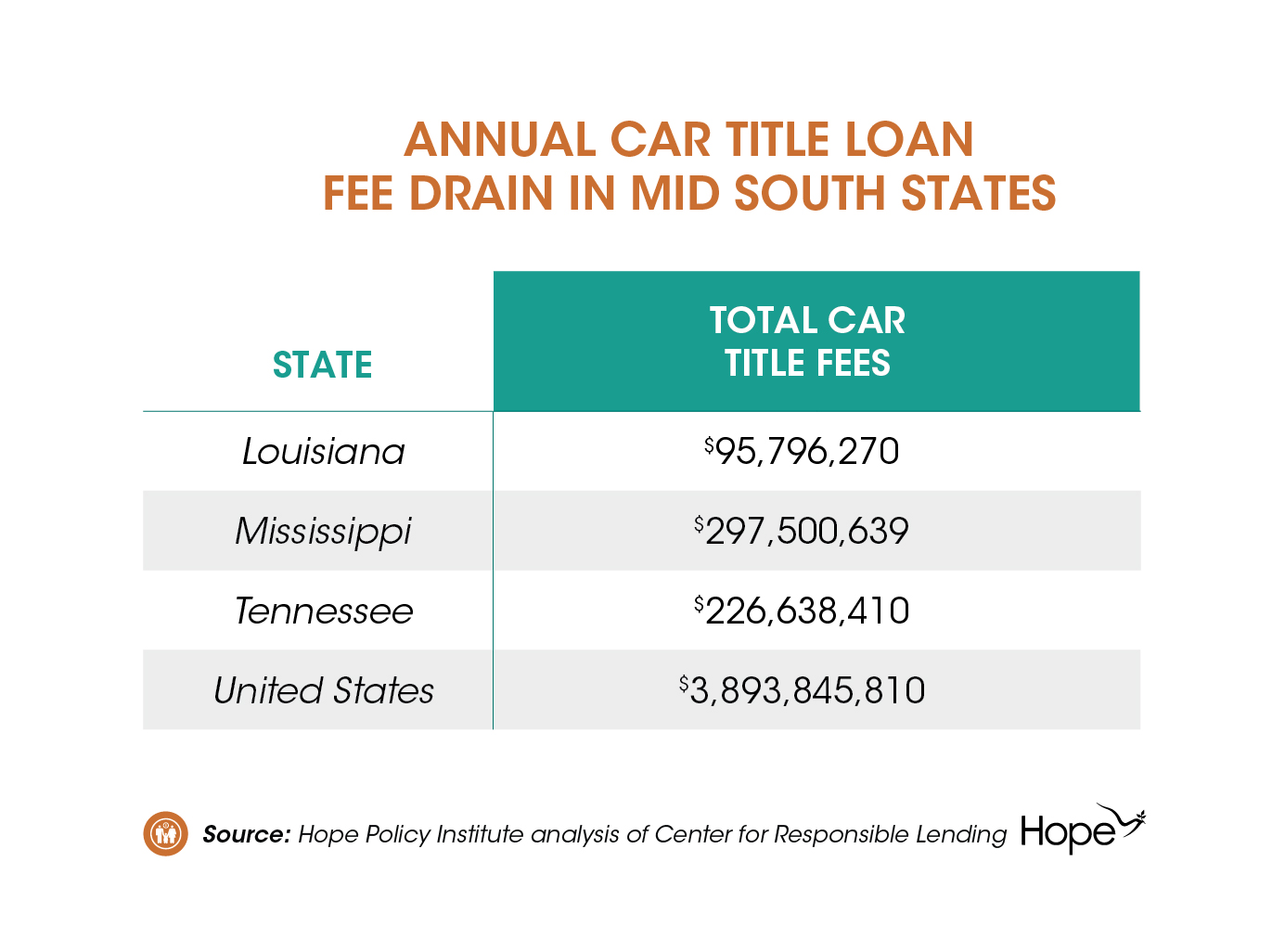 These findings underscore the need for policies that promote financial inclusion. Examples include increased access to financial institutions that offer safe and affordable financial services, like Community Development Financial Institutions and Community Development Credit Unions, as well as making small-dollar loan alternatives safer through stronger debt trap protections.
Sources:
Center for Responsible Lending. (2016, May). Payday and car title lenders drain $8 billion in fees every year. Retrieved from http://www.responsiblelending.org/research-publication/payday-and-car-title-lenders-drain-8-billion-fees-every-year
Consumer Financial Protection Bureau. (2016, May). Single-payment vehicle title lending. Retrieved from http://www.consumerfinance.gov/data-research/research-reports/single-payment-vehicle-title-lending/
The Pew Charitable Trusts. (2015, March). Auto title loans: Market practices and borrowers' experiences. Retrieved from http://www.pewtrusts.org/~/media/assets/2015/03/autotitleloansreport.pdf