Place Matters: Restoring the American Dream in the Deep South
February 23rd, 2018
People who live in long-term poverty experience a range of complex challenges that limit economic opportunity and mobility for some. The Deep South is home to one-third of the nation's persistently impoverished counties – counties where the poverty level has exceeded 20 percent for at least 30 years. Families in these high-poverty areas must often overcome a lack of resources that hinder efforts to improve their quality of life. For example, persistent poverty counties are characterized by limited access to jobs, health care, quality education, affordable housing as well as access to safe and affordable financial services. These quality of life elements are necessary to help people achieve the American Dream. In the past year, a group of some of the nation's leading scholars, policy experts, and practitioners, known as the US Partnership on Mobility from Poverty, has worked to develop a framework of strategies to change the trajectories for millions of people in America, including those plagued by persistent poverty in the Deep South.
Snapshot: Persistent Poverty in the Deep South
The Deep South has the highest concentration of persistent poverty in the nation – 124 of the nation's 473 persistent poverty counties. Here, more than one-third (32%) of counties and parishes are in persistent poverty. Mississippi is the only state where more than half (56%) of the counties are persistently impoverished. Nearly half (48%) of parishes in Louisiana are in persistent poverty, while one-third of Alabama counties (30%) and nearly one-quarter of Arkansas counties (24%) are persistently impoverished. See Map.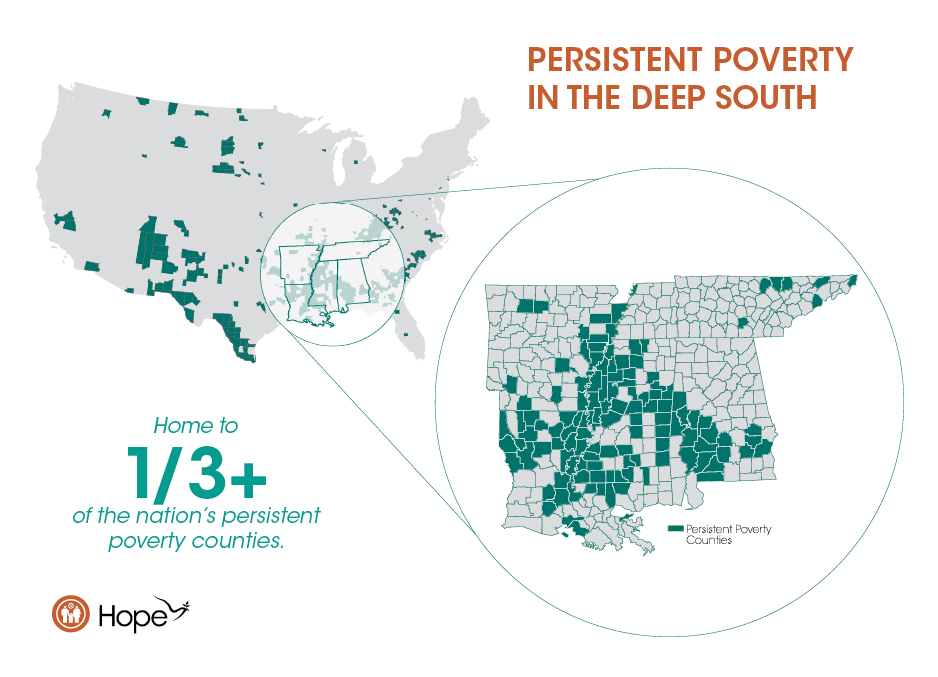 US Partnership on Mobility from Poverty: Restoring the American Dream
"What would it take to dramatically increase mobility from poverty?" This is the question the US Partnership on Mobility from Poverty has continuously worked to answer since the Partnership first came together two years ago. Recently, the Partnership formally introduced its framework of strategies for upward mobility in "Restoring the American Dream: What Would It Take to Dramatically Increase Mobility from Poverty." These strategies are part of the Partnership's place-conscious focus on transforming communities and institutions that serve them, removing barriers that limit where people can live and learn, and encouraging more economically diverse neighborhoods.
For more ideas to boost mobility from poverty, sign up for the Partnership's newsletter, the Partnership Post.
Follow the Hope Policy Institute's blog, Facebook and Twitter for more information on the Partnership, including a newly released paper co-authored by HOPE, Opening Mobility Pathways by Closing the Financial Services Gap.