Scorecard: Housing and Homeownership
June 5th, 2015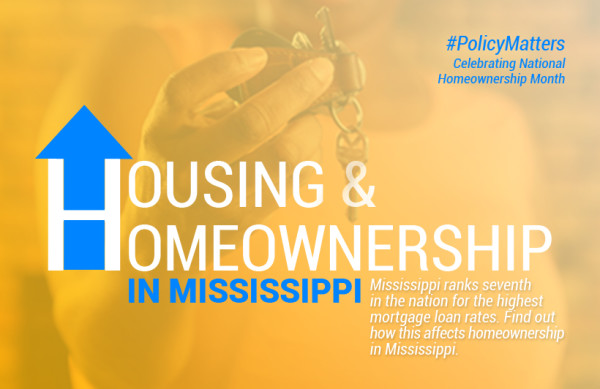 June is National Homeownership Month – a time that reaffirms the value of homeownership, particularly as a wealth-building tool for both the homeowners and the communities in which they live. Homeownership is an integral part of the "American Dream," and plays an important role in how low-income and minority households achieve and build long-term economic stability. According to the 2015 Assets & Opportunity Scorecard, which comprehensively examines Americans' financial security and their opportunities to create a more prosperous future, Mississippi ranks 29th out of the 50 states and the District of Columbia on outcomes measures related to housing and homeownership.
In order to move the state forward, Mississippi must create affordable and sustainable housing options to help all Mississippians have an opportunity to climb the economic ladder and become financially secure. This blog takes a closer look at Housing and Homeownership in Mississippi.
Homeownership Rate
The homeownership rate illustrates the number of families that have the opportunity to build wealth through home equity. In Mississippi, 67.2% of Mississippi households are homeowners, nearly 4 percentage points higher than the national rate. However, this rate shows a continued downward trend, as homeownership for both the nation and state, in addition to 35 other states, is at a 20-year low.
High-Cost Mortgage Loans and Delinquent Mortgage Loan Rates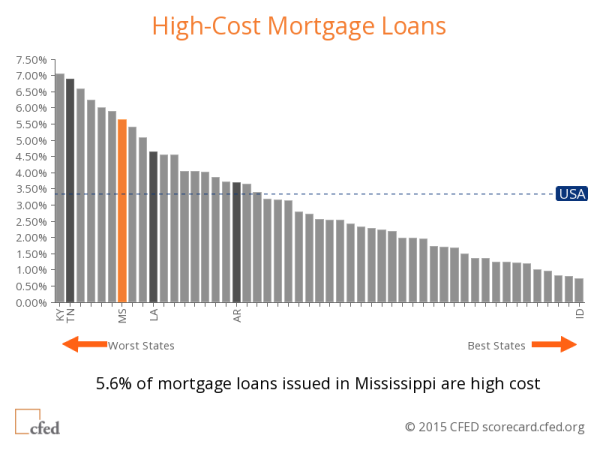 High-cost mortgage loans have a significantly higher-than-average APR. Lenders typically target the elderly, minority, and low-income families with these products, which put them at a greater risk of foreclosure and loss of home equity. These products contributed to the housing crisis during the Great Recession and are still a problem today. Mississippi has the seventh highest high-cost mortgage loan rate in the nation and has the second highest rate in the Mid South region, behind Tennessee (See Chart). In Mississippi, 5.6% of mortgage loans issued are high cost, compared to 3.35% of mortgage loans issued in the United States. The percentage of homebuyers with high-cost mortgage loans is higher nationally and in Mississippi, as well as 41 other states, than it was in 2010.
Delinquent Mortgage Loans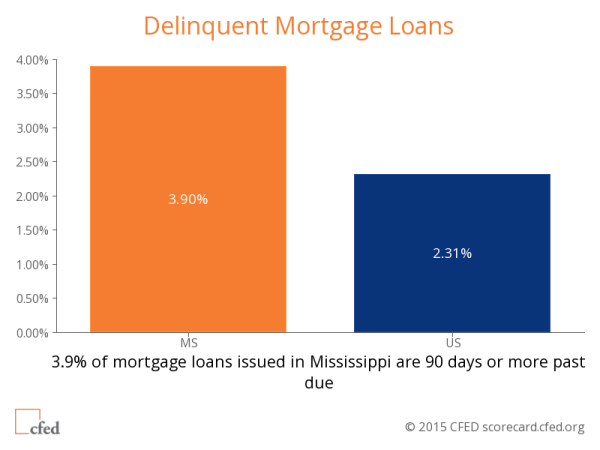 Delinquent mortgage loans have payments over 90 days overdue and are an indicator of whether a household will go into foreclosure or if a mortgage is in need of modification. Mississippi has the highest delinquent mortgage loan rate in the nation – 3.9% of mortgage loans issued in Mississippi are 90 days or more past due, compared to 2.31% of mortgage loans issued in the U.S.
Homeownership is the primary means through which most Americans build wealth and provides not only long-term physical stability but financial stability as well. With one-third of Mississippi's future workforce spending at least part or all of their childhood in poverty, it is critical now more than ever to create affordable and sustainable housing opportunities in Mississippi before the state's economic potential is capped.
Source:
Corporation for Enterprise Development. (2015). Assets and Opportunity Scorecard, 2015.