Scorecard: Low and Middle Class Families among Mississippi's "Liquid Asset Poor"
February 14th, 2014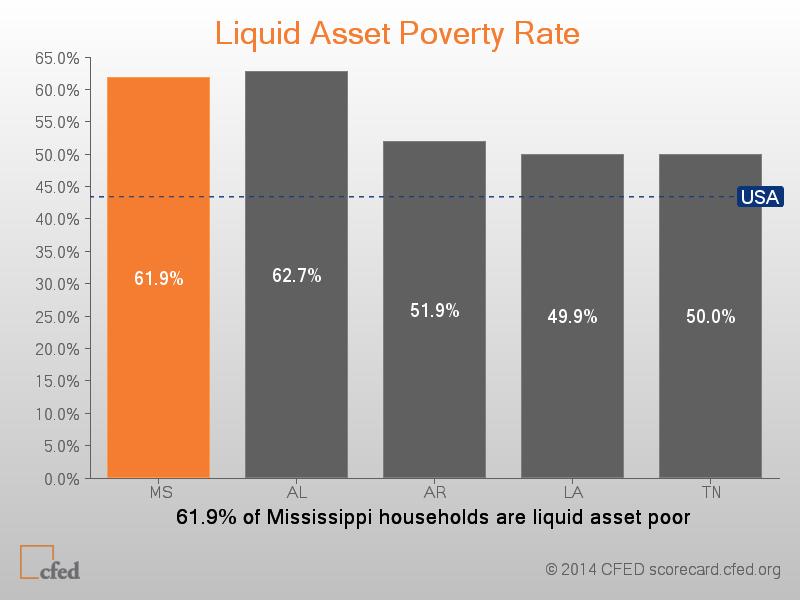 MEPC recently blogged on how well families are faring in Mississippi, according to the Corporation for Enterprise Development's (CFED) 2014 Assets & Opportunity Scorecard. It is evident from theScorecard that despite an improving national economy, Mississippi families continue to exist in a state of persistent financial insecurity. Fully, 22.4 percent of state residents live in poverty and far more are financially vulnerable. The Scorecard, which takes a comprehensive look at Americans' financial security, ranks Mississippi second to last, only behind Georgia, in asset ownership and financial stability.
Liquid Asset Poverty means there is no "slack" in the family budget to cover unforeseen expenses like a job loss or medical emergency. According to the Scorecard, families who are "liquid asset poor" lack adequate savings to cover basic expenses at the federal poverty level for three months should a financial setback leave them without their primary source of income. The Scorecard found that 43.5 percent of American households and 61.9 percent of Mississippi households are liquid asset poor, meaning they do not have a basic safety net to weather emergencies or prepare for future needs (See Chart). Included among Mississippi's "liquid asset poor" are a majority of those who live below the official income poverty line of $23,550 for a family of four, as well as many middle class families. Approximately 31 percent of households earning between $42,625 and $72,696 annually have less than three months savings (i.e., less than $5,887 for a family of four)
The high rate of liquid asset poverty in Mississippi underscores the importance of implementing policies that promote asset accumulation, so families are better prepared to weather financial setbacks and save for future needs, such as a child's education or homeownership. Mississippi can improve this problem by providing opportunities for families to save for emergencies and the future through appropriate financial products, services, and incentives.  For example, Children's Savings Accounts (CSAs) are long-term, asset-building accounts established for children at birth and provide families with a tax-free way to build assets to finance higher education, purchase a home, start a small business, or fund retirement. Additionally, the state can expand support for Community Development Financial Institutions (CDFIs) and Community Development Credit Unions (CDCUs), which have a long track record of meeting the needs of historically underserved populations.
Over the next several months, MEPC will be sharing information about the Scorecard and promoting policy options for building assets among low-wealth families.
Source: Corporation for Enterprise Development. (2014). Assets and Opportunity Scorecard, 2014. Retrieved from http://assetsandopportunity.org/scorecard/