Sluggish Revenue Collections and Tax Cuts = Budget Crisis
February 28th, 2017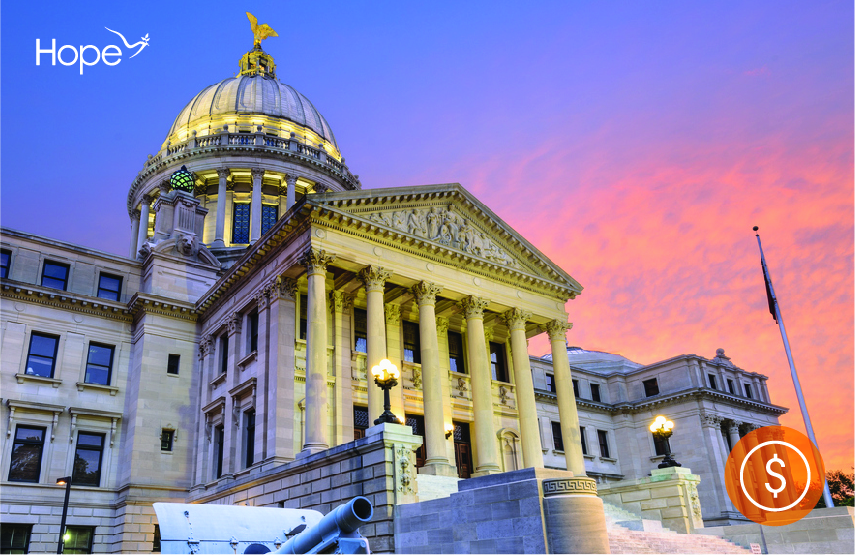 Mississippi is currently experiencing a budget crisis with sluggish tax collections and the continuing reduction of revenue through tax cuts. The crisis is resulting in significant, unplanned budget cuts to state agencies, which affect the quality and availability of services. Without policy changes to bring in more revenue, the future looks bleak with additional tax cuts beginning to be phased in next year, further depleting our resources.
The cuts
The state's tax collections are not bringing in enough to cover current appropriations, leaving our schools, universities, mental health, and public safety subject to more harmful cuts to services.
Governor Bryant announced another round (the 3rd this year) of mid-year budget cuts, totaling $151 million for FY 2017. Mid-year cuts are reductions in the budget when the state does not bring in enough money to pay for appropriations that have already been made.
This year marks the second consecutive year of budget shortfalls requiring a total of five rounds of mid-year cuts over the last two years. In addition to mid-year cuts, budgets have been reduced through the appropriations process between years as well. Thus, the $151 million in cuts made during this budget year is in addition to the $47 million in budget reductions made when funds were originally appropriated last spring.
Tax collections
From 2012-2016, lawmakers enacted multiple tax breaks, though some received little attention, they mean a lot in terms of cost. Beyond last year's large tax break package costing $415 million to be phased in over several years, lawmakers made more than $300 million in tax cuts before 2016. The $300 million is likely an underestimate of the cost of all tax breaks, as many were enacted with no data available for a cost estimate and are not included in that total. Those tax breaks are having an impact on the state's revenue losses beyond the state's sluggish economic recovery also affecting revenue collections.
The long view
Many lawmakers have noted that the state budget has grown in recent years. However, the increases over the last several years only tell half the story. The growth in the budget is misleading because collections have simply been recovering from the low-point hit during the Great Recession. That low-point is not a reasonable baseline to compare to today's budget. A more appropriate comparison would be looking at the budget today with pre-recession levels (i.e., 2008), and, in current dollars, revenues have not yet fully recovered to that point. Further, while revenue has gradually recovered since the recession, it has now slowed, actually going down the past two years (See Chart).
Click to enlarge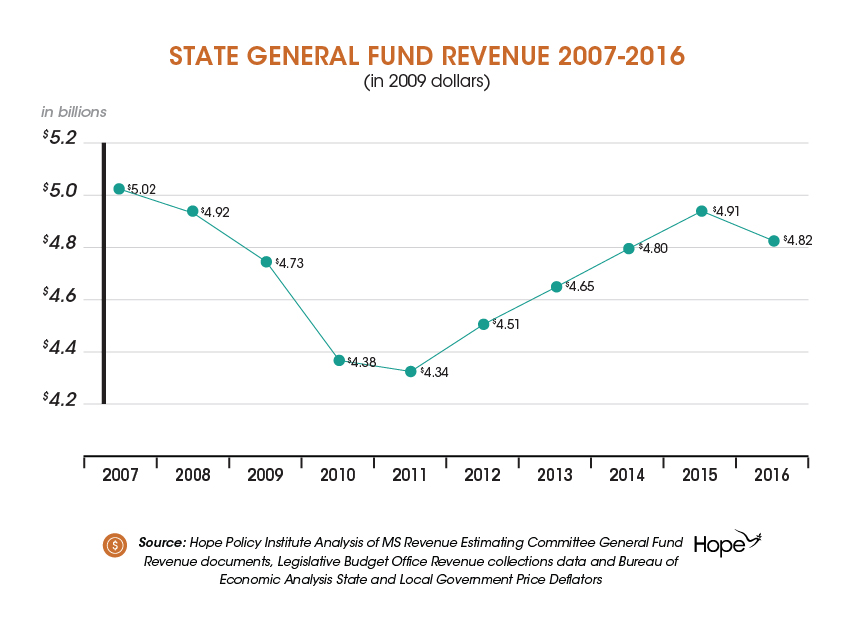 Amidst the budget crisis of the current year, lawmakers are now turning to budget negotiations for next year's budget. In our next post, we will discuss how the 2018 budget is shaping up. To get the latest budget updates, follow us on Facebook, Twitter and sign up for our newsletter.