Understanding Food Insecurity in the Deep South
August 24th, 2018
The United States is one of the wealthiest countries in the world, but wealth remains elusive for many Americans, particularly those in the Deep South. Nationally, 43.1 million Americans live in poverty, with a substantial portion in the South (41.1%).[1] Higher rates of obesity, lower educational resources, and fewer economic opportunities are some of the obstacles poor Americans face daily.[2]
Amidst the litany of problems that come with poverty, the impoverished must also deal with food insecurity.
The United States Department of Agriculture (USDA) defines food insecurity as a lack of consistent access to enough food for an active, healthy life. Food insecurity can range from low food security, households that report a reduction in food intake and disruption in eating patterns; to high food security, households that report no issues with food access and consumption.
In a recent report, the USDA found that 12.7 percent of households experienced food insecurity within the past year and 4.9 percent experienced low food security. The USDA also notes that the highest rates of food insecurity were in the Deep South. For example, 20.8 percent of Mississippi households are food insecure – the highest rate in the nation. Tennessee, Alabama, Arkansas and Louisiana do not fall far behind, with rates higher than 15 percent. See Chart.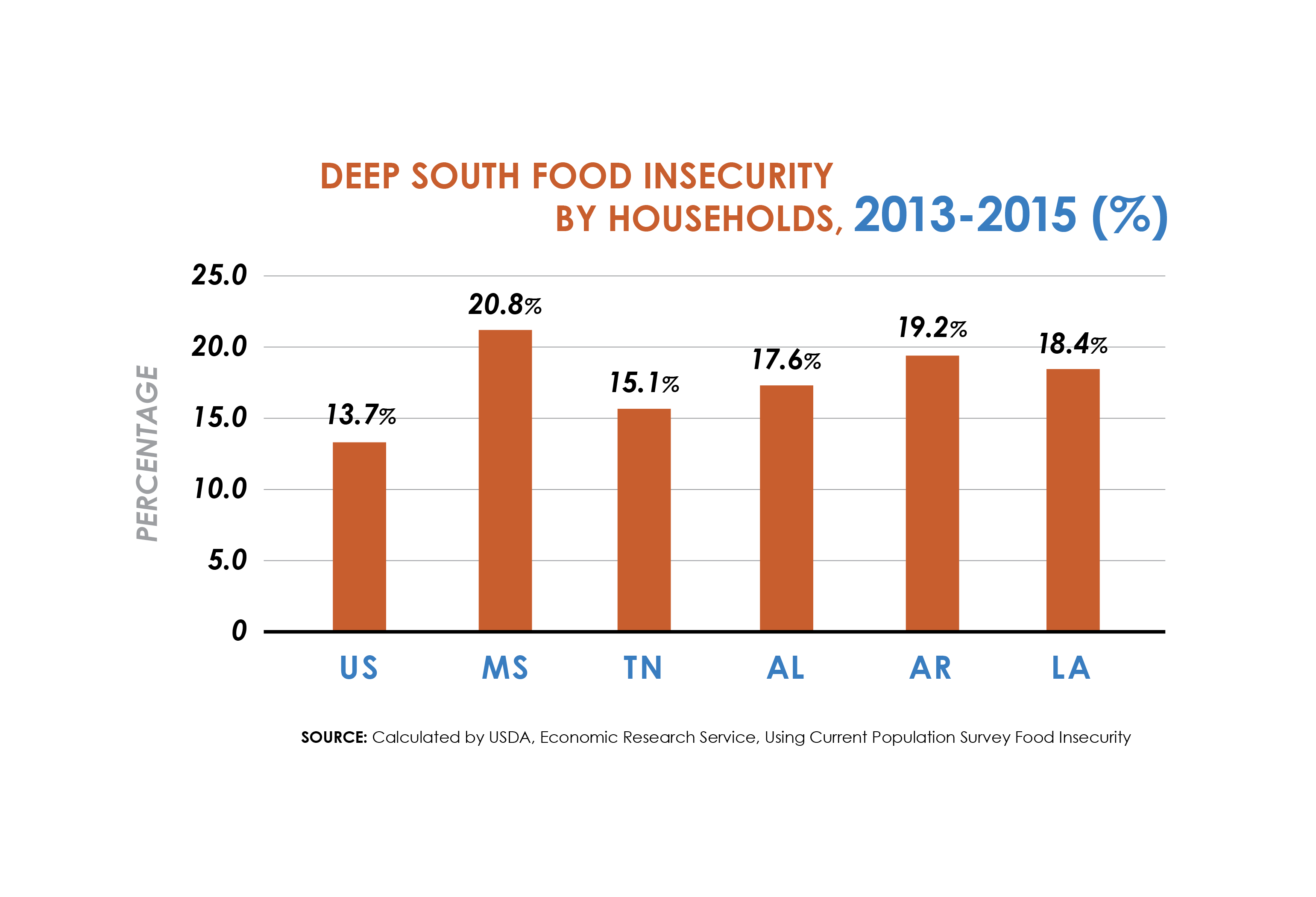 Meeting the needs of residents who live in high-poverty communities in the Deep South requires innovative solutions that have meaningful impact. For example, HOPE's Mid South Healthy Food Initiative (MSHFI) is a public-private partnership that provides affordable financing to food retailers to expand access to fresh food in underserved communities. Through the MSHFI program, HOPE has financed 11 healthy food projects and directly invested $16.2 million and leveraged $44 million to expand food access in underserved areas. Strengthening investments in efforts, like the MSHFI program, can help build the number of families that have the opportunity to access quality foods, regardless of the community in which they live.
[1] U.S. Census Bureau. (2017, September 12). Income and Poverty in the United States: 2016 (Report No. P60-259). Retrieved from https://www.census.gov/library/publications/2017/demo/p60-259.html
[2] Blackwell, D. L., Lucas, J. W., & Clarke, T. C. (2014). Summary health statistics for US adults: national health interview survey, 2012. Vital and health statistics. Series 10, Data from the National Health Survey, (260), 1-161.