Updated: HB1396 Takes Advantage of Mississippi's Working Families
April 2nd, 2012
This is updated information to the March 30th post on HB 1396
HB1396 represents the types of policies that keep Mississippi and its families from moving ahead and should not be supported. HB1396 significantly drives up the cost of small loans made by small loan companies which are used by working families.
Example:
Compared to the more expensive $1,500 loan under the current statute, this act will increase the current allowable costs on (interest and fees) by $884.88.
***HB1396 changes the fee structure on installment loans making them more expensive.***
On the more expensive $1,500 loan with a term of 24 months, the cost of the loan without credit life insurance is $2,954.88 under the existing statute.  HB1396 will increase the allowable cost by $884.88 (see chart below).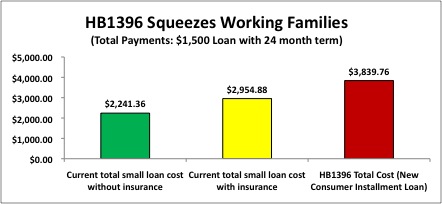 On a monthly basis, HB1396 will increase the costs of making loan payments on the more expensive $1,500 loan by $36.87. For families already in the financial position to need this product, $37 could be the difference between having enough money for gas to go to work and not making it.
One rationale for pursuing this bill has been that the small loan companies have been affected by the recession.  However, in 2010, there were 517 small loan companies licensed in the state of Mississippi with nearly $795 million in loans outstanding.  Clearly, someone is able to make these loans.  The rationale also ignores the fact that Mississippi's working families have been hurting as well – and this bill will cause further harm.
For more information on HB 1396, see our Fact Sheet.
Author: Ed Sivak, MEPC Director