What do Mississippi's Leaders Think about Healthcare Reform?
June 27th, 2012
Last week, The Mississippi Health Policy Program (MHAP) shared key findings from their policy brief entitled, "Implementing Health Reform: An Informed Approach from Mississippi Leaders."
Leaders from various organizations and sectors in Mississippi identified challenges that exist in implementing health reform in Mississippi including:
Changing Mississippi Demographics & Growing Economic Inequality
Mississippi is currently experiencing a shift in its demographics.  The 2010 Census reports more children of color in Mississippi than white children.  Also, the 2010 Census data shows that 48% of non-white children in Mississippi live in poverty, compared to 18% of white children;¹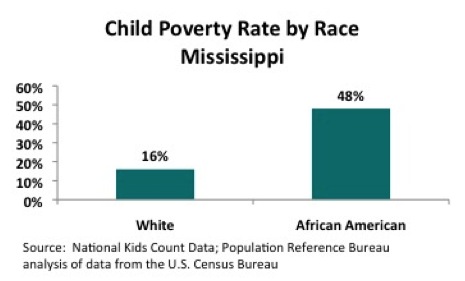 Increasingly Poorer Health and Chronic Diseases

Out of 50 states, Mississippi ranks
1
st
in heart disease death rate, 1
st
in obesity, 2
nd
in the diagnosis of diabetes, and 1
st
in the infant mortality rate;²and
A Shifting Health Care System
In 2009, Mississippi spent over $19 million on health care expenditures, including hospital care, physician services and nursing home care.³
Despite these identified challenges, the brief concluded that many of these challenges can be overcome or minimized through coordinated strategic planning that includes consumers, health care providers, small businesses and health coverage experts.
It is important that our state leaders work together to create an environment that will bring about better health and health outcomes for all Mississippians.  Mississippi's future will depend greatly on our ability and willingness to give all Mississippians the advantage of investments in healthcare and all of the public structures (schools, public safety, etc.) that lead to advancement, opportunity and growth.
Author: Francinia D. McKeithan, Policy Analyst/ SFAI Policy Fellow
---