What Does the Medicaid Per Capita Cap Mean to Mid South States?
May 16th, 2017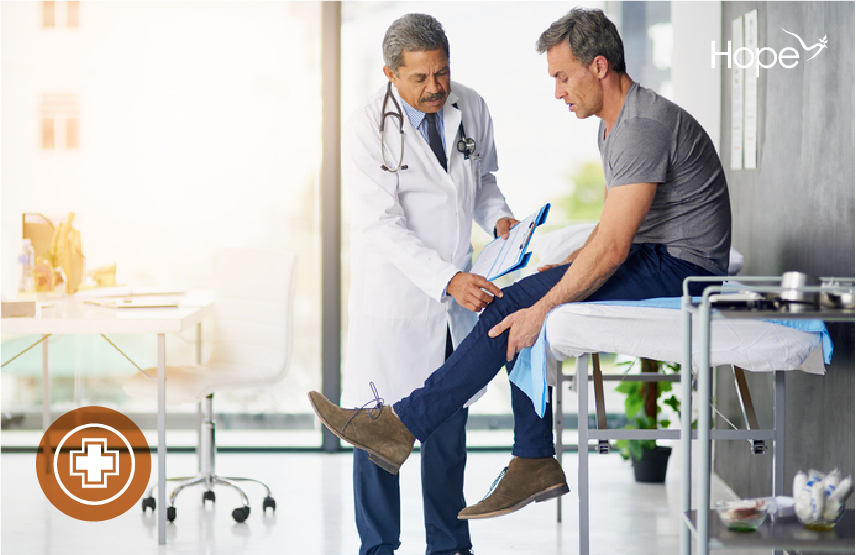 Earlier this month, House lawmakers passed legislation that threatens the gains made by the Affordable Care Act (ACA). The proposed healthcare legislation – the American Health Care Act (AHCA) – jeopardizes the healthcare coverage of 695,000 Mid South residents and ends Medicaid expansion funding in Arkansas and Louisiana. Additionally, it also ends Medicaid as we know it by converting the federal funding for Medicaid to a per capita cap model.
AHCA Changes the Structure of Medicaid.
Under the current Medicaid structure, the federal government matches state spending on Medicaid. Low-income states have larger federal matching rates than high-income states. For example, Mississippi's Federal Medical Assistance Percentage (FMAP) for Medicaid is 76 percent compared to the national average of 50 percent. The AHCA legislation instead proposes a set limit or "cap" on the amount of federal funding a state receives based on the number of Medicaid enrollees.
Estimations show that the per capita cap would cut federal Medicaid spending in the Mid South states by $20 billion over 10 years (See Map). As these cuts grow over time, states would be forced to make up the difference by either cutting areas of their own budgets or reducing Medicaid coverage, services, or reimbursements to providers for the 4.3 million Mid South residents, including seniors, people with disabilities and children who use the Medicaid program.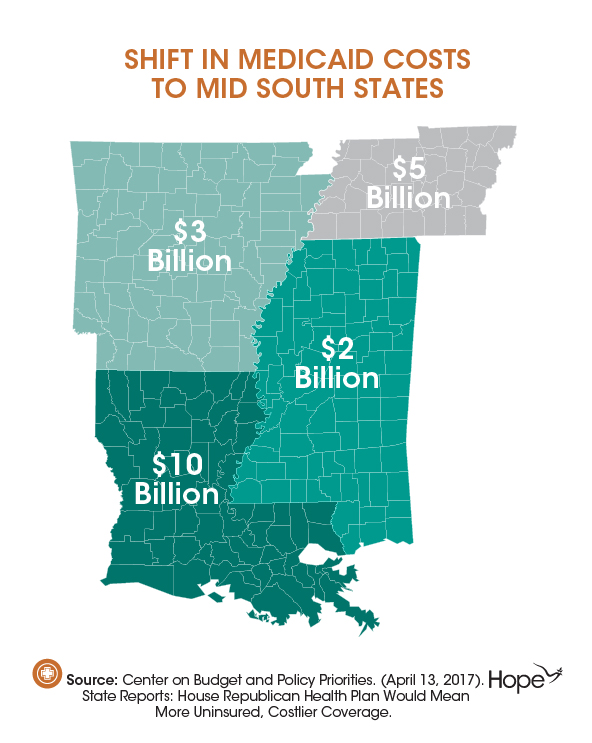 The per capita cap would also hurt states when they face unexpected costs – if a public health crisis or natural disaster occurred, states would face a choice: find the money elsewhere by cutting services or raising taxes, not responding to the crisis, or making cuts elsewhere. For states already facing a budget shortfall, like Mississippi, this would only deepen their budget problems.
To shift billions in costs to the states would result in monumental consequences for Mid South states. Not only would some of our most vulnerable populations – seniors, people with disabilities and families with kids – be most at risk, but our already drained state budgets and local economies would face even greater shortfalls. It is important that we find ways to build upon the ACA's success, not tear it down.
Sources:
Center on Budget and Policy Priorities. (April 13, 2017). State reports: House Republican Health Plan would mean more uninsured, costlier coverage. Retrieved from http://www.cbpp.org/research/health/state-reports-house-republican-health-plan-would-mean-more-uninsured-costlier
The Henry J. Kaiser Family Foundation's State Health Facts. Data Source: FY 2018: Federal Register, November 15, 2016 (Vol 81, No. 220), pp 80078-80080