What is Next for Mississippi's Coronavirus Relief Funds?
February 2nd, 2021
As part of the federal CARES Act legislation, Mississippi received $1.25 billion through the Coronavirus Relief Fund (CRF). This money could be used for unexpected expenses related to COVID-19.  In June, the Mississippi legislature allocated these funds to provide relief to small businesses, hospitals, schools and colleges, broadband access, local governments, and other COVID-related needs. The original deadline to spend this $1.25 billion was December 30, 2020.  But, the most recent federal relief package extended the deadline by a year. Mississippi now has until December 30, 2021 to spend its Coronavirus Relief Funds.
Given the extended deadline for spending Mississippi's Coronavirus Relief Fund, Mississippi should seek ways to ensure these funds are used for their original intent to meet the daily needs of Mississippians impacted by COVID-19's health and economic consequences.
Current Status of Mississippi's Coronavirus Relief Funds
As of January 18, 2021, the state's TransparencyMS.gov tracking site, shows $187 million of unspent Coronavirus Relief Funds were transferred from various programs to the state's Unemployment Compensation fund.[1] The transfers of unused money to the Unemployment Compensation fund were mandated by the Mississippi legislature in a series of bills passed over the summer.[2] The bills provided that if money remained in various programs by a certain date, those funds would be swept into the fund. This was primarily motivated by ensuring the state could meet the original deadline of expending the funds by December 30, 2020, and was deemed a permissible use of the funds by U.S. Treasury, the federal administering agency.
Unfortunately, there were several key programs which had not yet fully deployed all of the money by the time they were swept into the unemployment fund. For example, $17.7 million of the money intended as direct payments to small businesses, over $60 million intended for the Back to Business grant program, and over $6 million of money intended for rental assistance were all swept into the unemployment fund.  See Table 1.
Table 1.  Status of Certain Programs Funded by the MS Coronavirus Relief Fund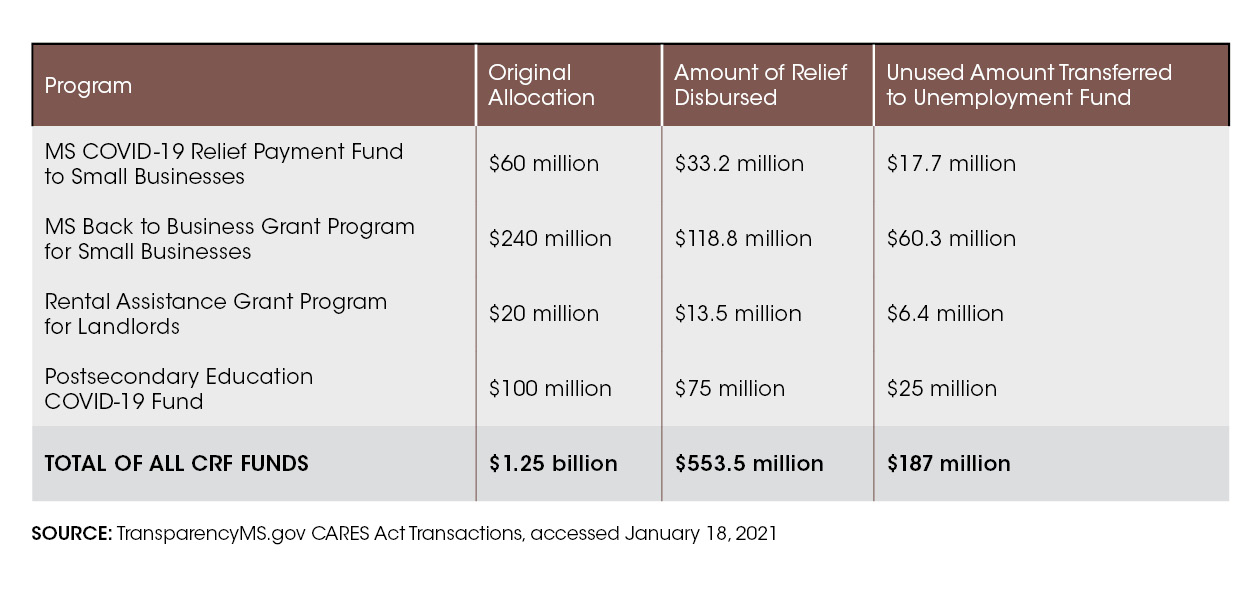 The transfers to the unemployment  fund are in addition to a $182 million original allocation of the state's CARES Act money to the fund made in June, bringing the total amount of Coronavirus Relief Fund money provided to the unemployment compensation fund to over $369 million, approximately one-third of the total amount received.  Unfortunately, federal regulation prevents states from withdrawing money from the unemployment fund for any other use besides unemployment compensation.[1]  As such, it appears this money cannot be redeployed for its original CARES Act uses to meet COVID-19 related needs.
Mississippi should examine whether any other CARES Act money remains to meet the urgent day-to-day needs of Mississippians seeking to stay safe, keep their businesses opens, and maintain their housing during this crisis.
---
[1] TransparencyMS.gov, Coronavirus Aid, Relief, and Economic Security (CARES) Act, http://www.transparency.mississippi.gov/caresAct/caresact.aspx (accessed January 18, 2021)
[2] HB 1805, http://billstatus.ls.state.ms.us/documents/2020/pdf/HB/1800-1899/HB1805SG.pdf