HOPE Matters: December 2018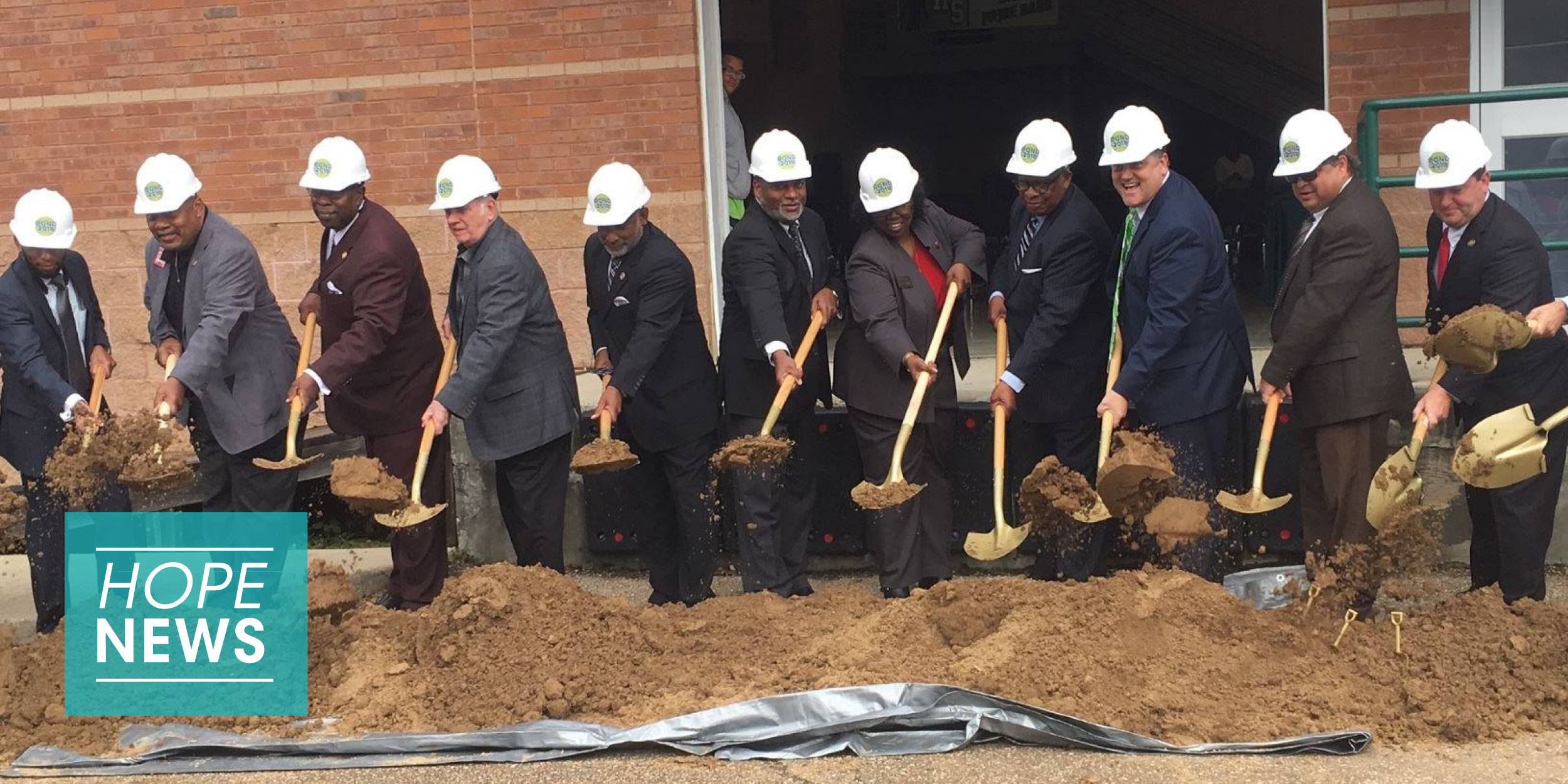 Innovative Use of New Market Tax Credits, Bond Issue Spur School Renovation in Historic Vicksburg
Renovation work is underway at Vicksburg High School, one of the first public schools in the nation to receive financing through New Market Tax Credits. The bulk of the $32 million project cost is financed by a bond issue, and includes $10.7 million in HOPE NMTCs. The project will provide much-needed updates to the building to support the school district's mission of graduating all students college, career and life prepared. Additions and improvements add 21st century learning spaces and will include new lab space, a mock courtroom, an entrepreneur lab, an aquaponics lab, student leadership lounge, media center and a student run store and credit union. "Families and communities thrive when people have strong schools, quality health care, jobs that pay enough to live on, and financial institutions that treat everyone with respect," said HOPE CEO Bill Bynum. "This investment positions Vicksburg students, residents and the entire community for a brighter future."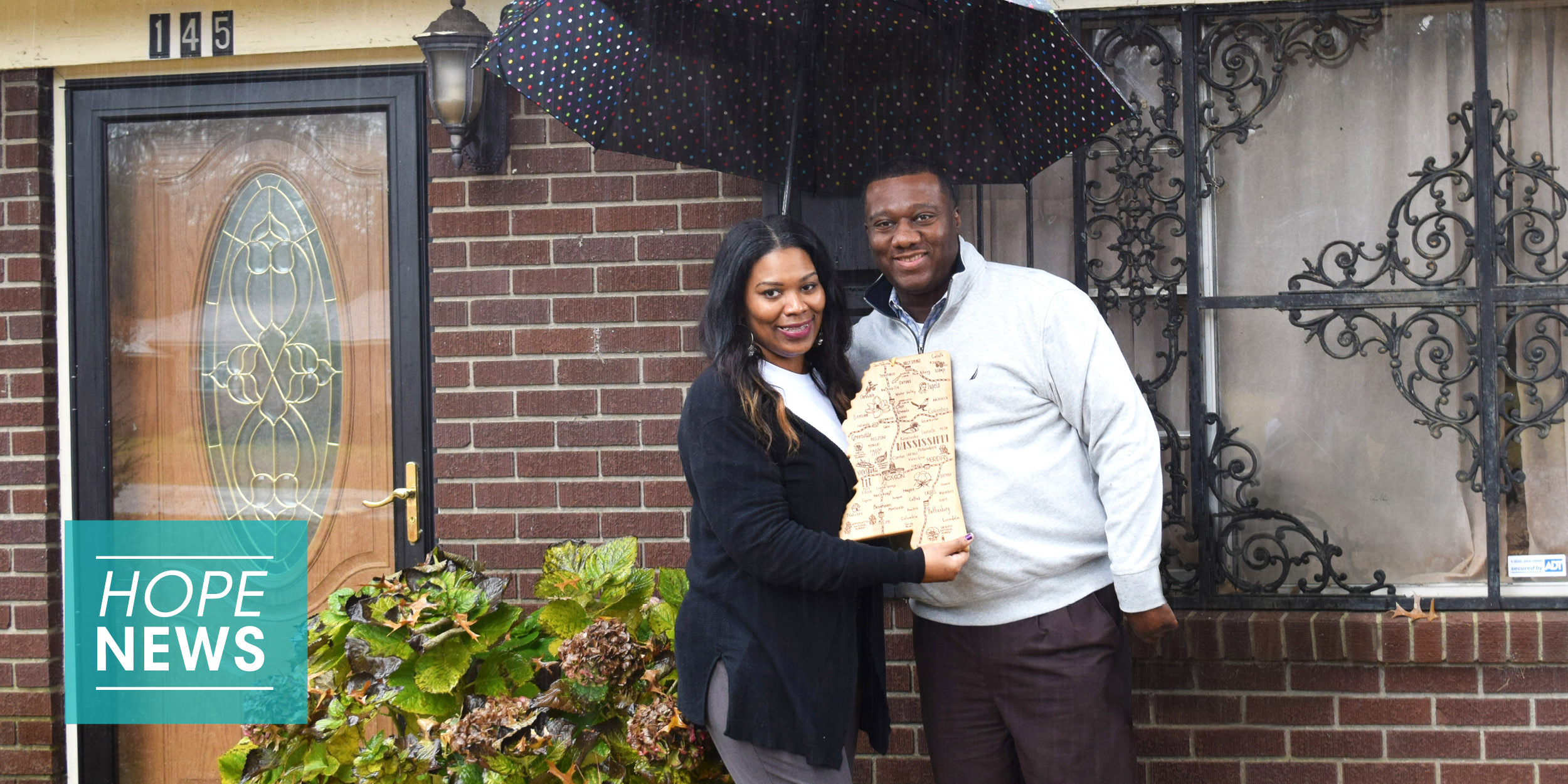 HOPE Closes 1st NeighborhoodLIFT Mortgage Loan in Mississippi Delta
Moments after Patricia Brown signed final paperwork on her home loan, HOPE Senior Vice President James Hunter presented her with a housewarming gift. Brown of Greenwood was the first Mississippi resident to receive a down payment assistance grant from the NeighborhoodLIFT program, sponsored by Wells Fargo and NeighborWorks America, and administered by HOPE. HOPE was also the lender for Brown, who is a first-time homeowner. "I cannot express how excited I am. This grant really helped me to afford this home. It's what I've always wanted," said Brown. The program provides $7,500 in down payment assistance to eligible home buyers. First-responders can receive $10,000 grants. The grants are the result of a $2.75 million commitment by Wells Fargo to boost homeownership in Mississippi.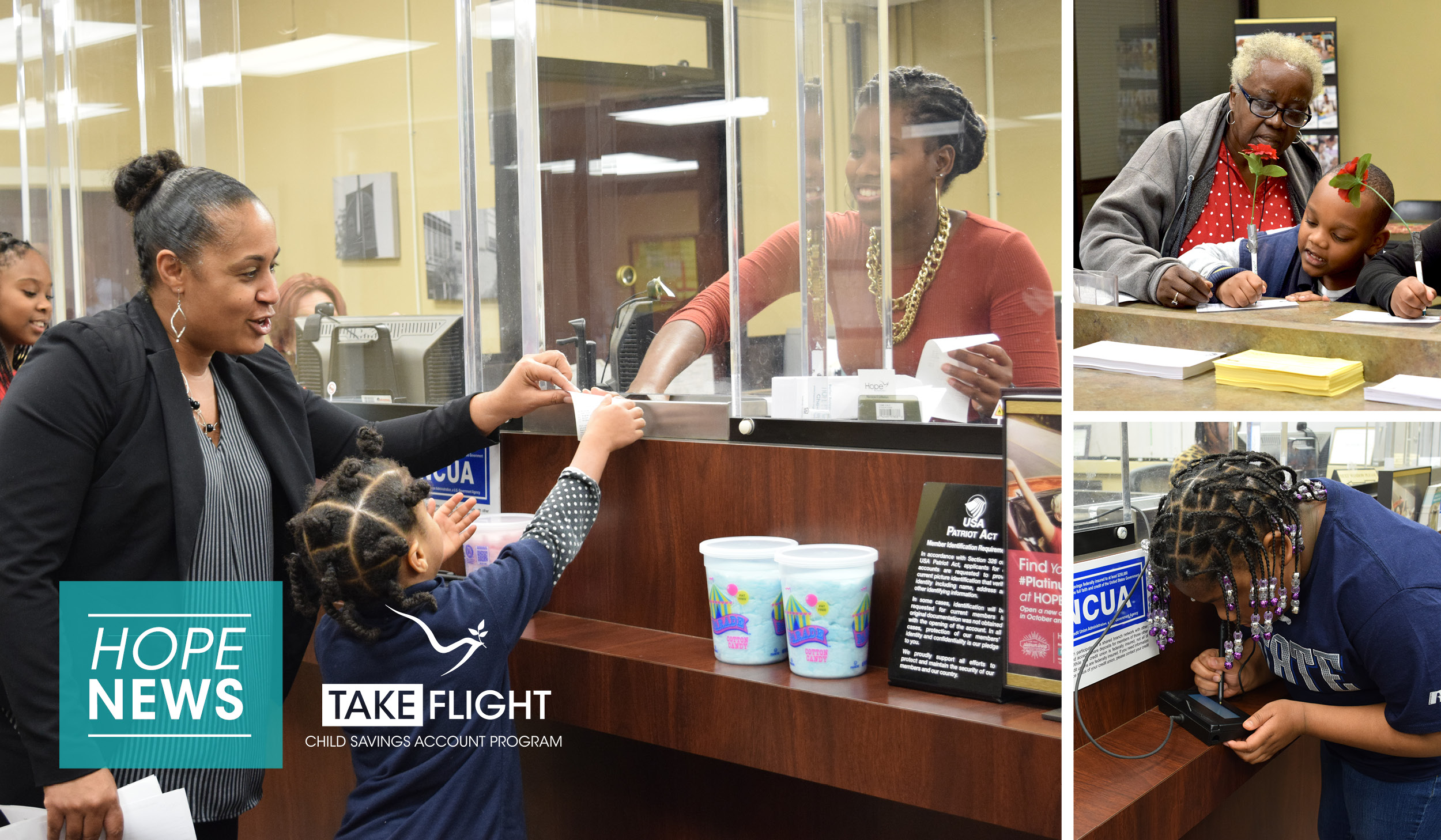 Elementary Students 'Plant Seeds' by Opening Savings Accounts with HOPE
By dropping spare change in her piggy bank, Marlana saved $89.60 this year, which she deposited during a recent field trip to Hope Credit Union as part of HOPE's partnership with the Mississippi Children's Museum's Planting the Seeds to Read family literacy program. Each week, families are served a healthy dinner, and children participate in a hands-on literacy activity. As part of the program, HOPE conducts financial workshops for both students and their parents or guardians, and provides seed money for students who complete the program. Research shows that low-income children who have a savings account are more likely to enroll in and graduate from post-secondary education than those without savings.
Marlana says she's saving for her college education, "and I'll give the rest to people in need." During the field trip, 5-year-old Shabreya opened her first account, and her grandmother, Maurika Watson, also opened a HOPE account. She had attended the sessions with her granddaughter. "What I learned made me want to build my credit," Watson said. "We found out there is hope, and we want a part of it."
Learn more about HOPE's Take Flight children's savings accounts.
HOPE SVPs Wicks, Hunter Elected to Serve Terms on National Boards
HOPE's Senior Vice President of Retail Pearl Wicks and Senior Vice President of Mortgage James Hunter have been elected to serve on the Boards of Directors of Opportunity Finance Network and Inclusiv, respectively. Wicks is serving her second consecutive term on the board of OFN, the national trade association for community development financial institutions (CDFIs). The network helps money flow to people and places across the nation where traditional finance doesn't reach. Wicks said her service allows her to expand work to advance economic justice and close opportunity gaps. Inclusiv, formerly known as National Federation of Community Development Credit Unions, has a mission to help low- and moderate-income people and communities achieve financial independence through credit unions. Hunter says Inclusiv plays an invaluable role as an advocate for change – to make the system work better – for credit union members and communities across the nation.
Pursuing a Business Dream in Montgomery, AL
Gregory Scott's dream is to own a food truck business, and he's trusting HOPE to help him achieve it. Gregory says HOPE's recent expansion into Alabama ensured his community had access to affordable financial services.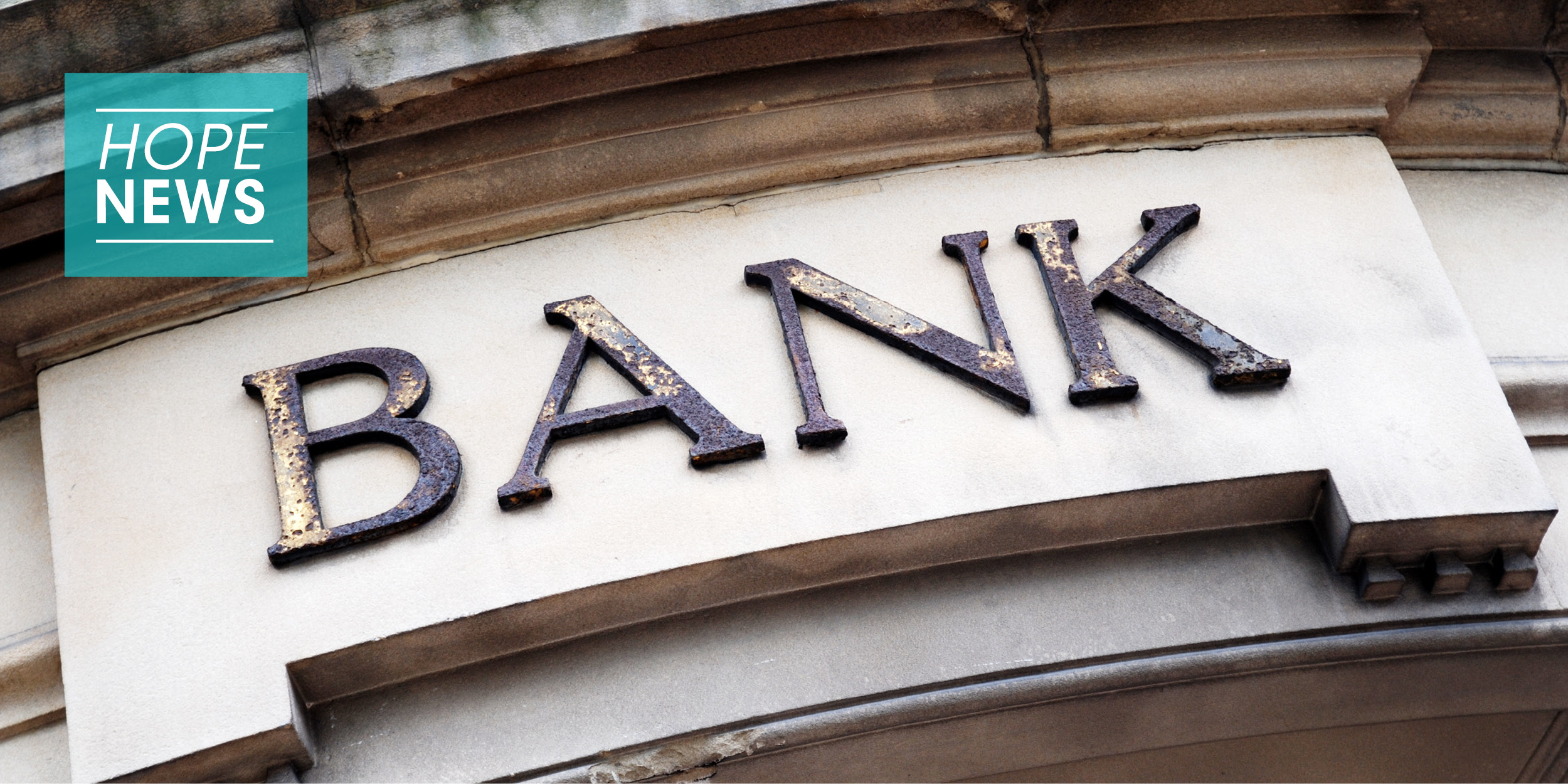 HOPE Submits Comments on the Community Reinvestment Act to OCC
HOPE recently submitted comments about the Community Reinvestment Act to the Office of the Comptroller on Currency. The letter included recommendations for changes based on HOPE's more than two decades of experience promoting community development in distressed communities. To see a full copy of the letter, click below.
Read more.
Access to responsible, affordable financial services fosters economic mobility, but it is disproportionately lacking in the Deep South states of Alabama, Arkansas, Louisiana, Mississippi and Tennessee. Check out recent research and analysis from Hope Policy Institute by clicking the stories below.
Louisiana, Mississippi Least Banked States in the Nation
Last month, the Federal Deposit Insurance Corporation (FDIC) released its biennial survey, the 2017 FDIC National Survey of Unbanked and Underbanked Households. The latest survey reveals that Mississippi and Louisiana are the least fully banked states in the nation. Read more.
Deep South States among the Least Credit Worthy in the Nation
Credit is an important asset and helps determine a consumer's access to financial opportunities like college and homeownership. Consumers with prime, or good, credit are more likely to secure safe and affordable capital and are better prepared for financial emergencies. Read more.
Hope Enterprise Corporation: Facebook | Twitter | LinkedIn | Instagram
Hope Credit Union: Facebook | Twitter | LinkedIn | Instagram | YouTube
Hope Policy Institute: Facebook | Twitter | LinkedIn | Instagram