HOPE Matters: July 2019
NeighborhoodLIFT Places More than 100 Families in New Homes in Mississippi
Patridia Hartzog, a law enforcement officer and single mother in Jackson, Miss., is in her first home thanks to a down payment assistance program funded by Wells Fargo and NeighborWorks America, and administered by HOPE. The NeighborhoodLIFT program has assisted some 140 Mississippi homeowners by offering homebuyer education, plus down payment assistance grants. Hartzog says she would not have been able to afford the home she shares with her school-age sons without the grant. The grants are part of a $2.75 million commitment by Wells Fargo to boost local homeownership and revitalize neighborhoods in all 82 Mississippi counties. See if you or someone you know qualifies for down payment assistance from NeighborhoodLIFT.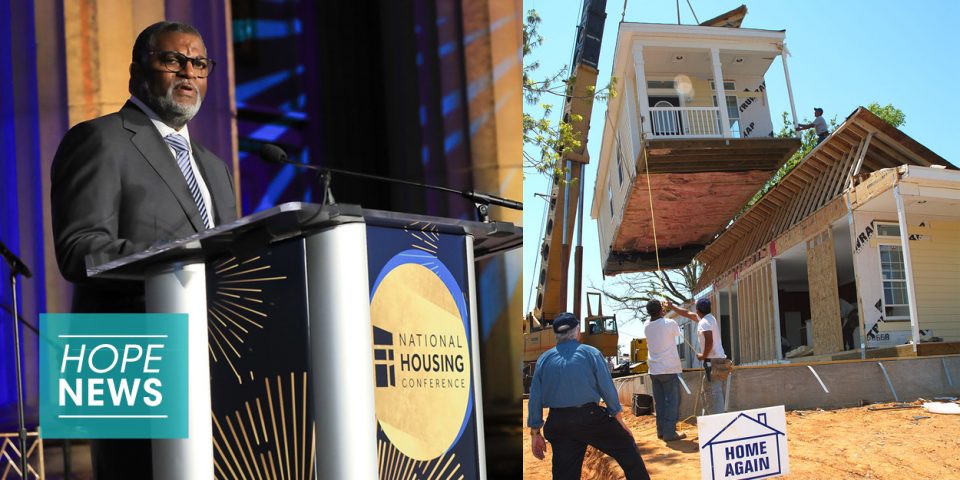 National Housing Conference Visionary Award Honors Work to Advance Affordable Housing
HOPE is the recipient of the 2019 Housing Visionary Award, presented by the National Housing Conference. HOPE CEO Bill Bynum accepted the award during the recent NHC gala that recognized organizations and individuals who are making significant contributions toward advancing affordable housing across the nation. In his remarks, Bynum challenged fellow practitioners to advance work to reverse the systematic disenfranchisement of people of color in this nation and to protect the gains made under the Fair Housing Act. David M. Dworkin, president and CEO of NHC, said HOPE exemplifies the values of the National Housing Conference, believing that everyone in America should have equal opportunity to live in a quality, affordable home in a thriving community."
Listen to remarks from Hope Enterprise Corporation Board Member Dan Letendre and HOPE CEO Bill Bynum in this audio.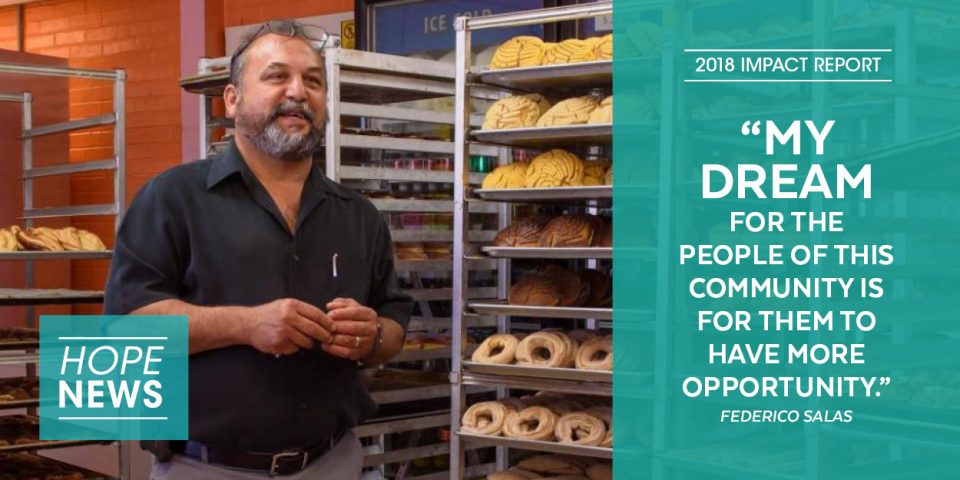 New Report Shows HOPE's 2018 Impact in the Deep South; Reflects on Quarter Century of Work
HOPE recently released its 2018 Impact Report, a compilation of member and partner stories that show the power of opportunity. Among those stories is that of Benjamin and Federico Salas. More than a decade ago, they opened a small butcher shop and meat market. Their business grew, becoming a booming operation that spanned three city blocks. Then, a devastating fire destroyed what they had worked so hard to build. The brothers lost their livelihoods and their 52 employees lost their jobs. When they sought a commercial loan, they ran into an obstacle. Because they had conducted most of their business in cash, neither Federico nor Benjamin had strong credit histories. They turned to HOPE, where an associate walked the brothers through the loan process step-by-step in Spanish. They were approved for a loan, opening the door for their expansion. Read more stories, view loan production data and see how businesses financed years ago are still thriving today.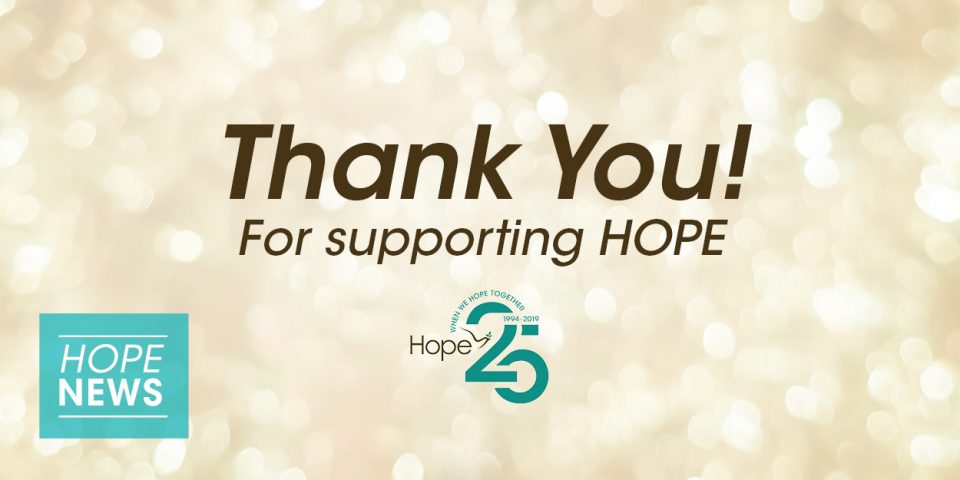 Thank You for Supporting Our Mid-Year Giving Campaign!
Thank you for your support of HOPE! Together, we have celebrated a true accomplishment – a quarter-century of serving individuals and communities across the Deep South, providing access to fair and equitable financial services needed to climb the economic ladder and build a legacy for future generations. The relationships we form in the communities we serve are what sets us apart from other financial institutions. The contributions you made during our recent campaign help fuel our work, allowing for greater impact across the Deep South region.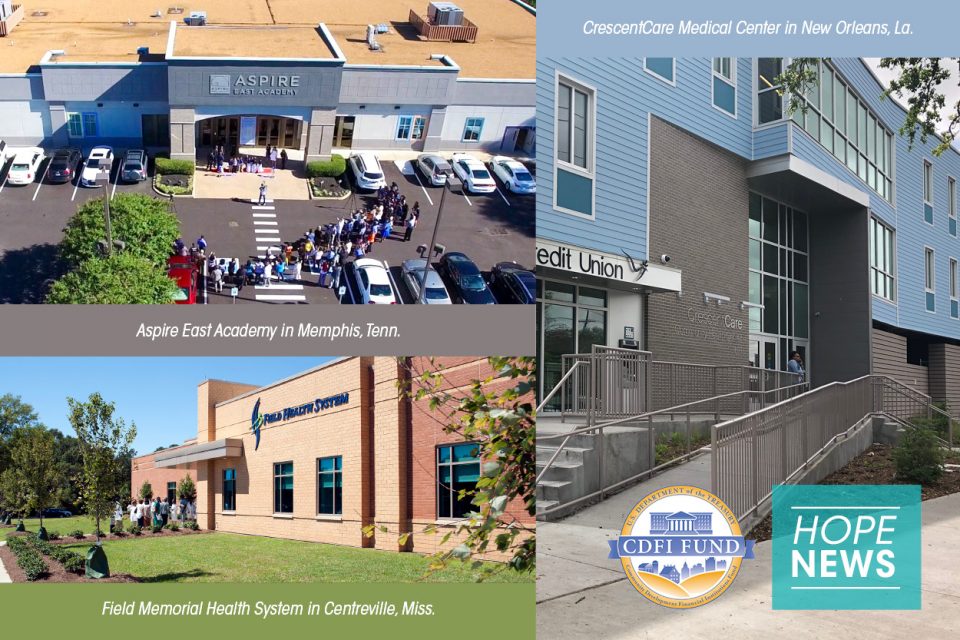 NMTC Award Attracts Investment to Expand Opportunities in Deep South Communities
HOPE has received a $35 million allocation in New Market Tax Credits from the U.S. Department of the Treasury's Community Development Financial Institutions Fund that will be used for high-impact community facility projects to spur investment and economic growth in low-income urban and rural communities across the Deep South – projects like those featured above. HOPE was among 73 Community Development Entities (CDEs) that received the allocations, which were announced in May. "The New Markets Tax Credit is a powerful economic development tool that attracts private capital into hard-to-finance businesses in distressed communities nationwide," said CDFI Fund Director Jodie Harris. Thirty percent of HOPE's award must be invested in Alabama or Tennessee and 40 percent in rural areas.
Listen to HOPE's interview previewing plans for NMTC projects.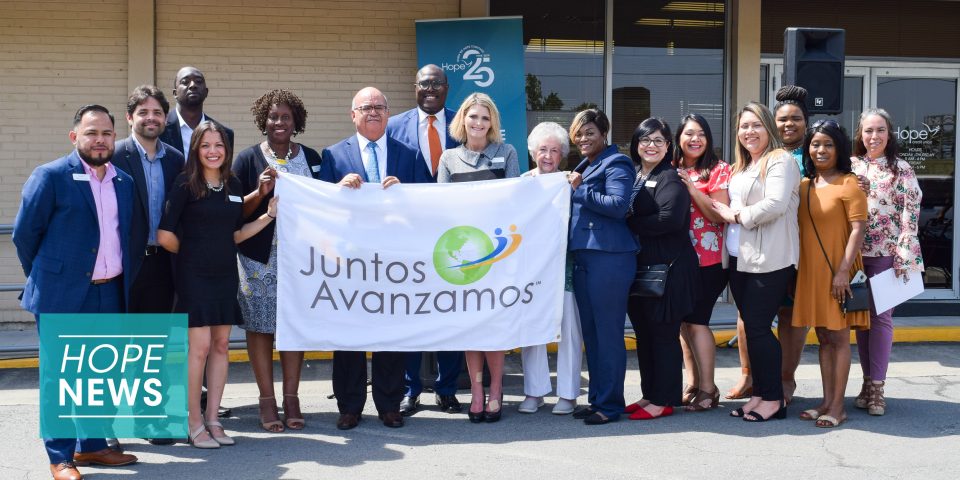 Crece Con HOPE Unveiled during Juntos Avanzamos Ceremonies in Tennessee and Arkansas
"Crece con HOPE" is Spanish for "Grow with HOPE," and represents HOPE's commitment to serving immigrants from the Latino community. Crece con HOPE was revealed during the recent Juntos Avanzamos ceremonies held in Memphis, Tenn., and Little Rock, Ark. The designation, Juntos Avanzamos, meaning "together we advance," was presented by Inclusiv, the national association of community development credit unions. HOPE was recognized for activities that include the hiring of bilingual staff, strategic outreach, development of special financial products and bilingual marketing materials. In Little Rock, representatives from the Mexican Consulate and Little Rock Mayor Frank D. Scott, Jr., attended the ceremony that included raising the Juntos Avanzamos flag at the branch. Scott said "Southwest Little Rock is a place of access and opportunity, and it's great to see that HOPE is providing opportunities for commercial lending, jobs, and financial products for all, including the Latino community."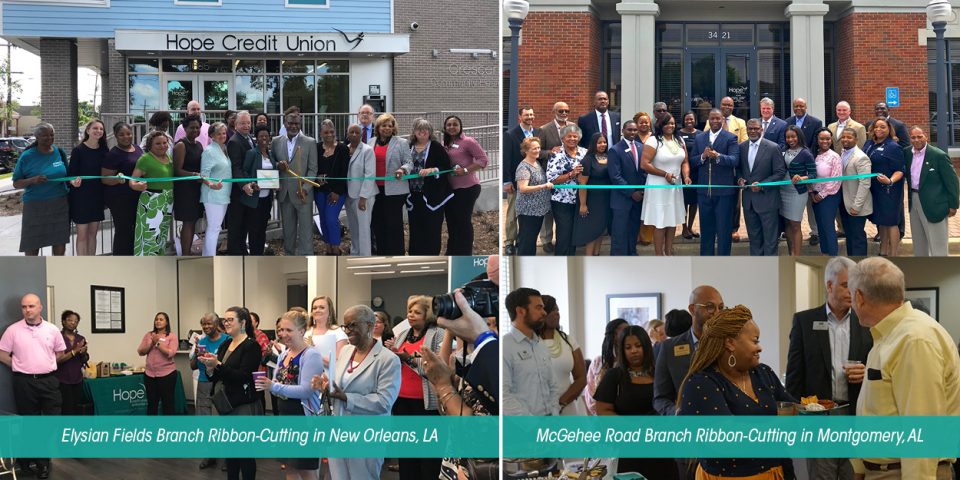 Now Open: New HOPE Branches in Alabama and Louisiana!
Members, partners and community leaders joined HOPE team members for two separate grand openings in New Orleans and Montgomery, Ala., respectively. The new Elysian Fields branch – HOPE's third in New Orleans – is located in the CrescentCare health center, which provides a spectrum of care at low to no cost for residents in the city. HOPE was a financing partner on the health center, and its new branch there allows the credit union to expand access to critical financial tools in underserved communities.
The new branch in Montgomery — HOPE's second in Alabama's capital city – is located in a former Regions Bank location, which was donated to the credit union, building on a longstanding partnership between the two financial institutions. The branch at 3421 McGehee Road will offer a full menu of financial tools to equip a diverse range of individuals with checking and savings accounts, consumer loans, mortgages, small business loans and financial education.
Building Credit, Building Wealth
Brittnay Williams has always been a go-getter. Williams earned her certified nursing assistant license immediately after graduating from high school. By the time she was 21, she had her eye on purchasing a home. Williams came to HOPE for help repairing her credit score, which was low due to credit card spending when she was still in high school.


Small Towns Partnership Grounds National Conversations on Rural Equity
In May and June, HOPE leaders drew on the work of the Small Towns Partnership to inform conversations about rural equity at two national conferences. New poll data was released at the Robert Wood Johnson Foundation Life in Rural America Symposium in Charleston, WV, shedding light on the complexities of rural life and the economic, social, and health experiences of people living in rural communities. HOPE responded to the survey findings by sharing lessons learned from listening to and working with local people in small towns. See this related article, featuring comments from HOPE.
At the Cleveland Federal Reserve Policy Summit, Vice President of Community and Economic Development, Dee Jones, joined other national experts for the plenary session "Overcoming Barriers to Inclusive Growth." In her remarks, Jones discussed how the Small Towns Partnership addresses challenges related to economic restructuring and growth, racial inequity, and income inequality in places like the Mississippi Delta.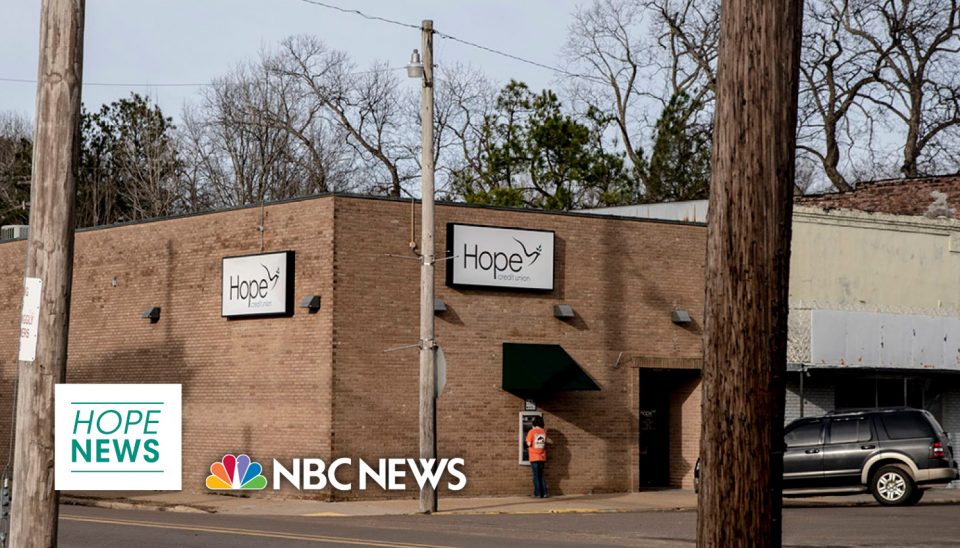 NBC News Report Shows the Need for HOPE in A Banking Desert
HOPE's presence in Itta Bena, Miss., was a focal point of a NBC News report about economic conditions that exist in communities that are banking deserts. The report grew out of HOPE's Rural Policy Forum held at Mississippi Valley State University in February. The article placed a national spotlight on our work and the importance of expanding access to financial services, especially in places with high poverty levels. Several of our partner organizations also amplified the report, sharing with their audiences our collective work developing strategies to address closing the financial services gap.

Hope Enterprise Corporation: Facebook | Twitter | LinkedIn | Instagram
Hope Credit Union: Facebook | Twitter | LinkedIn | Instagram | YouTube
Hope Policy Institute: Facebook | Twitter | LinkedIn | YouTube