HOPE Matters: March 2020
Crece con HOPE Featured in Emerson Collective's Justice & Unity Series
The Emerson Collective invited partners to imagine what more they could do within their communities to promote justice & unity. HOPE was one of those partners in the Justice & Unity series, highlighting Crece con HOPE, which seeks to expand financial access to the Hispanic immigrant community in the Deep South. As you'll read in the digital journal and hear in the video, "fear is only one of the obstacles standing between many families and banking. There are also language barriers, and the knowledge gap: When you are making your way in a new country, learning the ins and outs of a complicated financial system is rarely a high priority." HOPE seeks to close these gaps through intentional and data-driven strategies. Learn more about this work: Crece con HOPE.
HOPE Co-Authors Aspen Institute Blog about the Need for Targeted Federal Action for Vulnerable Communities
Unless there is specific funding for businesses in lower-income areas, the money won't get there. Why? Because most of those areas don't have branches of big national or regional banks. Read more about what will likely happen to the nation's most vulnerable communities without targeted action from Congress in a blog written by HOPE CEO Bill Bynum and Aspen Institute colleagues Joyce Klein and Tim Ogden. Read the blog.
New Boys & Girls' Clubhouse Expands Access to Mentoring and Tutoring for Youth in Birmingham, Ala.
Youth who live in underserved areas of Birmingham, Ala., now have expanded access to tutoring and mentoring services thanks to a new Boys & Girls Club project funded by New Market Tax Credits provided by HOPE. The facility, named after A.G. Gaston Boys & Girls Club champion and former Board Chairman, Walter Howlett, Jr., will replace the overcrowded, aging Kirkwood R. Balton Clubhouse located on South Park Drive. It will increase the capacity for an average daily attendance to 450 children and youth. HOPE leaders joined A.G. Gaston CEO Frank Adams, Birmingham Mayor Randall Woodfin, Boys & Girls Clubs of America CEO and President Jim Clark, A.G. Gaston board members and other supporters for the event.

HOPE Community Partnership Project Completed: New Mural Installed in Miss. Delta Town
Four murals, painted by Mississippi Valley State University Art Department students, have been installed on an Itta Bena, Miss., downtown building that formerly served as City Hall. The project, funded through the HOPE Community Partnership, gives a facelift to four historical and artistic windows located on the east side of the building that has been designated as a historic site. Volunteers from the city, university and community assisted with the installation, which improves the imagery of the blighted downtown area. Learn more about the HOPE Community Partnership.
HOPE Among Panel of Thought Leaders for NPQ Webinar: "Remaking the Economy in the Black Belt"
HOPE was among a group of thought leaders invited by Nonprofit Quarterly to offer insight on economic conditions in America's Black Belt region. The Black Belt, notes a 2017 Associated Press story, was named both for the color of its fertile soil and the high percentage of black residents. The region is not only sacred ground for the civil rights movement, but today is home to a growing number of innovations in community wealth building and homegrown economic development. You can watch the full webinar here.
National Housing Conference Blog Features HOPE & Other Black Innovators in the Housing Industry
The National Housing Conference recently recognized African American leaders making history today in housing policy, advocacy, research and community development. According to the organization, diverse perspectives are essential to advancing affordable housing and are highly valued by NHC and its members. HOPE CEO Bill Bynum was among those profiled. Other leaders included Maurice A. Jones of the Local Initiatives Support Corporation (LISC) and a HOPE board member, Alanna McCargo of Urban Institute, Lisa Rice of the National Fair Housing Alliance, House Financial Services Committee Chairwoman Maxine Waters (D-Calif.) and the committee's Housing, Community Development and Insurance Subcommittee Chairman Lacy Clay (D-Mo.). Read the blog.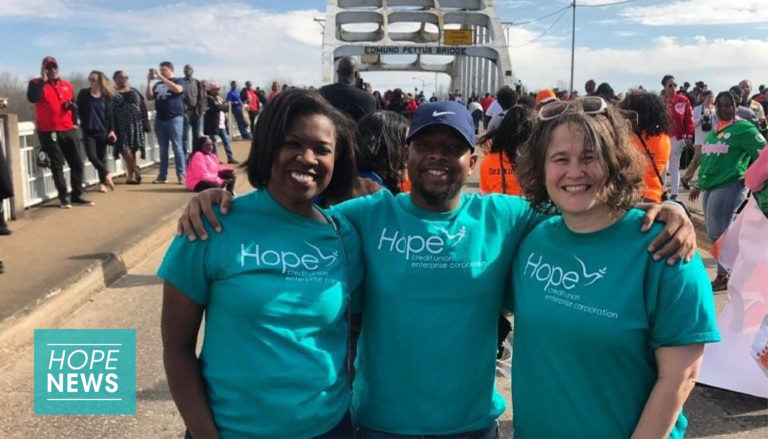 HOPE Team Joins Commemoration of the Selma Bridge Crossing
HOPE had the honor of joining people from across the country to commemorate the 55th Anniversary of the Edmund Pettus Bridge Crossing in Selma, Alabama, and the historic march from Selma to Montgomery. Read the blog.
Proposed Rollbacks in Consumer Protections Would Be Detrimental to Women's Economic Security
In addition to celebrating the historical and cultural contributions of women this Women's History Month,  policy makers should be advancing policies that would make it easier for women to reduce debt, build assets, and improve opportunities for women today and the next generation of women they are raising. Read the blog.
Consumer Protection Rollbacks Will Worsen Conditions for Cash-Strapped Deep South Families
Having a savings account is one of the best ways to get through financial hardship, but many households lack the savings or assets easily converted to cash to sustain themselves. Read the blog.

Hope Enterprise Corporation: Facebook | Twitter | LinkedIn | Instagram
Hope Credit Union: Facebook | Twitter | LinkedIn | Instagram | YouTube
Hope Policy Institute: Facebook | Twitter | LinkedIn | YouTube