Continuing the March
March 5th, 2020
This weekend, HOPE had the honor of joining people from across the country to commemorate the 55th Anniversary of the Edmund Pettus Bridge Crossing in Selma, Alabama, and the historic march from Selma to Montgomery. In 1965, shortly after these events, Congress passed the Voting Rights Act with the promise of ensuring people could vote without fear of discrimination. The weekend was not only a celebration of the victories gained during the civil rights movement, but also a call to action for the work ahead.
Why was HOPE, a credit union, at a voting rights march?  For one, all of our work is interconnected.  Pushing for access to the ballot box is connected to efforts to push for fair housing, fair wages, good jobs, affordable health care, and other things that people need to live freely and with dignity.  HOPE is bound together with our communities and members in these efforts. And, two, there has long been an intersection between voting rights and economic opportunity. In many cases throughout history, people have used economic inequality exploited to try to prevent people from voting.  For example, the 1890 Mississippi Constitution included a $2 poll tax, knowing that many poor whites and recently freed Black citizens of the state would not be able to afford it. During Jim Crow in the 1950s and 60s, as Black people sought to exercise their right to vote, they were stripped of their economic resources, such as being fired from their jobs, being denied credit at the bank, or having their land or businesses destroyed. The fight for the right to vote is inextricably tied to the fight for economic opportunity for all.
Through its day-to-day work, HOPE seeks to rebuild the economic strength of communities in the Deep South. In this vein, HOPE team members participated in the Selma Jubilee's Economic Empowerment Village, providing an opportunity to talk about financial services and products HOPE offers in Alabama and elsewhere.  LaTravious Strong, a Selma native and HOPE member service representative at HOPE's Arba Street branch in Montgomery, who participated throughout the weekend, said, "All of the events reminded me of HOPE in some instance. Simply because of HOPE's mission, and the things they try to implement within communities."
On Saturday, HOPE Policy Director Diane Standaert attended an NAACP Legal Defense Fund discussion at the historic Brown's Chapel AME Church on voting rights in the age of mass incarceration.  Here, people shared how economic barriers are still being used to deny access to the ballot box.  Ms. Deborah Wright from Florida shared the people-led efforts to ensure criminal justice fines and fees do not serve as modern-day poll tactics to unjustly block people from the right to vote.  And, a reporter from the Guardian shared how Alabama blocked a man from voting because of he owed the state $4.  Ms. Standaert was inspired by the efforts underway, "Like those who came before them, the people directly impacted by these oppressive practices are leading the charge for change, to open wide the doors for generations to come."
On Sunday afternoon, in great anticipation and excitement, HOPE team members convened the Edmund Pettus Bridge with thousands of other people.  Among the crowd were Congressman and civil rights hero John Lewis, Presidential candidates, local elected officials, leaders of the National Panhellenic Council, and many other officials.  The real power, though, lay in the footsteps of the thousands of regular everyday people on the bridge that day, and all of those that had come before.   As Pearl Wicks, Executive Vice President of HOPE noted as she joined her sisters with Delta Sigma Theta for the trip, "There were people everywhere and from the looks and the conversations I was able to have everyone was waiting in anticipation.  I can believe that some of them, like me were thinking how did our ancestors feel when they were in this same place over 55 years ago. I was energized, sad, somewhat fearful and ready to go all at the same time." For Mr. Strong, the bridge crossing was also his favorite moment of the weekend, "This part of the celebration was commemorative and moving.  Our ancestors fought hard and intentionally for the rights we have today; therefore, it's only right, that we keep the "Dream" alive!"
Refreshed and recharged, HOPE team members have returned thinking about the question of what's next, seeking to heed the calls to action learned over the weekend.  Congressman Lewis, who spoke from the very place where he was beaten on that Bloody Sunday march across the bridge in 1965, reminded the crowd:  "We must go out and vote, like we have never ever voted before.  Some people gave more than a little blood, others gave their very lives…Selma is a different place, and America is a different place, but we can do better."  Another call to action throughout the weekend was importance of the upcoming Census.  An accurate count is critical to ensure that communities will have appropriate resources and political representation over the next decade.  To learn more about the Census, visit www.censuscounts.org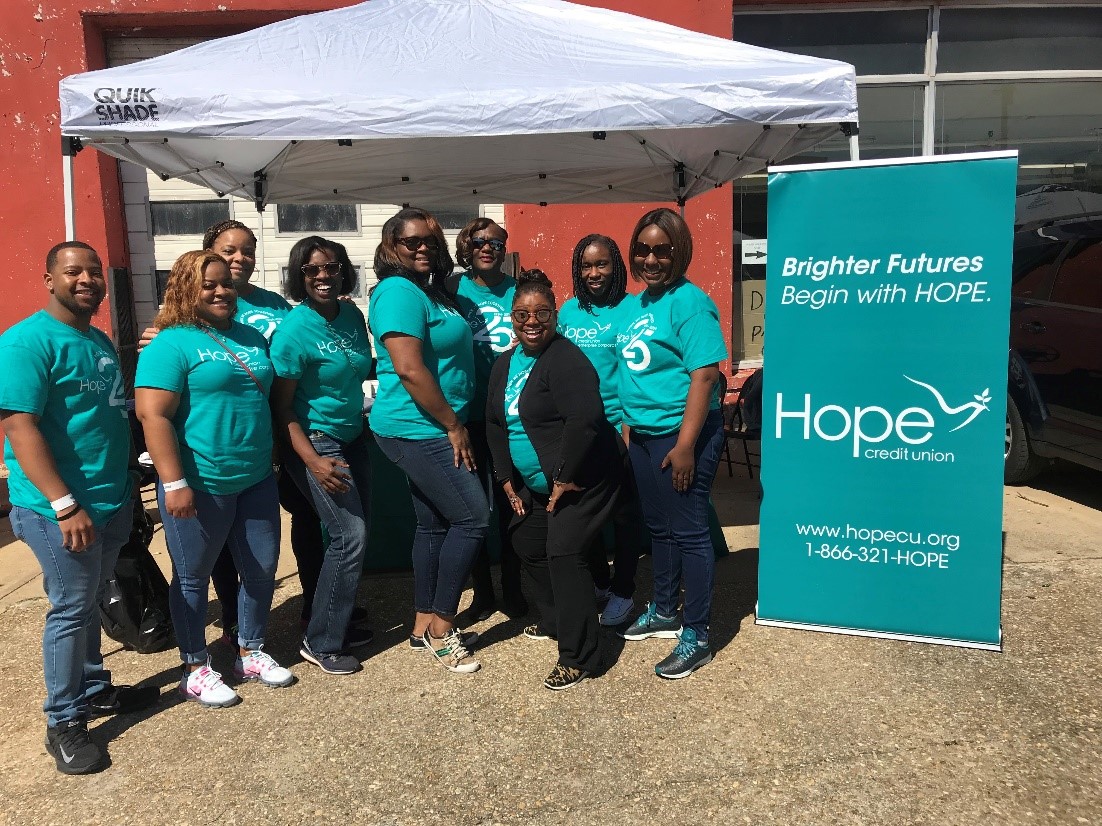 In her reflections on the weekend, Kendra Key, Senior Vice President of Community and Economic Development, noted, "The weekend was a visible reminder of the power that we each have as individuals to make changes in our communities and the world around us, no matter where we live or who we are."  Every day, in partnerships with our members and the communities in which we are located, HOPE is committed to continuing this march towards justice, to build a brighter future for all, together.