Minority Depository Institutions in the Deep South
July 15th, 2020
Earlier this year, the FDIC released a report on the structure, performance and social impact of Minority Depository Institutions (MDI). The report found that MDIs are a proven way to advance economic mobility in Black communities. An estimated six out of 10 people living in the service area of Black owned banks are Black, in contrast to six out of 100 for banks that are not Black-led.  Moreover, Black owned financial institutions originate a substantially higher proportion of mortgages and small business loans to Black borrowers than non-minority financial institutions. While a comparable analysis has not been conducted for MDI credit unions, one could extrapolate from the FDIC analysis the same conclusion. Such findings underscore the critical importance MDI banks and credit unions play not only in meeting the financial needs of people living in communities historically underserved by traditional financial institutions, but in their contributions to a healthy economy that works for all.
As of 2018, in the Deep South states of AL, AR, LA, MS and TN, there were 80 MDI banks and credit unions, the vast majority of which (75) were small credit unions. At the same time, while MDI credit unions far outnumbered MDI banks in the five state region, over half of the assets held by MDIs were held by five MDI banks. Asset size can serve as a proxy for measuring a depository's durability and capacity to offer more complex financial products while also managing the risk associated with serving more people. Larger, banks and credit unions, for example, may offer multiple types of checking accounts, mortgages, small business loans and community development financing. Smaller institutions, on the other hand, may only offer savings accounts and consumer loans. Charts 1 and 2 show the distribution of MDI banks and credit unions by number and asset size.
Chart 1 and Chart 2
Deep South Minority Depository Institution (MDI) Characteristics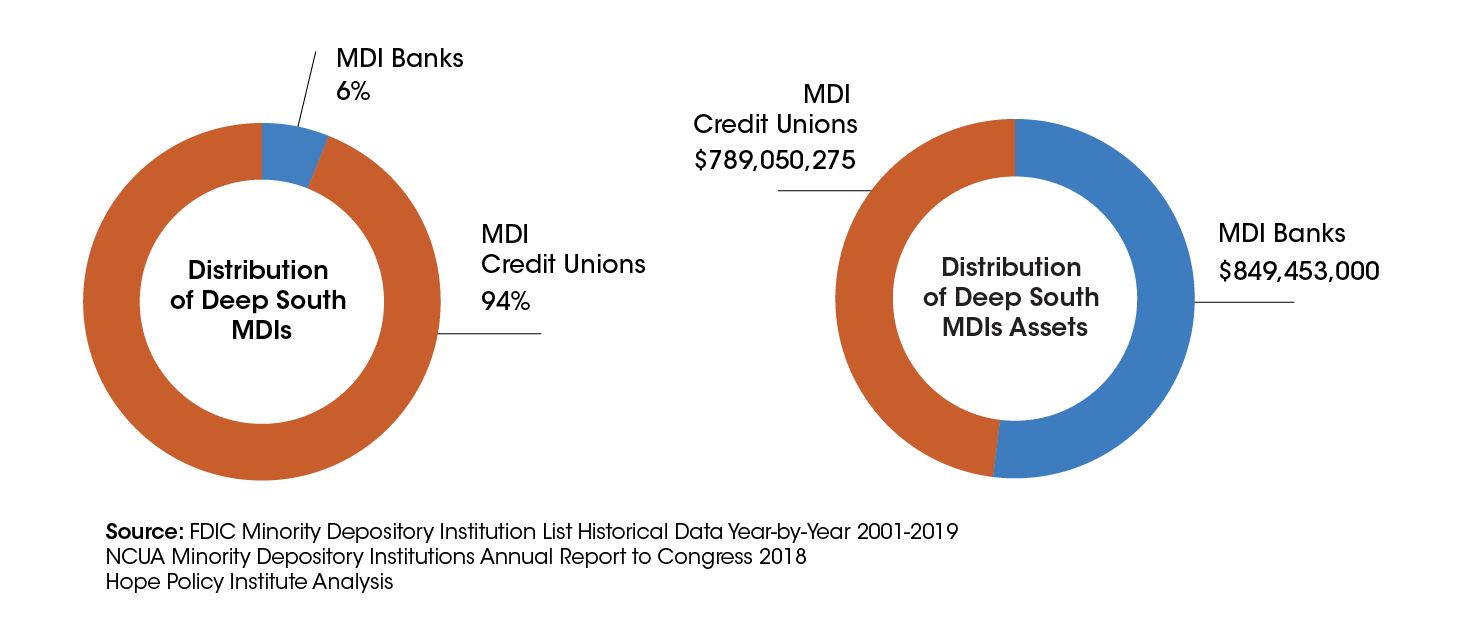 Despite the documented impact of MDIs in low-income communities and communities of color, the Deep South MDI sector has faced a disturbing amount of contraction, particularly on the heels of the Great Recession where communities of color were disproportionately affected by unemployment, the foreclosure crisis, and resulting wealth drain. From 2013 to 2018, the number of Deep South MDIs shrank from 121 institutions holding nearly $3 billion in assets to 80 institutions comprised of $1.6 billion. By number, 40 MDI credit unions, most of which were small as measured by asset size, and 1 bank were merged with other institutions or liquidated. Table 1 provides an overview of the contraction trends in the Deep South MDI sector.
Table 1
The Number of Deep South MDIs Declined from 2013-2018

In the midst of the COVID-19 pandemic, the importance of MDIs serving communities hardest hit by this crisis is clear.  As just one example, HOPE's experience as a MDI / Black led CDFI engaged in the Small Business Administration Paycheck Protection Program (PPP) underscores the importance of MDIs in service to businesses owned by people of color. On numerous occasions, black owned businesses – barbers, dentists and nonprofits – approached mainstream financial institutions offering PPP loans only to learn that they would not be served. In nearly every instance, HOPE was able to connect the businesses and organizations to the SBA PPP.  To date, HOPE has provided over 2,300 PPP loans, totaling more than $77 million, with a median loan size of about $11,000.
Given the significance of a strong MDI presence in meeting the needs of people, minority-owned businesses, and communities of color, Congress must meaningfully invest in MDIs and CDFIs led by people of color through the US Treasury CDFI Fund and other relief efforts. Additionally, the SBA must report PPP loan data by race to inform where the program fell short and how the financial needs of businesses owned and led by people of color were ultimately met or not met. Lawmakers must then draw on the findings to ensure the creation of policies resulting in more equitable outcomes in the future.
---