HOPE Matters: September 2020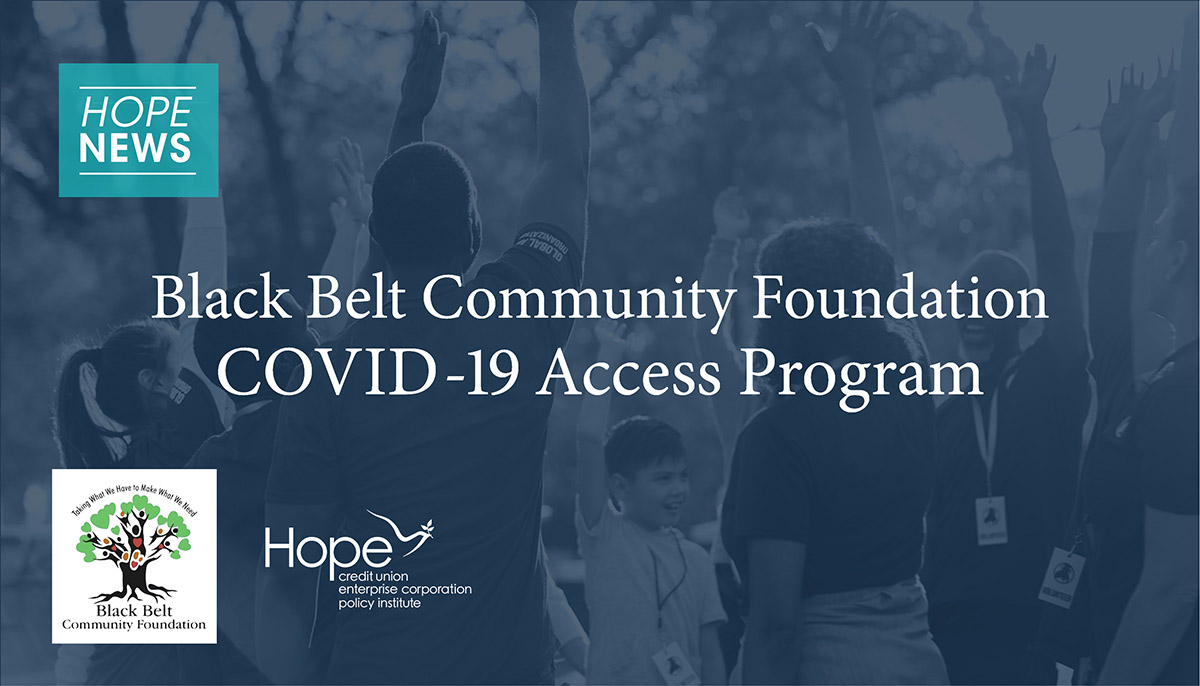 Innovative Partnership Gives Alabama Black Belt Counties Immediate Access to Capital for COVID Response Needs
The Black Belt Community Foundation (BBCF), Hope Credit Union (HOPE) and several partners have created a program that will give numerous rural Alabama towns and counties immediate access to capital for COVID-19 response needs. Under the program, HOPE will provide BBCF with a line of credit, allowing the nonprofit to make recoverable grants to cities and counties in amounts of $50,000 or less at a time for the purchase of reimbursable COVID-related items.
See the Barron's story here.
See the Alabama News Center story here.

Netflix's Partnership with HOPE Provides Model for Investing in Black Communities
Netflix's recent $10 million Transformational Deposit at HOPE has advanced the national discussion about the need to increase economic opportunities in Black communities. Weeks after the deposit was made in July, Netflix leaders hosted a webinar to share information with other corporations, foundations and individuals about how the entertainment company launched its initiative. They also discussed the challenges encountered and how they worked with a select number of partners to overcome them. The Netflix investment is a strong example for other corporations, banks and holders of wealth in the U.S. to make similar investments in financial institutions serving people of color. Over the next two years, HOPE estimates the Netflix deposit will support financing to more than 2,500 entrepreneurs, homebuyers and consumers of color.
View webinar here.
Read more here.

DeAndre and Vinessa Brown Are Barrier Breakers in Memphis, Tenn.
DeAndre and his wife, Vinessa, are the founders of Lifeline to Success, an organization that helps men and women rejoin community life after incarceration. The Browns, their organization, and their clients all have accounts with HOPE. Lifeline to Success's clients attend work and life skills classes every morning. Afternoons are spent working in low-income areas of Memphis, performing landscaping and janitorial services as members of paid work crews or as volunteers. An important part of that transformative process is learning to manage finances.
Read their story.
NeighborWorks Training Institute Expands Disaster Response Toolkit for MS Community Leaders
With topics ranging from "Powering COVID Response through Health Partnerships" to "Creating a Pipeline for Rural Leaders of Color," the recent NeighborWorks Training Institute offered first-class instruction to a group of HOPE Community Partnership leaders – virtually. The institute was held Aug. 17-21. HOPE sponsored the attendance of Dameon Shaw, vice president of University of Advancement at Mississippi Valley State University; Yazoo City Mayor Diane Delaware; and community leaders Letraneshia James of Shaw, Brandi Turner of Utica, Alicia Dixon and Jonquil Dent, both of Yazoo City. Shaw said he attended workshops focused on disaster recovery. "I chose those because we're dealing with this pandemic," he said. "I feel the whole program was very insightful. It taught me a lot about the services out there and I appreciated the data and statistics provided. I'm just grateful to HOPE for allowing us the opportunity to have access to this information."
Learn more about the HOPE Community Partnership here.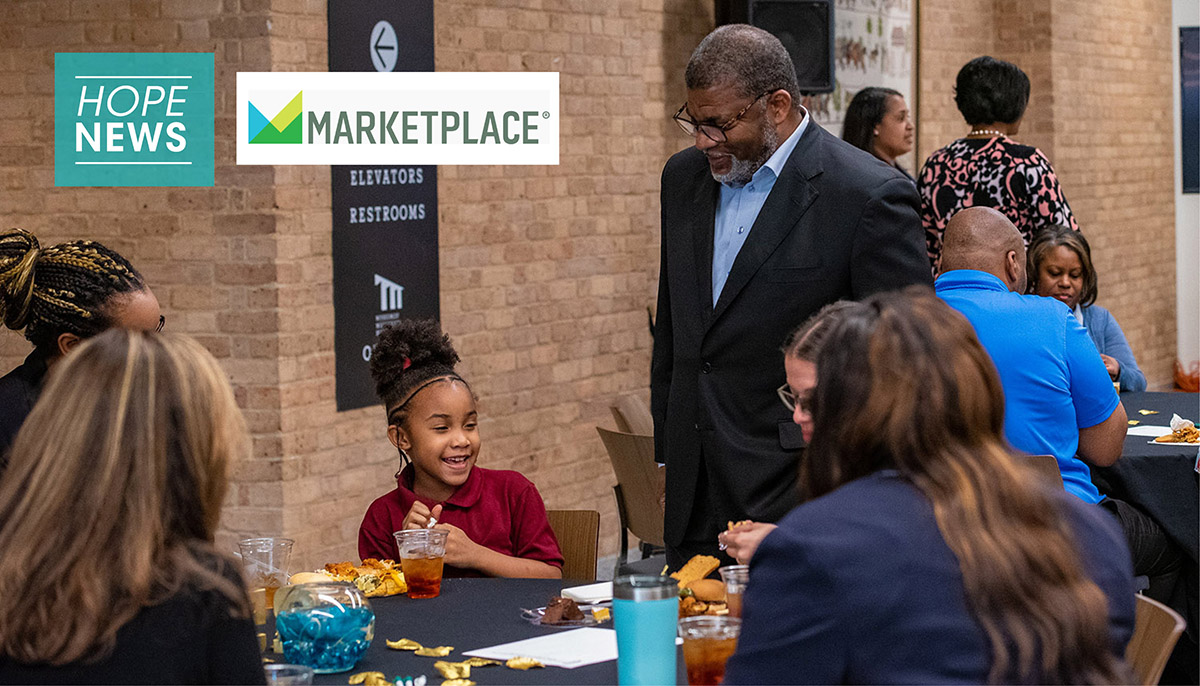 HOPE Featured in National Conversations to Inform Dialogue, Strategies to Close the Racial Wealth Gap
Recently, HOPE CEO Bill Bynum joined Kai Ryssdal of Marketplace to discuss strategies for closing the racial wealth gap and advancing equity in the Deep South and across the nation. The conversation resulted in the article "The credit union that aims to be 'a lifeboat' in times of crises." The interview was one of many opportunities to share HOPE's approach on the national stage over the last several months. Other interviews and panels of note include:
The Journal Podcast: Netflix's $10 million Deposit
CNBC: Minority Entrepreneurs at Tipping Point as Black-Owned Banks Dwindle
Croatan Institute: A Conversation on Persistent Poverty, Income Inequality and Racial Disparity
The Aspen Institute: Delivering Credit to Entrepreneurs of Color Impacted by COVID-19: Why Community Financial Institutions Are Essential
Hope Policy Institute Releases Two New Briefs on Status of State Small Business Recovery Programs in Deep South
Hope Policy Institute has released two reports on Deep South states' $1.1 billion in small business relief, funded through the federal CARES Act.  One report, Deep South States Provide over $1.1 Billion in Small Business Relief: Who Benefits, Who is Left Behind?, examines the region as whole. The other report, Mississippi Small Business Relief: Gaps and Opportunities, provides an in-depth look at Mississippi. One of the key findings from the Mississippi report is the state lags behind other small business relief programs in the Deep South despite having the largest amount available and being among the earliest states in the region to establish one. 
New Census Data on Employment Income Loss Underscore Magnitude of Financial Hardship in the Deep South from the Pandemic
Congressional talks for extending federal stimulus measures have stalled as lawmakers recess without agreeing on another aid package.  This is occurring as many of the CARES Act provisions expire, including the $600 per week federal supplement to regular state unemployment and moratoriums on evictions for rental properties with federal financial backing.
Read the blog.
Policy Responses to the Economic Crisis Must Take Racial Disparities and Debt-Related Abuses Into Account
In the midst of the growing economic crisis, communities of color are hit disproportionately hard. These communities, particularly Black communities, are still recovering from previous disasters, like Hurricane Katrina and the 2008 foreclosure crisis. The health disparities that plague these communities coincide with the growing economic threat. Policymakers' responses to COVID-19 must account for pervasive racial and economic inequality, and must prioritize protection from debt-related abuses.
Read the Op-Ed by Calandra Davis.
Review of Arkansas Ready for Business Program: Gaps and Opportunities
The Arkansas Ready for Business program provided direct grants to over 11,000 businesses across the state that are grappling with the economic crisis brought on by COVID-19.
Read the review.

Hope Enterprise Corporation: Facebook | Twitter | LinkedIn | Instagram
Hope Credit Union: Facebook | Twitter | LinkedIn | Instagram | YouTube
Hope Policy Institute: Facebook | Twitter | LinkedIn | YouTube