America Saves Week: Family & Youth Savings
February 25th, 2015
Educational achievement creates economic opportunity for individuals and the economy as a whole. However, for many working families sending their children to college is still out of reach. Mississippi must create policies that make higher education more affordable so that more students have the opportunity to attend college. According to the 2015 Assets & Opportunity Scorecard, Mississippi has the second worst rate of college degree attainment in the nation – only 20.4 percent of Mississippi adults have a four-year degree.
Unfortunately, college attainment oftentimes comes at the cost of higher student loan debt burdens. These debt burdens limit the ability of individuals to save and build assets for future investments like a home or small business. In Mississippi, 57 percent of college graduates leave school with student loan debt, and the average debt of those graduates is $27,571. Additionally, in Mississippi, 16.3 percent of borrowers who are entering repayment go into default within three years (See Chart). The Scorecard reports that a high student loan default rate is an indicator that recent graduates have unmanageable debt burdens or are unable to secure jobs that pay a sufficient wage to cover debt payments.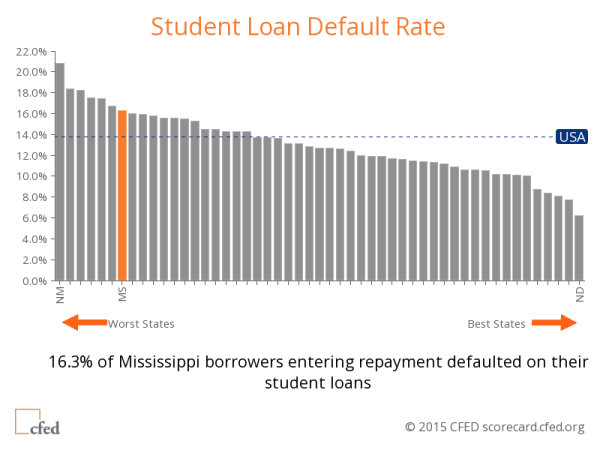 To enhance access to post-secondary education and make it more affordable in Mississippi, the state can offer families incentives to save for college. For example, Children's Savings Accounts (CSAs) are long-term, asset-building accounts established for children as early as birth and provide families with a tax-free way to save for college.
Likewise, good savings habits start at home. Whether you're budgeting, saving, making retirement decisions, or assessing work-place benefits, share the choices you make with your children no matter what age they are.
Source:
Corporation for Enterprise Development. (2015). Assets and Opportunity Scorecard, 2015.