America Saves Week: Save for Emergencies
February 23rd, 2016
This week is America Saves Week – a national effort that encourages Americans to set a savings goal, make a savings plan, and save automatically. Unfortunately, the Mid South has a high rate (44 percent) of counties and parishes in persistent poverty (poverty rate greater than 20 percent for at least 30 years). See Map. For people who live in these high-poverty areas, it is difficult to prepare for emergencies or future needs such as a child's college education or homeownership. Mid South residents are among the most financially vulnerable, particularly in the event of an economic setback like a job loss, health crisis, or other income-disrupting emergencies. Examining both household income and net worth of Mid South residents further illustrates the extent of financial vulnerability in the region.
Mid South Persistent Poverty Counties
Income poverty is a basic indicator of a household's financial insecurity and instability. A household is considered poor if a household's total income is below the poverty threshold. In the Mid South, thousands of households do not have enough income to meet their basic needs. Mississippi has the highest income poverty rate in the nation, with 20.8 percent of households living in income poverty while Louisiana (3rd highest), Arkansas (7th highest) and Tennessee (8th highest) do not fall far behind. (Assets & Opportunity Scorecard, 2016).
Net worth represents the amount of financial cushion a household has to respond to unexpected events, such as a job loss or unexpected medical expenses, as well as take advantage of opportunities like financing a college education, purchasing a home or starting a small business. Mississippi households accumulate fewer assets than households in the rest of the nation – Mississippi ranks second to last, behind Nevada, in median net worth. The median net worth in Louisiana and Tennessee is below the national average, $57,273 and $66,092, respectively. See Chart. (Assets & Opportunity Scorecard, 2016).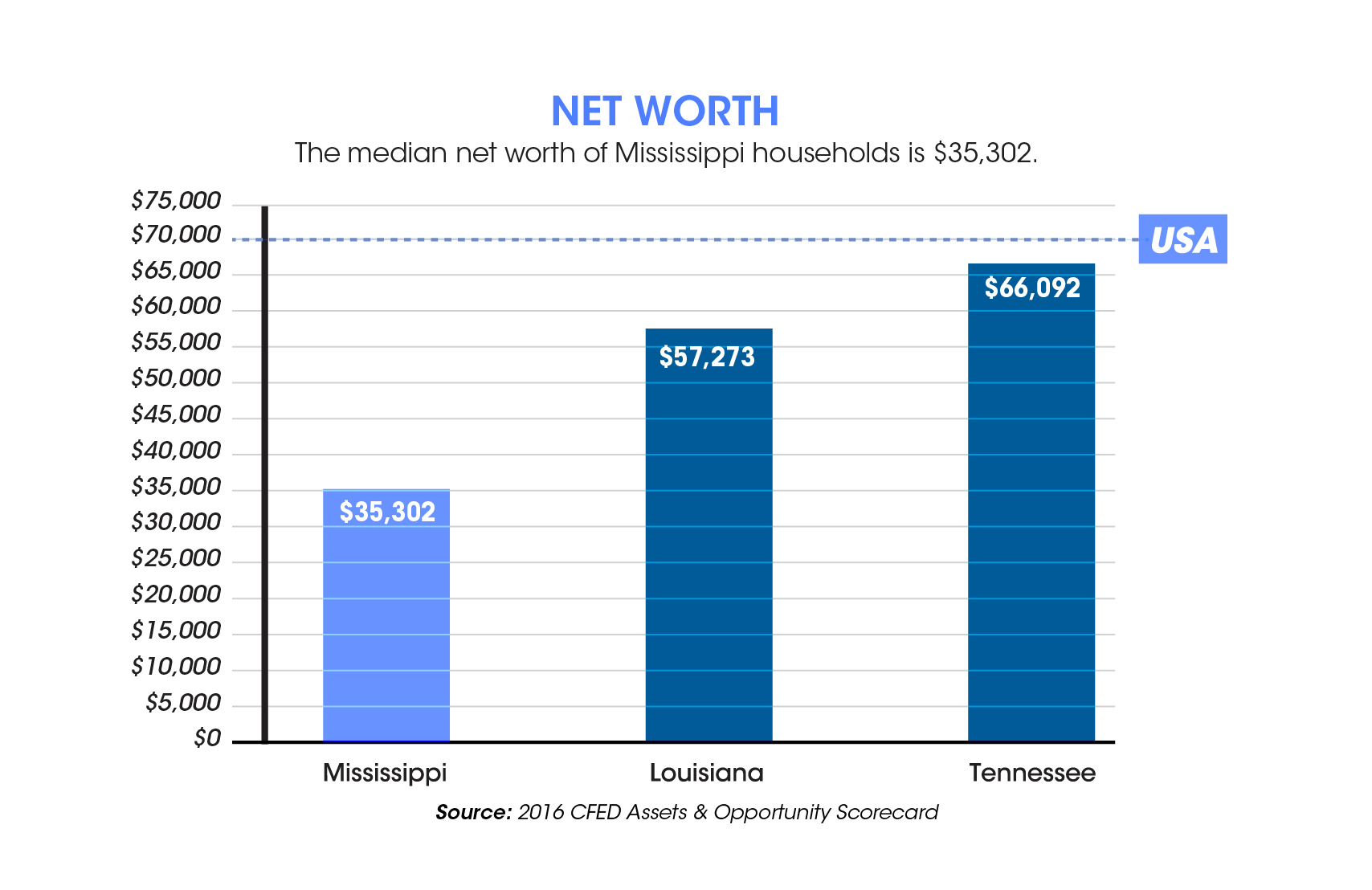 What does this mean for individuals and families?
The high rate of income poverty and lower net worth in the Mid South highlights the need for Mid South residents to establish an emergency savings fund that consists of a small amount of money. A small savings fund will go a long way in helping to protect individuals and families in times of economic hardships. Saving for this fund starts with small, regularly scheduled contributions that build up over time.
This week Hope Policy Institute will be blogging on America Saves Week on the #PolicyMatters blog. Like us Facebook and follow us on Twitter to stay informed!
Source:
Corporation for Enterprise Development. (2016). Assets and Opportunity Scorecard, 2016. Retrieved from http://assetsandopportunity.org/scorecard/