Closing the CDFI Asset Gap
April 21st, 2020
Community development financial institutions (CDFIs) are on the frontlines of relief for vulnerable communities. Banks, credit unions, loan funds, and venture funds are granted CDFI accreditation by the U.S. Treasury's CDFI Fund based on the institution's commitment to increasing financial access to underserved communities.[1] CDFIs offer affordable financial services and products such as mortgages, consumer loans, and other services for consumers and communities that may not have had access otherwise. Even though CDFIs are by their mission intended to decrease inequities in low-income communities, disparities persist in the amount of funding and resources allocated to support their work. Minority-led CDFIs are underrepresented in the field as a whole and they are underfunded compared to their white-led counterparts. Given the important role of minority-led CDFIs in addressing economic disparities, minority-led CDFIs should receive equitable funding from public and private sources of financial support.
The CDFI Fund collects institutional level (ILR) and transaction level (TRL) reports on CDFIs to which it awards funds. According to the most recent CDFI Fund ILR report data (2017), minority-led CDFIs constitute a small portion of CDFI Fund awardees. [2] Only 84, or 26%, of the 315 CDFIs that received CDFI Fund awards were minority-led or controlled. Conversely, white-led CDFIs represented 66% of CDFI Fund awardees. Minority-led CDFIs have a lower average asset size when compared to their white-led counterparts. In this dataset, the institutions hold only 12% of all total CDFI assets while white-led CDFIs hold 75% of all assets reported – that's more than six times the amount held by minority-led CDFIs.
Table 1. Asset Size by Leadership of CDFI Fund Awardee for FY2014 and FY2017 [3]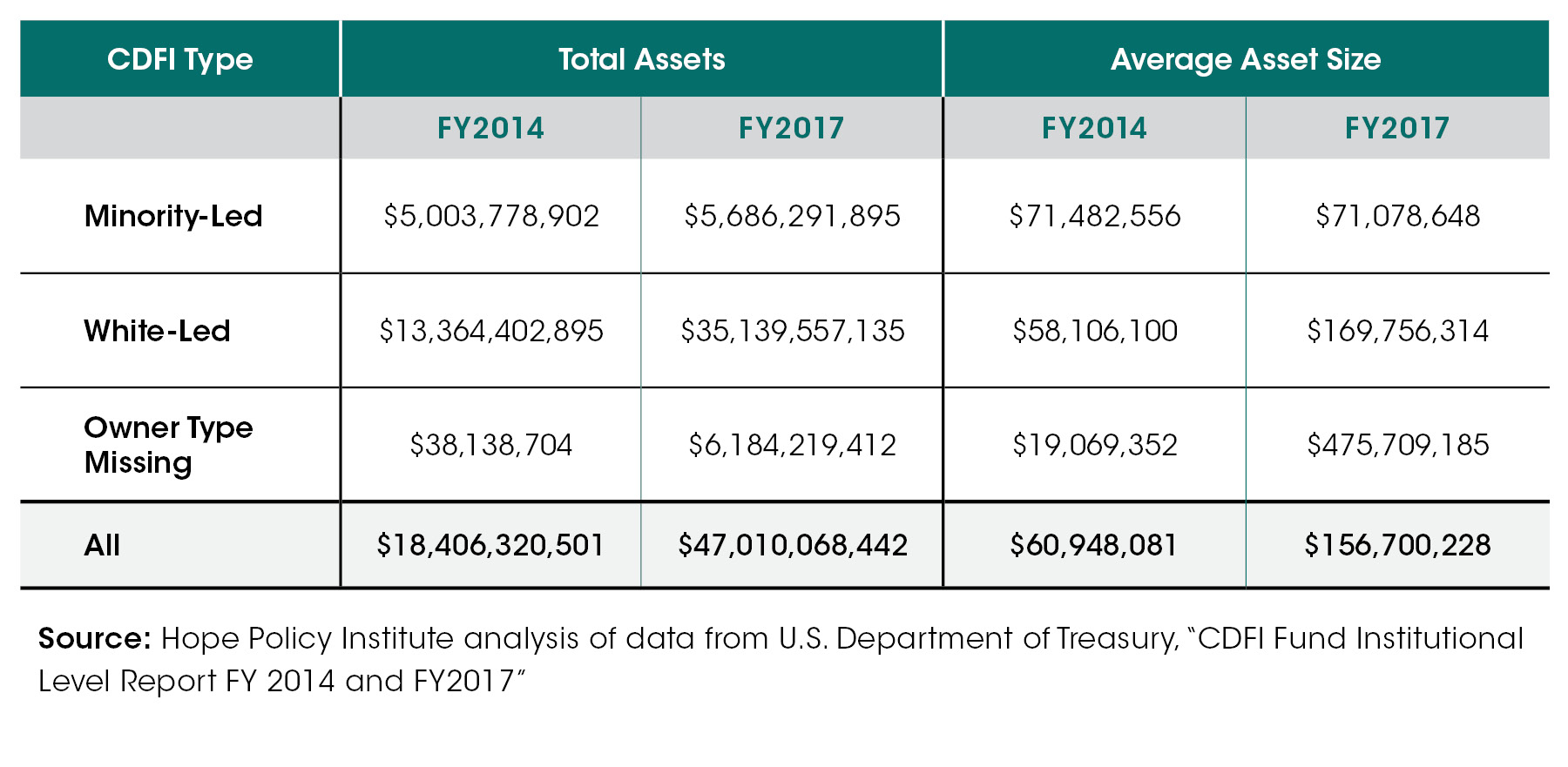 These asset size disparities are not a new occurrence. White-led CDFIs represented the majority (75%) of CDFI Fund awardees in FY2014 while minority-led CDFIs constituted 25% of the 326 CDFI Fund awardees.[4] The CDFI Fund also reported that for awardees in FY2014, the average asset size for minority-led CDFIs was $71.4 million, and the sum of their total assets was $5 billion. White-led CDFIs had a lower average asset amount of $58.1 million, yet held approximately $13 billion or 72% of the total assets reported. Although the average asset size for white-led CDFIs increased from $58.1 million in FY2014 to $169.7 million in FY2017, for minority-led CDFI the average asset size remained the same at approximately $71 million. White-led CDFIs, with lower average assets in FY2014, reported increases while minority-led CDFIs reported no significant differences across the same period of time.
These disparities have significant implications for CDFIs' ability to do their work and grow. Asset size is important for acquiring collateral for investments and other funding opportunities. Investors perceive large assets as an indicator of an organization's ability to manage more funds or debt. Generally, when CDFIs have smaller asset sizes, their ability to leverage resources for the communities they serve is limited. Although white-led CDFIs with smaller average asset sizes than their minority-led counterparts in FY2014 were able to expand their average assets by FY2017, minority-led CDFIs now face the barrier of smaller asset sizes when advocating for their own growth or investments.
This asset gap and what it means for future growth is critically important because minority-led CDFIs serve in communities that are disproportionately vulnerable, which amplifies their need for adequate funding. Two indicators, liquid asset poverty and COVID-19 mortality rates, are just two examples. The majority (58%) of Black and Hispanic households across the nation are unable to cover monthly expenses for three months in absence of income.[5] Without a financial buffer, these households are more likely to bear the impact of layoffs amidst the pandemic. Furthermore, Black and Hispanic communities are experiencing higher rates of COVID-19 mortalities, with rates ranging from 40% to 70%.[6] The Mississippi Department of Health reported that African Americans represent the highest proportion of COVID-19 related deaths at 72%.[7]  See our recent blog for more information on COVID-19 cases in the Deep South.
Minority-led CDFIs should be adequately funded to improve the communities of America's most vulnerable. They are uniquely positioned to cater to the needs of their communities, which are often people of color. While minority-led CDFIs may lack, on average, less total assets than their white counterparts, they have significant social capital within the communities they serve. Through close ties and engagement, they are able to develop and deploy financial products that address the needs of their communities.
As policymakers develop responses to COVID-19, it is imperative that CDFIs serving communities that are disproportionately impacted by COVID have a proportionate amount of resources.
---
[1] CDFI Fund, Department of Treasury,
https://www.cdfifund.gov/Documents/CDFI_infographic_v08A.pdf
, Accessed April 20, 2020. [2] ReleaseILR_fy03_017, CDFI Fund,
https://www.cdfifund.gov/Documents/FY%202017%20Data,%20Documentation,%
20Instructions.zip
, accessed 04-08-20 [3] For FY2014, 10 minority-led CDFIs, 5 white-led CDIs, and 9 CDFIs with no ownership information did not report total assets. For FY2017, 4 minority-led CDFIs and 11 CDFIs with no ownership information did not report total assets. [4] ReleaseILR_fy03_14, CDFI Fund,
https://www.cdfifund.gov/Documents/FY%202014%20CDFI%20CIIS%20Data%20Release.zip
, accessed 04-09-20 [5] Prosperity Now (2020). Prosperity Now Scorecard.
https://scorecard.prosperitynow.org/data-by-issue#finance/outcome/liquid-asset-poverty-rate
. Accessed April 9, 2020. [6]
https://docs.google.com/spreadsheets/u/0/d/1ljIxjdEFZy7TBQMvImmwFcBzzMCJapejp6FBsK3U2i0/htmlview
[7] Mississippi State Department of Health. (2020).
https://msdh.ms.gov/msdhsite/_static/14,0,420.html
, Accessed April 9, 2020.