Closing the Equity Gap for Black Males in Mississippi: Advanced Placement (AP) Access
October 4th, 2017
Advanced Placement (AP) courses – college-level classes taught in high school settings – are one way districts can help prepare students for increasingly complex subjects and success in postsecondary education. Unfortunately, inequities in access to AP enrollment and score gaps on AP exams preclude many Black students, and especially Black males, from reaping the benefits of AP instruction.
Mississippi's Black male students are at a double disadvantage in relation to AP courses: they are less likely to have access to AP classes in their districts, and, when they do participate, they are less likely to receive scores high enough to earn college credit. One in every four (25.1%) public school students in Mississippi is a Black male, yet only one in every 12 (8.1%) Black male students took AP exams in 2016. See Chart. Geography explains part of the access disparity.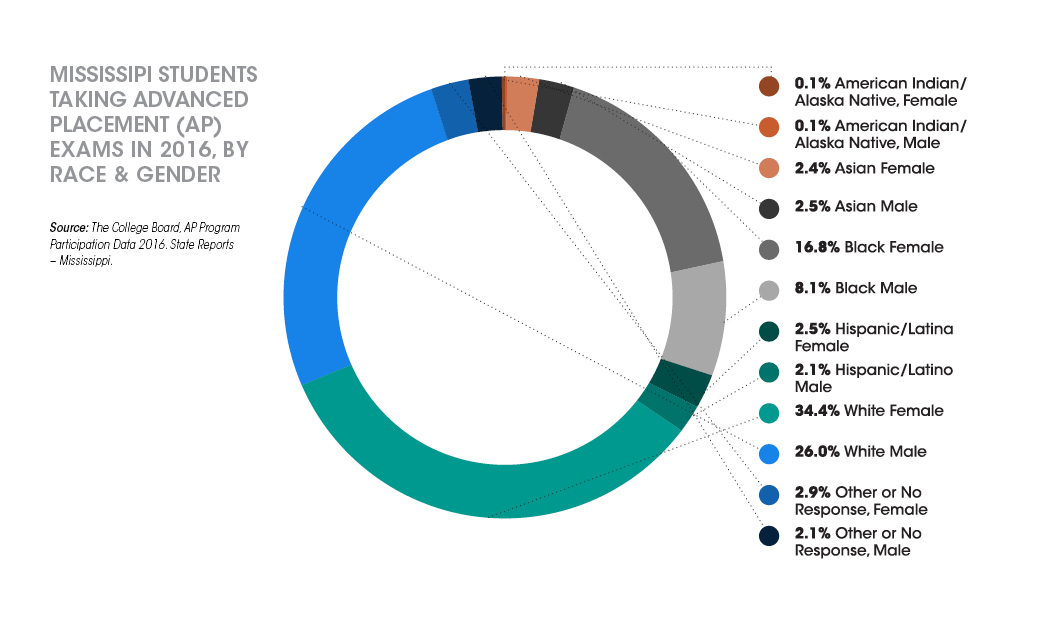 In 2015, the top ten performing Mississippi public school districts had significantly more AP course offerings than did the bottom ten performing districts, which enroll larger proportions of minority and low-income students. According to the U.S. Department of Education Office of Civil Rights, the higher-income, majority-White top ten districts enrolled nine times as many students in one or more AP courses, 30 times as many in AP math courses, 12 times as many in AP science courses, and nearly ten times as many students in one or more AP "Other" courses (e.g., AP U.S. History, AP Government.) than did the bottom ten performing districts.
Accelerated and gifted course options, like AP, give high school students the chance to build college skills and can even increase college enrollment for low-income students. For those students enrolled in districts with access, AP courses:
Provide students the opportunity to earn college credits while enrolled in high school;
Cost less to complete than comparable courses in a postsecondary setting;
Signal that students are proactive about furthering their education and desirable college admission candidates; and
Can reduce the number of courses students are required to take to complete postsecondary credentials, saving students time and money.
Academic rigor in high school – achieved through AP coursework or otherwise – helps ensure that students who wish to continue their education can enter two- or four-year institutions ready to successfully complete entry-level coursework, without the need for remediation. Because Black male students are less likely to enroll in AP classes and score well on the corresponding exams, they are less likely than their peers to experience these benefits.
Expanding access to advanced coursework, particularly for low-income students, boosts college and career readiness. Investments in students and the programs that support them, like the U.S. Department of Education grant to support low-income students taking AP tests, help produce a more prosperous economy, communities and state.
Two upcoming reports from Hope Policy Institute, Closing the Education Equity Gap for Mississippi's Black Males and Closing the Economic Security Equity Gap for Mississippi's Black Males, supported by Mississippi Action Network for Uplifting Promise (M.A.N. U.P.!), shed light on the complex factors that influence opportunity and uneven quality of life outcomes for males of color in Mississippi. Follow us on social media and join our newsletter for updates on this blog series and the official report release.