College Attainment a Dream for Many in the Deep South
August 17th, 2018
This blog explores the barriers, like student loan debt, that make post-secondary education unattainable for many in the Deep South. Education is a fundamental asset that impacts an individual's earning potential and ability to succeed. For example, data from the 2016 Survey of Consumer Finances illustrates that the median net worth of families where the head of household has a four-year degree is more than four times that of families whose head of household has only a high school diploma, $292,100 versus $67,100, respectively. In the Deep South, the number of adults with a four-year degree increased almost by four percent between 2006 and 2016 but coincided with higher tuition costs and higher student loan debt burdens.
Even though Deep South states had gains in post-secondary educational attainment, less than one in four adults, on average, have a four-year degree. Mississippi has the second lowest rate (21.8%) in the nation in post-secondary educational attainment, followed by Arkansas and Louisiana. See Chart 1. Individuals from low-income families are also less likely to finish college than individuals from wealthier families. In the Deep South, four-year college degrees are nearly six times more prevalent among the highest-income households than among the lowest-income households, 45.5 percent versus eight percent, respectively.
Post-secondary degree attainment oftentimes results in student loan debt burdens, as a consequence of higher tuition costs and fewer resources. Twenty-two percent (22.1%) of college students in the Deep South graduate with student loan debt, with a median debt of $16,885 in student loans. See Chart 2. Furthermore, 20.1 percent of student loan borrowers in the Deep South are severely delinquent – i.e., student loan borrowers with at least one student loan that is 30 or more days past due, in collections or classified as severely derogatory. Mississippi has the highest rate of student loan borrowers with severely delinquent debt in the nation – nearly one in four (23.2%) student loan borrowers. The high student loan default rate in the Deep South is an indicator of broader financial issues: that recent graduates have unmanageable debt burdens or are unable to secure jobs that pay a sufficient wage to cover these debt payments.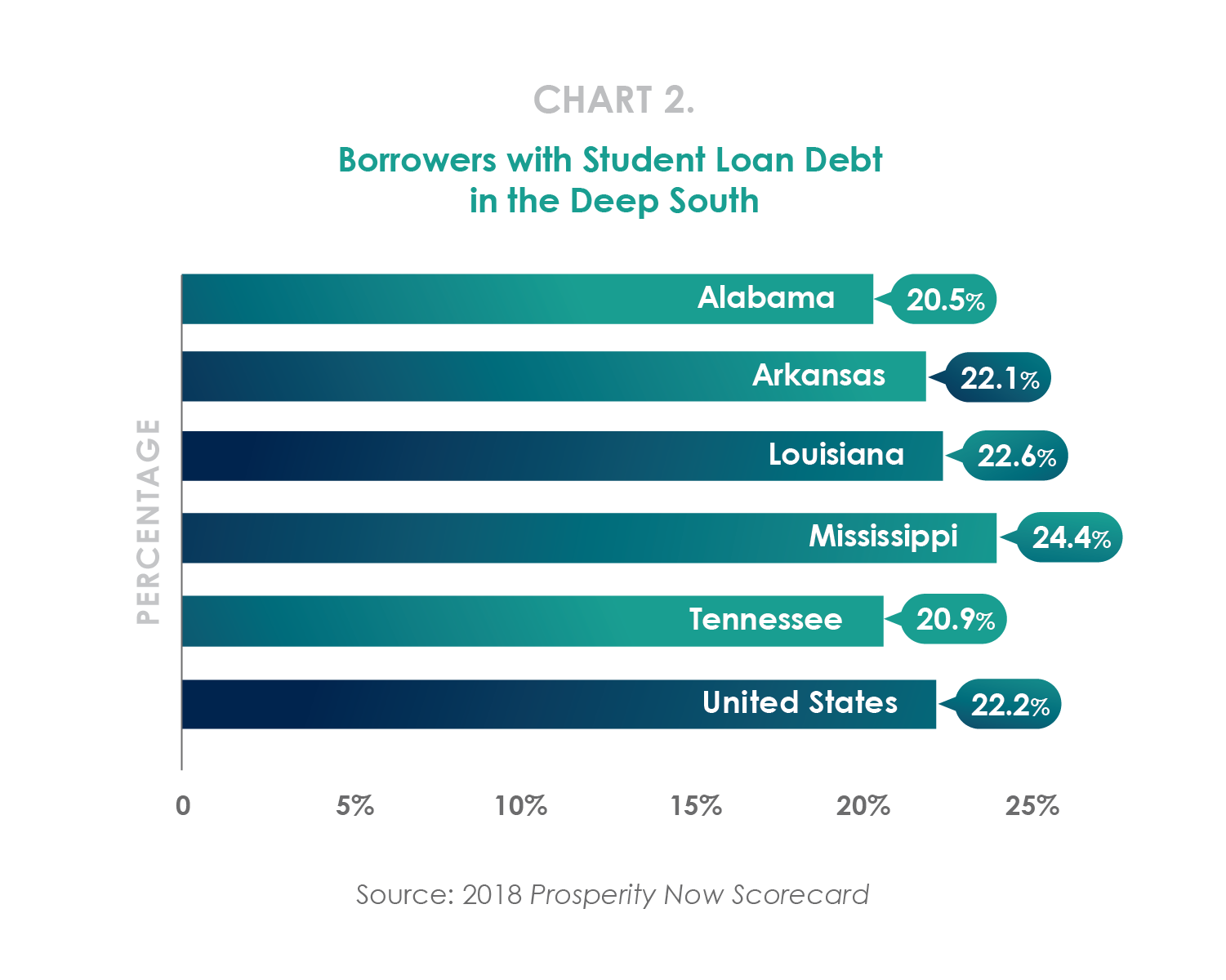 For too many young adults in the Deep South, the ability to save and pay for college remains a major challenge. It is imperative to create wealth-building opportunities for children and families and to equip them with the tools they need to build wealth, save for college establish healthy financial habits, and improve their overall financial outlook. For example, Children's Savings Accounts (CSAs), like HOPE's Take Flight CSA program, are long-term, incentivized savings or investment accounts for hardship purposes, like post-secondary education, that help promote economic mobility for children as early as birth. Research shows that low-income children, with $500 or less saved for college, are three times more likely to enroll and four times more likely to graduate than those without savings. Beyond educational attainment, CSAs also help build positive, lifelong savings habits and increase the likelihood of long-term financial security.
Source: 2018 Prosperity Now Scorecard