Communities of Color Continue to Struggle the Most in the Mid South
October 11th, 2016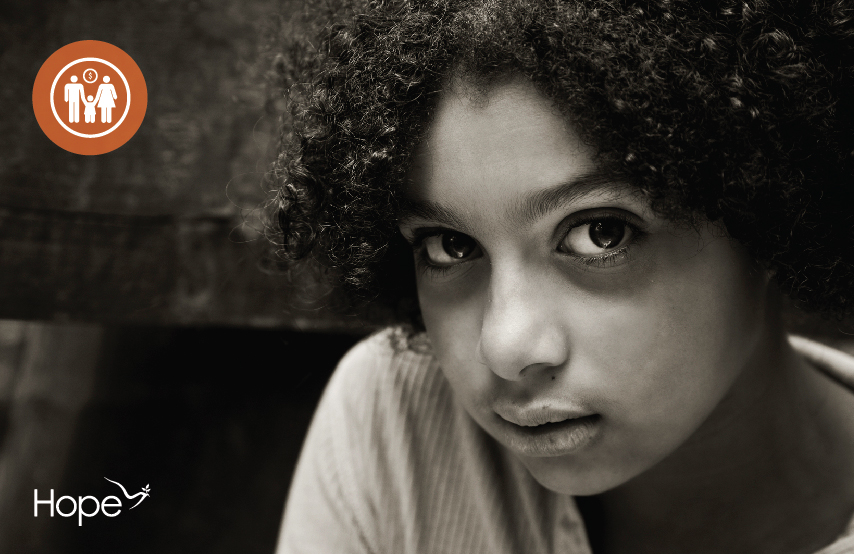 New data on poverty, released by the U.S. Census Bureau, show that residents in the Mid South states of Arkansas, Louisiana, Mississippi and Tennessee who are likely to reside in some of the most distressed areas of the country, continued to struggle economically in 2015, and that communities of color face this challenge most acutely.
Snapshot: Poverty in the Mid South
Poverty declined nationally, from 15.5 percent in 2014 to 14.7 percent in 2015. Regionally, Louisiana (-0.2%) and Tennessee (-1.6%) experienced a slight decline, while Arkansas (0.2%) and Mississippi (0.5%) experienced a slight increase in poverty.
The Mid South continues to exhibit some of the highest poverty rates in the nation. Nearly 20 percent (19.4%) of Mid South residents experienced poverty last year, almost 5 percentage points higher than the national rate. Mississippi has the highest poverty rate in the nation – followed closely by Louisiana and Arkansas (third and fourth highest rates, respectively). Tennessee has the eleventh highest poverty rate in the nation. See Chart.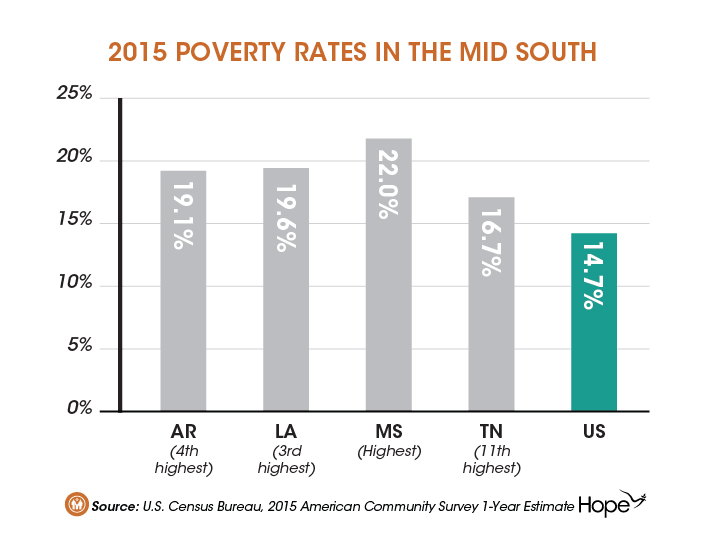 Racial Disparities Continue
The newly released data also show that one in three African Americans, Hispanics, and American Indians in the Mid South live in poverty compared to one in seven whites. In addition, communities of color often lack access to quality jobs and are more likely to have lower incomes as a result. Median household income for African Americans, Hispanics, and American Indians in the Mid South declined between 2014 and 2015 (the average median household income for non-whites in the Mid South was $35,660 in 2014 compared to $34,886 in 2015) when adjusted for inflation and was almost $20,000 lower than that of white households ($53,764 in 2015).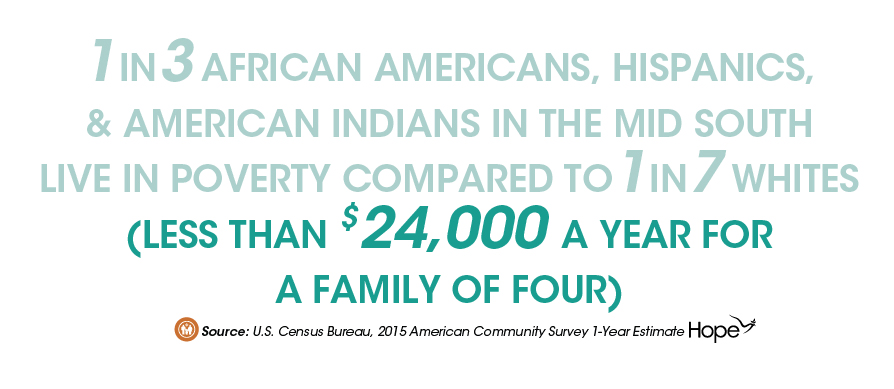 With the growing diversity in the region, the success of the Mid South depends on ensuring inclusive access to economic opportunity for everyone and not just a few. This means access to high-quality jobs that pay a good wage, access to affordable child care for children while the parent(s) or guardians go to work, and access to healthcare – all of which build economic security and thriving communities.
There is much work to be done to help alleviate poverty in the nation's most impoverished region, particularly in closing the racial wealth divide for communities of color. In areas that continue to suffer from decades of entrenched poverty, it is crucial to invest resources and expand economic support that both address wealth inequality and promote financial security for all.
Source:
United States Census Bureau, 2015 American Community Survey 1-Year Estimate