Economic Security is More Than a Paycheck: Understanding the Racial Wealth Divide and Homeownership in the Deep South
November 28th, 2017
In 1983, median black households had a net worth of $6,800, excluding durable goods like cars and consumer electronics. In the following three decades that figure decreased by 75 percent to $1,700. During the same period, the net worth of median white households grew by 14 percent from $102,200 to $116,800.[1] See Chart.
Click to enlarge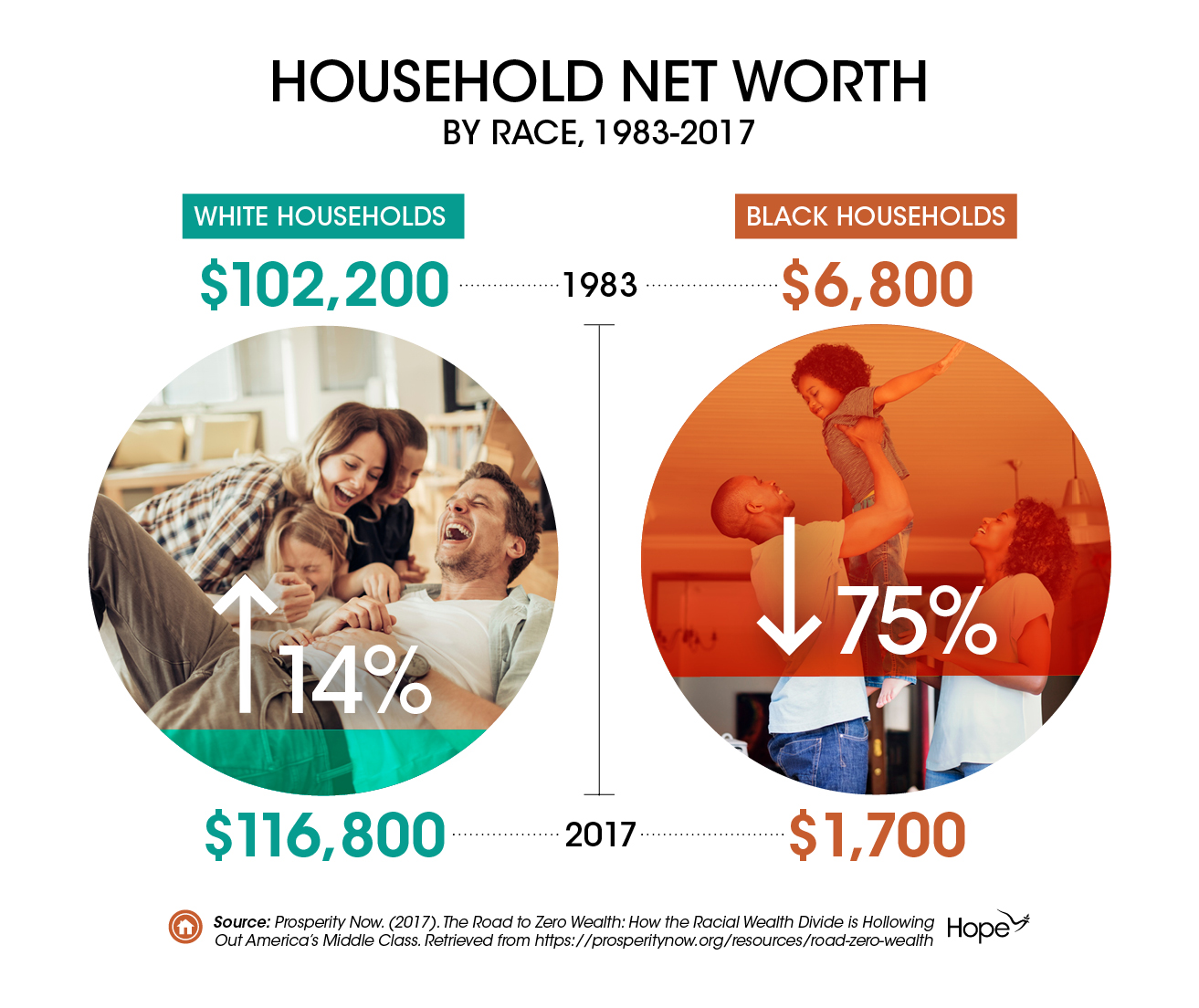 These figures contradict simplistic narratives of racial progress and underscore the importance of comprehensive economic indicators to understanding racial inequality. Examining racial disparities in the poverty rate, the unemployment rate, educational attainment, or even income levels – areas where there has been modest progress or less severe regression – can easily lead to an underestimation of the depth of racial economic inequality. A 2017 study found that black and white study participants, across the income spectrum, underestimated racial economic inequality by 25 percent, on average, with high-income white participants underestimating the economic divide by over 40 percent. The gap between participant estimates and actual indicators was, unsurprisingly, highest for the racial wealth divide.
Research examining the racial wealth divide has expanded in recent years, reflecting, in part, a growing understanding that income and employment are inadequate measures of economic well-being, particularly when considering the economic gaps between white households and households of color. In addition to demonstrating the magnitude of the racial wealth divide, this research has helped determine key contributing factors to the divide. These studies have pointed to the centrality of public policy decisions and asset ownership in shaping and sustaining the racial wealth divide.
In particular, racial disparities in homeownership rates and home value have been identified as dominant drivers of the divide. A 2016 study found that eliminating racial disparities in homeownership rates would decrease the racial wealth gap by 31 percent while equalizing the return on homeownership would decrease the divide by 16 percent. In comparison, eliminating racial disparities in income would decrease the gap by just 11 percent.
Follow the "Economic Security is More Than a Paycheck" blog series for an in-depth look at racial disparities in homeownership rates and home value in the Deep South as well as strategies to reduce the racial wealth divide. Like us on Facebook and follow us on Twitter to stay informed!
[1] Road to Zero Wealth (2017)