Homeownership Promotes Civic Engagement
September 11th, 2017
A previous blog post examined the negative impact that financial insecurity has on civic engagement. Research in this area indicates that financially insecure communities tend to engage the formal political system far less than their financially secure counterparts. This suggests that initiatives to improve financial access may have a positive effect on civic engagement in low-wealth communities. This blog will extend that analysis to examine the effects of homeownership on civic engagement.
There is a robust body of research indicating that homeowners are more likely to be politically engaged than renters. A review of this literature in the Journal of Urban Economics argues that increased civic engagement among homeowners is due to their decreased mobility and resulting investment in the neighborhood and the broader community. Homeowners are far more likely than renters to stay in their communities longer and to have a direct financial interest, through property values, in improving or maintaining the quality of life there. Recent research at the Joint Center for Housing Studies at Harvard University indicates that the positive impact of homeownership on social and political participation, measured by participation in local elections, has persisted even after the most recent housing crisis.
Importantly, research shows that the impact on civic engagement is greatest for low- and mid-income homeowners. A 2009 study, "Homeownership and Local Voting in Disadvantaged Urban Neighborhoods," found that homeowners in disadvantaged neighborhoods were more likely to participate in local elections than owners in more affluent areas, controlling for relevant sociodemographic variables. From the least to the most disadvantaged neighborhood, homeowners' predicted probability of voting increased by approximately 30 percent. Another report, "Homeownership and Civic Engagement in Low-Income Urban Neighborhoods: A Longitudinal Analysis," found that low-income homeowners were over four times as likely as comparable renters to join a neighborhood association after four years of homeownership.
Homeownership in the Mid South
Homeownership levels in the Mid South are slightly above average levels for the country as a whole (63%), ranging from 67.4 percent in Mississippi to 64.6 percent in Louisiana. However, as with other measures of financial security, homeownership is disproportionately achieved by white households. In the states served by HOPE Credit Union, an average of 48 percent of households of color are homeowners compared to an average of 74 percent of white households. The racial difference in homeownership ranges from 44 percent in Mississippi to 64 percent in Tennessee. See Table 1.
Click to enlarge
Black homeowners in the Mid South are more likely to have high-cost mortgage payments. In the states served by HOPE Credit Union, an average of 11 percent of mortgage loans originated in 2015 went to black borrowers. In contrast, an average of 81 percent of mortgage loans went to white borrowers. A much higher proportion of high-cost mortgages, 19 percent, on average, went to black borrowers. White borrowers, on the other hand, received high-cost mortgages (on average 76%) at a rate lower than their representation among mortgage borrowers.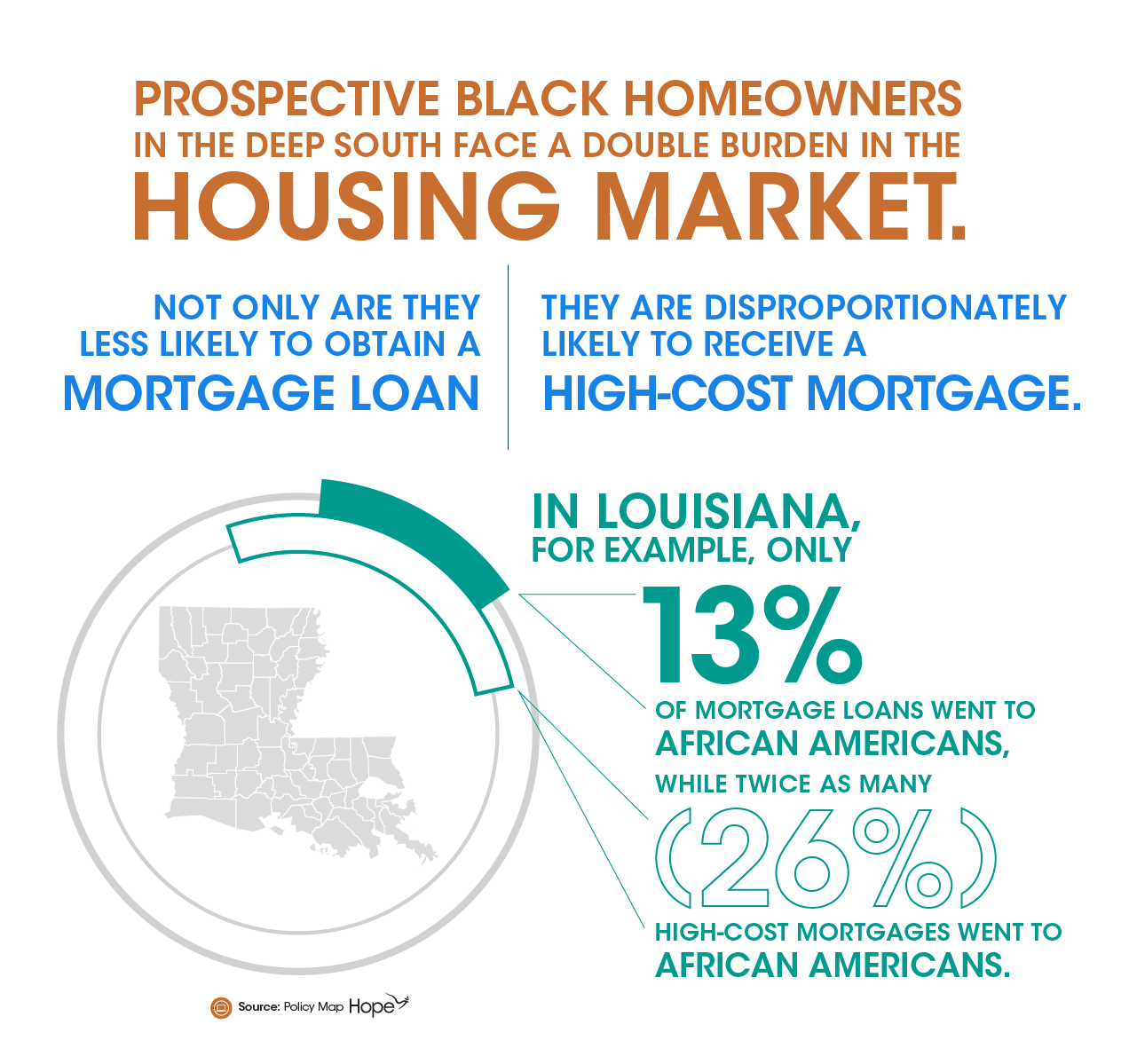 While there are relatively strong levels of homeownership in the Mid South, there are also clear equity and affordability issues, particularly as it relates to race. Households of color are less likely to own homes and those that do are more likely to obtain high-cost mortgages, threatening their ability to repay their loans and accrue equity in their homes. Not only does this threaten the financial security of economically vulnerable communities, but it may have a suppressive impact on civic engagement in these communities. As a result, public policy processes and outcomes in the Mid South are largely unresponsive to the needs of low- and moderate-wealth households. The states served by HOPE have adopted, on average, only four of the 12 policy recommendations from the 2017 Prosperity Now Scorecard, including foreclosure regulations and first-time homebuyer assistance, to help families build and protect their wealth through homeownership.
Supporting Homeownership Where it is Needed Most
Promoting homeownership in the Mid South, particularly in low- and moderate-income communities of color, may represent one element of a broader strategy to increase civic engagement among those that are often neglected by public policy. Increasing homeownership in these communities will not only reduce financial insecurity but may ultimately produce more just and equitable public policy.
HOPE has done substantial work to address equity issues in the housing market by increasing access to homeownership for low- and moderate-income families of color. HOPE's affordable housing loan program enables borrowers with compromised credit ratings, who tend to have less income and assets, to achieve homeownership. In 2016, 76 percent of HOPE's mortgage borrowers were first-time homeowners and 73 percent of HOPE's mortgages were made to people of color. Increasing the number of families who can achieve and sustain homeownership is essential to strengthening the well-being of the Mid South's economic and political systems.
Sources:
Joint Center for Housing Studies Harvard University. (2013). Reexamining the Social Benefits of Homeownership After the Housing Crisis. Retrieved from http://www.jchs.harvard.edu/sites/jchs.harvard.edu/files/hbtl-04.pdf
Journal of Urban Economics. (2003). The Social and Private Micro-Level Consequences of Homeownership. Retrieved from http://www.sciencedirect.com/science/article/pii/S0094119003000809
Kim Manturuk et al. (2009). Homeownership and Local Voting in Disadvantaged Urban Neighborhoods. Retrieved from https://www.huduser.gov/portal/periodicals/cityscpe/vol11num3/ch10.pdf
Kim Manturuk et al. (2013). Homeownership and Civic Engagement in Low-Income Urban Neighborhoods: A Longitudinal Analysis. Retrieved from file:///C:/Users/rharmon/Documents/Financial%20Services%20and%20Civic%20Engagement/Homeownership%20and%20Voting%20Longitudinal.pdf
Prosperity Now. (2017). Prosperity Now Scorecard. Retrieved from https://scorecard.prosperitynow.org/
Policy Map. (2017). Policy Map Housing and Lending Data. Retrieved from https://www.policymap.com/tables