HOPE Submits Fair Housing Comments
November 1st, 2019
October 18, 2019
Regulations Division
Office of General Counsel
Department of Housing and Urban Development
451 7th Street SW, Room 10276
Washington, DC 20410-0500
Comment: Implementation of the Fair Housing Act's Disparate Impact Standard
Docked ID:  2019-17542
Dear Secretary Carson:
Please find below the comments of the Hope Enterprise Corporation / Hope Credit Union (HOPE) in response to the Advanced Notice of Proposed Rulemaking (ANPR) on the Implementation of the Fair Housing Act's Disparate Impact Standard, Docket 2019-17542.
HOPE is a credit union, community development financial institution and policy institute that provides affordable financial services; leverages private, public and philanthropic resources; and engages in policy analysis to fulfill its mission of strengthening communities, building assets, and improving lives in economically distressed areas throughout Alabama, Arkansas, Louisiana, Mississippi and Tennessee. Over the last 25 years, HOPE has generated over $2 billion in financing that has benefited more than one million individuals.
Submitting these comments is consistent with HOPE's long-standing support for fair housing policies and practices, and in particular its defense of disparate impact as a necessary means for enforcing the Fair Housing Act.1 HOPE strongly urges the U.S. Department of Housing and Urban Development to reject this proposal for the following reasons discussed in full in these comments:
Disparate impact is necessary to ensure fair housing opportunities in the Deep South, 
Disparate impact facilitates, not hinders, a healthy mortgage market, and 
Disparate impact is essential for building economic opportunity in the Deep South.
Disparate Impact is Necessary to Ensure Fair Housing Opportunities in the Deep South
There is a long and well-documented history of the federal government's role in engaging, facilitating, and enabling racially discriminatory and exclusionary housing practices. These actions, include but are not limited to, redlining, restrictive covenants and the exclusion of Black families from federal mortgage lending and insurance programs. As a result, generations of Black families were blocked from realizing the opportunity to acquire and build wealth through homeownership, even though the federal government specifically promoted, enabled, and facilitated such opportunities for white families.2 Together with discriminatory practices by private actors such as lenders, brokers, realtors, insurers, and others, government policies and actions created massive racial disparities in homeownership and wealth accumulation that persist today.
Given this history, the 1968 passage of the Fair Housing Act, was a turning point in this country.  Fifty years later, the need for a robust and effective Fair Housing Act is acutely felt here in the Deep South. A compelling reminder for the need for robust fair housing enforcement is the wide racial disparities in Black and white homeownership, mortgage loan denials, and predatory lending in our region.
Homeownership Gaps
The vestiges of historic patterns of discrimination and the work that still remains to ensure fair housing opportunities are evident in the homeownership gaps between Black and White households in the Deep South states of Alabama, Arkansas, Louisiana, Mississippi and Tennessee (Table 1).
Table 1:  Black and White Homeownership Rates for 2007 and 2017, by State



Source:  U.S. Census Bureau
Notably, in each of the five states, the homeownership gap between black and white households in 2017 exceeded 20 percentage points. Of even more concern, the gap had widened in all five states.
Trends in Mississippi where HOPE is headquartered, in particular, underscore both the need for and promise of the enforcement of the Fair Housing Act via disparate impact. Mississippi has the nation's highest percentage of Black residents. Here, the Black homeownership rate reached its peak in 2007, at 59%, which still was 20 percentage points lower than the white homeownership rate. By 2017, these rates were 54% and 78% respectively.
Loan Denials
Disparities in mortgage loan denials along the basis of race remain prevalent throughout the region. For example, in Montgomery, Alabama, Black applicants, in 2016, were three times as likely to be denied a conventional home mortgage as white applicants.3 In New Orleans, Louisiana, in 2015, 85% Black applicants were denied for a mortgage loan application, compared with 50% of Latino applicants, and 27% denial rate for whites.4
At the state level, Black Mississippians still face significant barriers attaining a home mortgage loan. Recent data collected by HUD found Black Mississippians are still denied for mortgage loans at exceedingly high rates. Even though the statewide denial rate is just over 30%, nearly one out of two Black Mississippians who apply for a loan are denied.5
Even for Black and white Mississippians within the same income group, Black borrowers still experience higher denial rates than their white counterparts (Table 2).6
Table 2:  Mortgage Loan Denials in Mississippi, by Race and Income, 2008 – 2017



Source: Hope Policy Institute analysis of MS Analysis of Impediments to Fair Housing Choice 2019 Draft
Between 2008 and 2017, 18% – nearly in one in five – Black Mississippians earning over $150,000 who applied for a mortgage loan, were denied, in contrast to only seven percent of white Mississippians who applied for a mortgage. The disparities are worse at lower income brackets, where 43% of Black Mississippians earning less than $30,000 a year were denied, compared with 27.8% of Whites in this same income group. Finally, the 18% denial rate for Black residents earning over $150,000 is higher than the denial rate of whites earning between $30,000 and $50,000 – which stands at 15% over the 10-year period.
High Cost Loan Disparities
Black borrowers who do qualify for a mortgage, are more likely than white borrowers to be saddled with high-cost predatory mortgage loans. In Mississippi, for example, in 2014, even though 24.7% of mortgage loans in the state were high-cost loans, the amount of these loans to Black and Latino borrowers were significantly higher, 38.7% and 27.3% respectively.7 In 2015, in rural Alabama, fewer less than 17% of loans to white borrowers were high-cost, but more than 25% of loans to Black borrowers were high-cost.8
High-cost predatory loans increase the likelihood that people will eventually lose their home through foreclosure, stripping assets rather than building them.  In the lead up to the foreclosure crisis, nationwide, Black families were provided loans on less favorable terms than white families, even with similar credit profiles. In Mississippi, for the loans originated between 2004 and 2008, by 2012, 11.8% of these loans to Black households had completed foreclosure and another 16.3% were at imminent risk, compared with 6.2 and 6.5%, respectively for white households in the state.9 These foreclosures not only stripped assets from families in the homes at the time, but caused surrounding property values to plummet, resulting in $352 million in lost wealth from minority census tracts in Mississippi.10 We have grave concerns that in the absence of meaningful disparate impact enforcement, the lost wealth within the Black community and other communities of color will be significant.
Disparate Impact Facilitates, Not Hinders, a Healthy Mortgage Market
At HOPE, we understand the inextricable link between our success and the communities where we conduct business. Accordingly, we place a priority on serving all residents in a fair and responsible manner. Through fair lending practices, we have substantially increased our mortgage lending by reaching untapped markets. We design products and procedures to align with the economic realities faced by underserved residents. This includes manually underwriting loans, considering nontraditional indicators of credit, and discounting deferred student debt. In addition, we offer a 100% financing product, as many low-wage earners have the cash flow for a monthly mortgage payment, but lack the ability to save for a down payment. We know that good business and fair housing go hand-in-hand.
Between 2007 and 2017, HOPE's overall portfolio grew by more than 600%, with the percentage of loans made to borrowers of color increasing from 55% in 2007 to 81% in 2017, and a loss rate of only 0.26%.
We know that businesses thrive when regulations are sound and consistent. Not only has the disparate impact analysis functioned as an enforcement tool for the Fair Housing Act, it has provided clear rules of the road. While there is a range of factors contributing to mortgage loan originations, trends suggest that the 2013 disparate impact rule has not hindered mortgage in the state, as evidenced by the increase in mortgage loan originations and decrease in denial rates for borrowers of color.11 These trends are a reversal of what was happening prior to the 2013 rule  (Figures 1 and 2).
Figures 1 and 2:  Mortgage Loan Originations and Denial Rates by Race, 2008 – 2017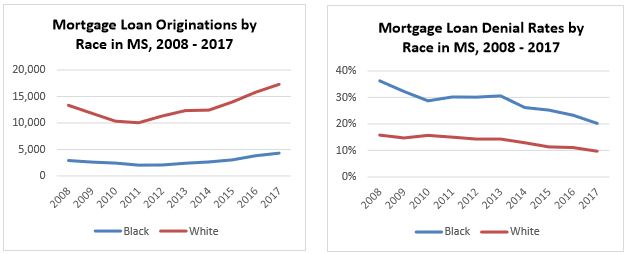 Source:  Hope Policy Institute analysis of the MS Analysis of Impediments to Fair Housing Choice 2019 Draft 
By rendering meaningless the disparate impact provision of the Fair Housing Act, this proposal will inject cost and uncertainty into the financial system, exactly what lenders, regulators and shareholders seek to avoid.
To Build Economic Opportunity in the Deep South, HUD Must Reject This Proposal
The ability to enforce the Fair Housing Act through the provisions laid out in the 2013 disparate impact rule, codifying well-settled analysis by the courts, is necessary to not only prevent the future widening of existing homeownership and racial wealth gaps, but to have any hope of closing it in the future. The current proposal is dangerous and unwarranted, hampering the ability for people to seek reprieve from discriminatory practices occurring today, and a more troubling opening up of the floodgates for potential new schemes – from algorithmic bias to land use zoning – designed to exclude people from housing opportunities. We concur with the comments submitted by the Center for Responsible Lending, Self-Help Credit Union, and SelfHelp Federal Credit Union's on the how the proposed rule will perpetuate algorithmic bias.
For more than half a century, the Fair Housing Act has promoted housing opportunity and freedom from discrimination. While much progress has occurred, the evidence is clear that continued discrimination in the housing market prevents many from realizing the American dream of owning a home. Until the playing field is leveled, we need every tool available to close the gap. For these reasons, HOPE strongly urges HUD to reject this proposal.
Sincerely,


William J. Bynum
Chief Executive Officer
---
1 In 2013, HOPE joined the National Fair Housing Alliance and Center for Community SelfHelp in an amicus brief to the U.S. Supreme Court in support of the disparate impact doctrine.  Texas Department of Community Affairs v. The Inclusive Communities Project, Brief of Amicus Curiae, National Fair Housing Alliance, Center for Community Self-Help, and HOPE Enterprise Corporation, https://www.relmanlaw.com/media/news/54_NFHAAmicusBOM2014-12-23.pdf
2 Testimony of Nikitra Bailey, Center for Responsible Lending, before the U.S. House of Representatives Committee on Financial Services, Subcommittee on Housing, Community Development, and Insurance, "A Review of the State and Barriers to Minority Homeownership," May 8, 2019, https://financialservices.house.gov/uploadedfiles/hhrg-116-ba04-wstate-baileyn20190508.pdf
3 Analysis of 2016 HMDA data by the Center for Investigative Reporting, https://www.revealnews.org/article/for-people-of-color-banks-are-shutting-the-door-to-homeownership/; and 2014 City of Montgomery Analysis of Impediments to Fair Housing Choices, http://centralalabamafairhousing.org/wp-content/uploads/2017/10/2014-AI-city-ofMontgomery.pdf
4 2015 New Orleans Analysis of Impediments,  http://www.nola.gov/communitydevelopment/documents/2016-updated-afh-plan-090516/afh-plan-090516-final/   The 2015 report also cites a 2010 report showing how these disparities remain true even when accounting for income:  "White applicants with incomes below $15,000 were denied 25% of the time, while black applicants in the same income range were denied 55% of the time. For applicants with incomes above $75,000, whites had a denial rate of 10% and blacks had a denial rate of 27%.")
5 State of Mississippi, "2019 Analysis of Impediments to Fair Housing Choice," Draft, April 2019, https://www.mississippi.org/wp-content/uploads/2019/05/State-of-Mississippi-AnalysisOf-Impediments-to-Fair-Housing-Choice-2019-Draft.pdf
6 State of Mississippi, "2019 Analysis of Impediments to Fair Housing Choice," Draft, April 2019, Table V.8, at page 134, https://www.mississippi.org/wp-content/uploads/2019/05/State-ofMississippi-Analysis-Of-Impediments-to-Fair-Housing-Choice-2019-Draft.pdf
7 State of Mississippi, "2019 Analysis of Impediments to Fair Housing Choice," Draft, April 2019, page 11, https://www.mississippi.org/wp-content/uploads/2019/05/State-of-MississippiAnalysis-Of-Impediments-to-Fair-Housing-Choice-2019-Draft.pdf
8 2015 State of Alabama Analysis of Impediments to Fair Housing Choices, https://adeca.alabama.gov/Divisions/ced/cdp/CDBG%20Documents/2015%20Alabama%20Anal ysis%20of%20Impediments%20to%20Fair%20Housing%20Choice%20-%20Volume%20I.pdf  The data cover the state of Alabama's non-entitlement areas as determined by HUD.  As such, data from the entitlement cities are excluded:  Anniston, Auburn, Bessemer, Birmingham, Decatur, Dothan, Florence, Gadsden, Hoover, Huntsville, Mobile, Montgomery, Opelika, and Tuscaloosa, along with Jefferson and Mobile Counties.
9 Debbie Gruenstein Bocian, Center for Responsible Lending, "State of Lending in America and its Impact on U.S. Households: Mortgages," Dec. 2012, at 56 https://www.responsiblelending.org/sites/default/files/uploads/3-mortgages.pdf
10 Id.
11 State of Mississippi, "2019 Analysis of Impediments to Fair Housing Choice," Draft, April 2019, Table V.1 at page 131, https://www.mississippi.org/wp-content/uploads/2019/05/State-ofMississippi-Analysis-Of-Impediments-to-Fair-Housing-Choice-2019-Draft.pdf