School Climate Should Support Student Achievement
April 20th, 2017
Reforming discipline practices to support good behavior and address underlying student needs creates a more productive and safe school environment for all. Students best develop and achieve in school climates that are safe, provide positive reinforcement and support. By shedding exclusionary discipline practices and adopting resources, such as positive positive behavioral interventions and supports (PBIS) and restorative justice (RJ), school districts create communities of respect that support students, teachers, staff and safety in schools.
Early efforts to create safe schools through "zero tolerance" policies, which implemented a one-strike-and-you're-out method of handling discipline infractions, have been unevenly implemented. Under zero-tolerance, a one-time infraction can result in suspension or expulsion that costs students instruction time and puts them at risk of falling behind in school. Zero-tolerance and other exclusionary disciplinary policies disproportionately affect students of color and students with disabilities, often to their long-term detriment.
In 2012, black students represented half of students enrolled in Mississippi public schools but represented three-quarters of students suspended and expelled for that school year. Black girls represented the majority of suspended (80.0 percent) and expelled (74.2 percent) female students and black boys represented the majority of suspended (71.5 percent) and expelled (71.2 percent) male students in Mississippi. Disproportionate suspension and expulsion of black students relative to enrollment impedes their ability to achieve and advance. Evidence does not suggest exclusionary discipline practices improve either student behavior or school climate. Instead, suspensions and other exclusionary practices are associated with lower academic achievement, higher dropout rates, lower graduation rates, less academic engagement, and repeat disciplinary exclusion.
Each of these factors limits both educational and future economic success.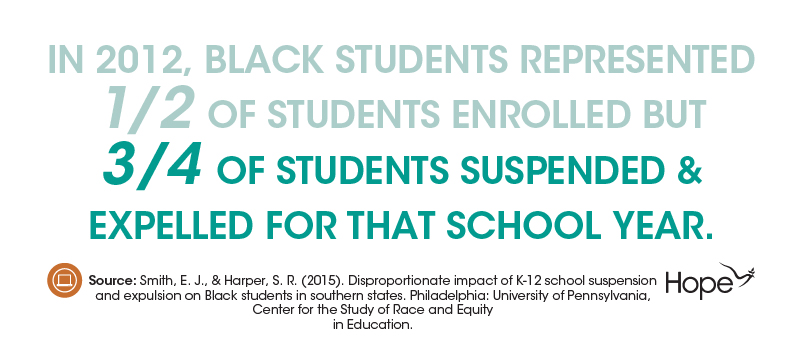 Students who feel safe and supported in school are more likely to attend school regularly, succeed academically and graduate on-time. Excluding students from school rather than understanding and addressing the underlying problems does not help or teach students and instead actively hampers their academic progress. More constructive responses to disciplinary infractions, such as restorative justice and positive behavioral interventions and supports, can better address student needs while maintaining and improving school climate and safety.