MI-BEST Secures Better Economic Outcomes for Mississippi's Working Poor Mothers
November 25th, 2015
In continuing my series exploring the implementation of MI-BEST in Mississippi, it is important to ensure that participation in the MI-BEST program is inclusive. It is especially important that women, particularly single moms, are able to participate in MI-BEST to support Mississippi families.
Nearly two-fifths of Mississippi jobs are low-wage, making it increasingly hard for upward economic mobility and self-sufficiency for families. Access to and the ability to qualify for higher paying jobs is especially pertinent for Mississippi women who occupy 72% of low-wage jobs, head more than a third of families with children under 18 and are overrepresented among the working poor.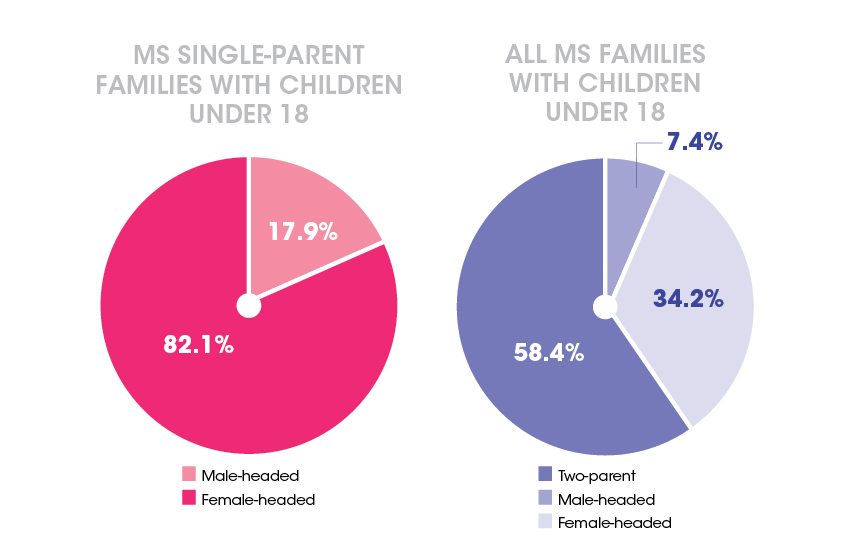 Source: 2009-2013 American Community Survey 5-year estimates
In my previous blog, I detailed how MI-BEST, the Mississippi Integrated Basic Education and Skills Training program, helps adults build literacy and workforce skills. Ensuring MI-BEST, and other adult education programs are purposeful in their inclusion of women, is crucial in helping to eliminate Mississippi's gender wage gap.
In 2014, Mississippi women in the workforce earned just $0.76 for every dollar men earned across all levels of employment in both public and private sectors.[i] Inclusivity in developing workforce skills and getting a higher paying job also means working poor mothers can more easily afford the things that help make families secure (i.e., healthcare services, quality housing, and healthy food), improving outcomes and their families' futures.
Strategies to ensure a diverse group of MI-BEST participants with a particular focus on both women and communities of color include:
Purposely seeking out diverse applicants, specifically women
Reaching potential students where they frequent, i.e., advertise MI-BEST and its benefits for working mothers at childcare centers
Creating an assessment team to annually evaluate both the level of and impact of inclusion in MI-BEST
These are just a few possible steps to ensuring women are able to benefit from the training and opportunity MI-BEST offers. Continuing education can mean earning a better, more stable living for working poor mothers and their children, but only when they are included.
Workforce development programs can provide a roadmap out of poverty for those with limited education. The most vulnerable include the working poor who earn less than the Federal Poverty Level annually ($24,250 for a family of four) and the working low-income who earn 200% or less of the Federal Poverty Level annually ($48,500 for a family of four) and thus have fewer resources to devote to education.[ii] According to the Working Poor Families Project, 49.6% of parents in working poor families (26,500 families) in Mississippi lack a postsecondary degree and 24.8% (13,000 families) are without a high school equivalency.
Without these degrees, economic advancement is very difficult and parents are more likely to occupy low-wage jobs with few (if any) benefits—jobs that are overwhelmingly staffed by women in Mississippi. Recognizing the disproportionate economic strains on women in the workforce is crucial to tailoring a program for their advancement. MI-BEST can potentially place working poor and low-income women on the road to economic security, but only with conscientious application and administration of the program.
[i]2014 American Community Survey 1-Year Estimates, Table ID S2408: Class of Worker by Sex [ii] U.S. Department of Health and Human Services. Office of the Assistant Secretary for Planning and Evaluation, 2015 Poverty Guidelines.