School funding still going down in Mississippi and several other states
October 26th, 2016
Tax cutting states among those with deepest cuts for schools
According to a new report from the Center on Budget and Policy Priorities (CBPP), Mississippi's total per pupil spending, when adjusted for inflation, is down 15.2 percent since 2008. The report, "After Nearly a Decade, School Investments Still Way Down in Some States," examines school funding trends among states and finds that many states have not only not recovered from the cuts to schools implemented during the Great Recession, but several are still cutting school funds.

Mississippi's decreased per-pupil spending has resulted in real consequences for the state's education system. For example, the number of teachers in Mississippi classrooms has declined by 1,600 increasing the state's student to teacher ratio over that time period.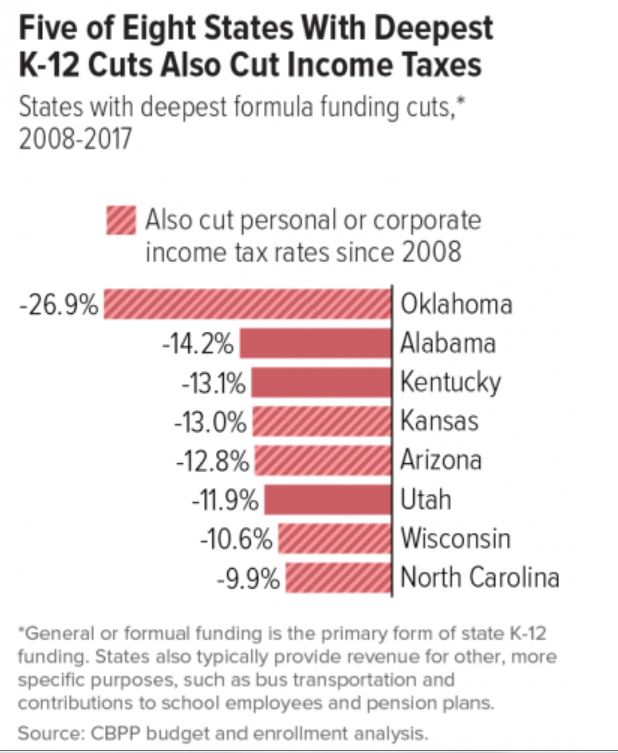 Local funds have made up part of the funding gap due to declining state support for K-12 education, but not all. When local and state funds are added, per pupil spending is still down 7.9 percent. Notably, the ability of local governments to fill the gap created by reduced state funds varies greatly, and many areas with higher poverty rates have lower property values thus struggling to collect enough revenue in property taxes.
Mississippi is not alone in reducing school funding. While the state has cut funding for the school funding formula, Mississippi Adequate Education Program (MAEP) by 9.2% since from 2008 to 2017, eight states have cut their state's education funding formula funding per student by about 10 percent or more over this period. Five of those eight — Arizona, Kansas, North Carolina, Oklahoma, and Wisconsin enacted large income tax cuts threatening their state's primary source of education funding.
Despite facing budget shortfalls and reducing funding for schools and other key state services, Mississippi enacted its own set of corporate and personal income tax cuts this year which will cost $415 million and will be phased in starting in 2018.
While tax cuts are often enacted with claims to spur economic growth, cuts in funding for schools weaken the state's economy in the long term. Quality elementary, middle, and high school education provides a crucial foundation that helps children to succeed in college and in the workplace and has been a particular challenge in Mississippi for many years. The tax cuts enacted earlier this year will make it harder.  Continuing to cut funding from the state's K-12 education system limits opportunity for Mississippi families and threatens the state's economic growth.